Imagen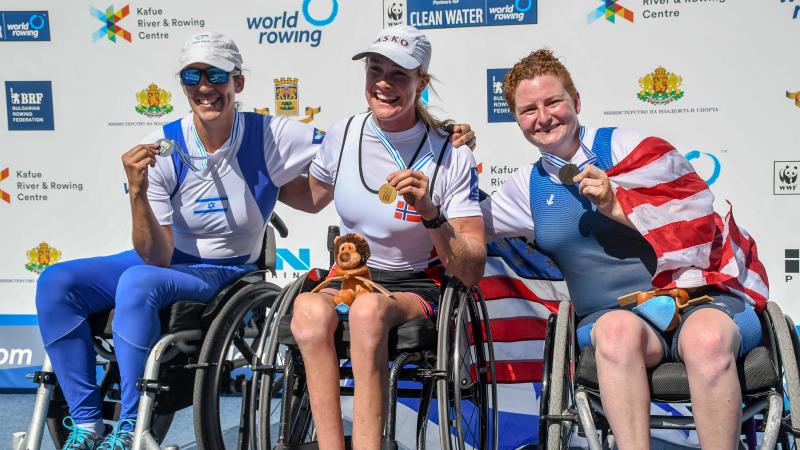 Birgit Skarstein
Rowing | Nordic Skiing
When Birgit Skarstein is not training for cross-country skiing, she is rowing.
The dual-sport machine competed at the PyeongChang 2018 Paralympic Winter Games, and now the reigning rowing world champion has turned her focus to the Summer Paralympics in 2020.
The prospect of winning gold at Tokyo 2020 look positive. She has won both her World Cups in 2019, and her winning performance at the 2018 Worlds in Plovdiv, Bulgaria, remains a World Best Time (10:13.630) in the PR1 women's single sculls (PR1 W1x).
She has come a long way since just missing the podium at the Rio 2016 Games. But that made the Norwegian hungrier for gold. She bounced back to win gold at the 2017 World Championships and is looking to make it three in a row this year in Linz-Ottensheim, Austria; she has also won every World Cup race since Rio 2016.
Skarstein injured her left leg while jumping into a lake in 2010. During treatment, she received an epidural injection in her back that accidentally injured the spinal cord, paralysing her from the waist down.
She picked up rowing in 2012 and competed in her first major regatta at the 2013 World Cup in Varese, Italy.
Skarstein studied political science at the University of Oslo and is a member of the International Paralympic Committee's Athletes' Council.
Results
2015 IPC Nordic Skiing World Championships Cable (Cable, United States of America)

| Event | Medal | Unit | Date | Rank |
| --- | --- | --- | --- | --- |
| Women's Long Distance - Free Style Sitting | | Race 1 | 2015-01-25 | 9 |
| Women's Sprint - Classic Sitting | | Race 1 | 2015-01-28 | 11 |
| Women's Middle Distance - Classic Sitting | | Race 1 | 2015-01-31 | 11 |
2017 IPC Nordic skiing World Championships Finsterau, GER (Finsterau, Germany)

| Event | Medal | Unit | Date | Rank |
| --- | --- | --- | --- | --- |
| Women's Sprint - Free Style Sitting | | Final | 2017-02-12 | 5 |
| Mixed Relay | | Final | 2017-02-15 | 5 |
| Women's Long Distance - Classic Sitting | | Final | 2017-02-16 | 2 |
| Women's Middle Distance - Free Style Sitting | | Final | 2017-02-19 | 3 |
Prince George 2019 World Para Nordic Skiing Championships (Prince George, Canada)

| Event | Medal | Unit | Date | Rank |
| --- | --- | --- | --- | --- |
| Women's Middle Distance - Free Style Sitting | | Final | 2019-02-17 | 3 |
| Women's Sprint - Free Style Sitting | | Final | 2019-02-18 | 4 |
| Women's Long Distance - Classic Sitting | | Final | 2019-02-24 | 3 |
Lillehammer 2021 World Para Snow Sports Championships (Lillehammer, Norway)

| Event | Medal | Unit | Date | Rank |
| --- | --- | --- | --- | --- |
| Women's Middle Distance - Classic Sitting | | Final | 2022-01-13 | 4 |
| Women's Long Distance - Free Style Sitting | | Final | 2022-01-18 | 5 |
| Women's Sprint - Classic Sitting | | Final | 2022-01-22 | 9 |