Mareike Adermann: Train, hop on a jet plane, repeat
The women's wheelchair basketball stars writes about how she trains for Germany while living in the US.
30 Apr 2013
Imagen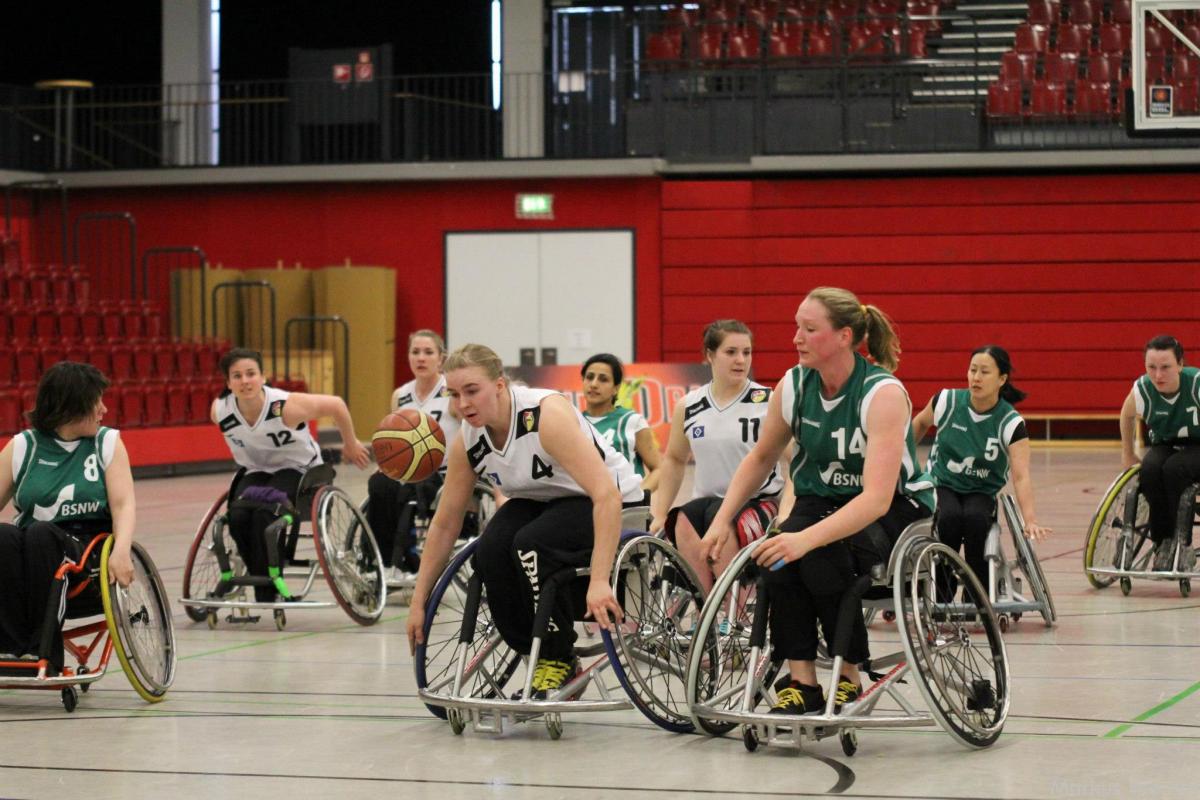 ⒸPhoto courtesy of Mareike Adermann
By Mareike Adermann
I will continue to write blogs leading up to and during the European Championships (28 June-7 July), as well as the U25 European Championships (15-18 August), so keep checking back.
It is spring and for me, that means it is not only time to finish my bachelor's degree, but also to begin my yearly travels to compete for the German women's wheelchair basketball national team.
Only one week after I had finished the season as a national champion in the US intercollegiate division, I spent my spring break with the national team at the University of Texas-Arlington for an 11-day training camp.
This was the first time the team was nearly complete and training again since the London 2012 Paralympics.
The week was filled with hard work along with a few fun events such as shopping and watching a Dallas Mavericks NBA game.
This training camp was also the first as preparation for the 2013 European Championships, which will be held in Frankfurt at the end of June.
As we are the host and current top team worldwide, we train hard to try to continue being at our best.
Last year was the first time in 28 years that we were able to get to this level. However, getting there and being able to stay there are two completely different challenges, so we have to start over and train just like before.
After the camp in Texas, all of us returned to our homes to train with our club or collegiate teams and prepare on our own, while working, or in my case taking exams and going to class.
Most of the year was spent that way, which is why most of the success we have really depends on how hard we are willing to train and how much time we are able to spend in gyms.
Luckily, most of us are in situations where we are provided with many opportunities and are able to train and play at high levels all year.
Sometimes, the travels with the national team provide a challenge to these situations, though. As many of us work, study or go to school, we always have to find the understanding of professors or supervisors that allow us to take days off.
I am personally very fortunate to have chosen to study in the United States, as the university is very accommodating and allows me to be with the national team almost every time to continue developing together.
Thus, last Thursday, only four weeks before finishing my undergraduate studies, I got on a plane to Germany to compete at the women's national championships and a training camp with the national team.
At the German championships, I was competing for Hamburg. We had four full games within two days and were not only able to capture the first place but I was also named tournament MVP.
Next on the busy travel schedule was a training camp with the national team in Berlin.
However, first we got to enjoy the benefits of winning a Paralympic gold medal. Our sponsor, Audi, allowed us to spend a whole day driving and racing some of their best cars, which was a very fun team event.
We trained for three days, pushing and competing against each other. The time was well spent, and thus as I am now sitting on a plane flying back to the US, I am exhausted but excited for the rest of the summer that I will continue having fun with the team while training and playing my favourite sport.
However, before I am able to see them again, I will have to spend two weeks to catch up on exams, papers and other school work to make sure I actually graduate this May.
It would simply be too easy if I could just train and do what I love most.
I will continue to write blogs leading up to and during the European Championships (28 June-7 July), as well as the U25 European Championships (15-18 August), so keep checking back.
Related Images