Stuart Lieberman: 100 Storylines for London 2012
With 100 days until the Paralympic Games, here are the top 100 storylines to look out for at London 2012.
22 May 2012
Imagen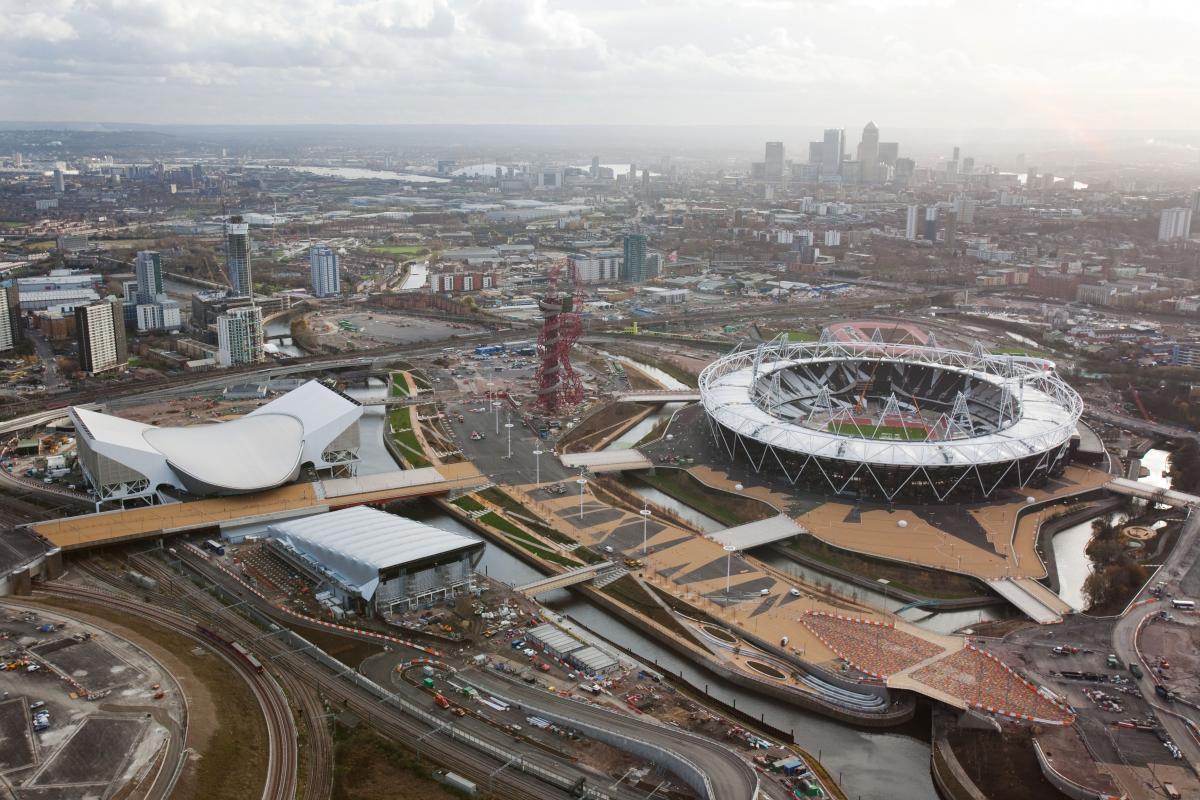 ⒸGetty Images
The men's 100m T43/44 sprint is bound to steal the show at London 2012.
In what many believe could be the first Paralympic Games to ever sell out, here are the top 100 storylines to look out for at London 2012, starting with No. 100.
100. The Paralympic Games are coming to the British capital – the place many Europeans deem the centre of the world, and the atmosphere is bound to be electric.
99. The crowds are bound to be full of excitement inside the London venues, though let's stick to giving the athletes the praise they deserve.
98. IPC official photographer Lieven Coudenys will be all over London, snapping photos of the world's top athletes. Perhaps he will make you famous.
97. Lee Frawley, will be the first-ever athlete at the Paralympics from the US Virgin Islands, as she competes in the Equestrian arena.
96. The Telegraph's Gareth Davies has received a lot of praise for representing the IPC on the IOC Press Commission for this year's Games.
95. Chan Yu Chong of Hong Kong has been deemed the one to beat in the women's Wheelchair Fencing competition, as her resume already includes six Paralympic medals and five world championship titles.
94. Watch out for USA's Alana Nichols (Wheelchair Basketball) and Australia's Jessica Gallagher (Athletics) – both two-sport athletes, competing in the Summer and Winter Games.
93. It will be the sixth Paralympic Games under IPC President Sir Philip Craven.
92. France's Elodie Lorandi had a breakout European Swimming Championships in 2011 with five golds and three European records, and she hopes to build off that in London
91. Greg Polychronidis of Greece has risen to the top of the Boccia scene and is favoured to take charge of the BC3 class.
90. An American archer with no arms or legs by the name of Matt Stutzman has qualified for the Games and his story is an inspiration in itself.
89. Five new members will be inducted into the Visa Paralympic Hall of Fame at London 2012.
88. Norway's Sarah Louise Rung may just be making her Paralympic debut in London, but she could win multiple golds in the pool and be a breakout star at the Games.
87. Qing Xu of China is likely to rival Ukraine's Yevheniy Bohodayko for the Swimmin g S6 class crown.
86. Visually impaired rower Victoria Nolan and Canada's Rowing delegation could be a surprise on the waters at Eton Dorney.
85. Many countries are eyeing Lithuania's men's Goalball squad as the team to beat. Can it back up the talk in a stacked field?
84. Canadian Boccia players, most notably Marco Dispaltro and Paul Gauthier could vault their country to the top of the standings in the sport.
83. British archer Danielle Brown will be the top athlete on the range, trying to win back-to-back titles in the women's individual compound open.
82. That dude with the funny red Mohawk and sharp shooting – Matt Skelhon – could strike up an applause at the Royal Artillery Barracks for the host nation.
81. The 47-year-old Pal Szekeres of Hungary is the only person to have medalled at both the Olympics and Paralympics and should be one to watch again in London in Wheelchair Fencing.
80. Canada's women's Wheelchair Basketball team is sick of finishing second, but can it top USA for gold this time around after falling short at the Parapans?
79. Sweden's men's Goalball team has won a Paralympic medal of every colour but gold – is it finally their time?
78. The men's Wheelchair Tennis quads title is up for grabs, look for USA's David Wagner and Great Britain's Peter Norfolk to headline the competition.
77. Great Britain's SKUD Sailing team of Alexandra Rickham and Niki Birrell have won three world titles in a row and the pair are eyeing their first Paralympic gold.
76. Japan's Shingo Kunieda will face stiff competition from everyone in trying to defend his Wheelchair Tennis men's singles title.
75. More than 6,250 samples will be analyzed by the Anti-Doping Lab during the London 2012 Olympic and Paralympic Games.
74. It is about time Germany's women's Wheelchair Basketball team stops getting overlooked by USA and Canada.
73. Ireland's Michael McKillop shattered the 1,500m record at the Athletics test event, but can he do it when it comes to the real thing?
72. Former Israeli helicopter pilot Noam Gershony, who was seriously injured during the second Lebanon War, has been ace in the past year in the Wheelchair Tennis world and will also compete for the quads title.
71. The USA women's Cycling delegation boasts a whole lot of energetic talent, especially in Allison Jones and Greta Neimanas.
70. Bruno and Tom Vanhove – two of the Vanhove sextuplets – would love to lead Belgium to its first medal in Goalball.
69. Russia vs. Ukraine in the Football 7-a-Side competition will be an event you won't want to miss.
68. The Paralympian Reunion will take place in central London on 7 September, allowing athletes from past Games to reunite and share their stories.
67. British wheelchair racer Hannah Cockroft has been breaking world records left and right in the lead-up to the Games.
66. Former water skiing world champion Scott Reardon of Australia, a single-leg amputee, is ready to show why he belongs in the Athletics sprint competition.
65. Great Britain's Nigel Murray will be the face of Boccia for the home team.
64. Just 18 years old, Argentina's ecstatic Gustavo Fernandez is No. 15 in the world in Wheelchair Tennis and is coming off Parapans gold and a win against the world's best.
63. Dutchman Maikel Scheffers has been trying to maintain his top spot in the men's Wheelchair Tennis rankings – can he keep it in London?
62. Sixteen countries will take part in their first Paralympics, including North Korea and Cameroon.
61. British brothers Sam and Ollie Hynd could both star for their country, though they may have to race each other for the top prize.
60. Former Formula 1 champion Alex Zanardi will compete in Cycling for Italy.
59. The British judoka delegation will include two sets of brothers in Sam and Joe Ingram and Joe and Marc Powell.
58. Raphael Botsyo Nkegbe of Ghana and a member of the "Right to Dream" programme will compete in his third Paralympic Games in Athletics, and would love to be the first to win a medal for his country.
57. Spanish swimmer Teresa Perales and French swimmer David Smetatine will act as great ambassadors for the IPC Athletes' Council and could haul in plenty of medals.
56. The men's S7 Swimming class is stacked with the likes of Croatia's Mihovil Spanja and Brits Jonathan Fox and Sascha Kindred.
55. IPC partners Ottobock and Allianz will be doing a lot with the technical service aspect of the Games and to educate spectators, respectively.
54. Just as in women's Sitting Volleyball, the women's Goalball competition is expected to come down to USA and China.
53. Naomi Soazo is the only athlete from Venezuela to have ever won Paralympic gold, and she can do it again in the women's judoka competition.
52. American Lex Gillete, who is completely blind, is all about becoming the fastest sprinter with no sight.
51. Two cyclists who love to tweet – Italy's Fabrizio Macchi and Ireland's Colin Lynch – will go head-to-head in the C2 classification, both having a shot at gold.
50. In May 2009, Mark Colbourne broke his back in a paragliding accident. Now, he will compete for Great Britain and has the potential to medal in Cycling.
49. After winning nine gold medals in three different Paralympic Games, Lee Pearson returns home to show his nation what he can do in the Equestrian arena.
48. At just 16, Ukraine's Yevheniy Bohodayko captured five medals and a world title at the 2010 Swimming World Championships and could swim in as many as nine races in London. What will he do at 19?
47. Great Britain's Wheelchair Rugby team has received a lot of attention back home, but can it live up to the hype?
46. The Paralympic Games return to their birthplace, as it all started back in Stoke Mandeville in 1948.
45. Germany's Ottobock ambassador Heinrich Popow, a single above-the-knee amputee, will be full of character and going for gold in the 100m T42 and Long Jump F42 events.
44. Aussie swimmer Ahmed Kelly has a miracle of a story, as he will be competing in the Games after being left alone at a Baghdad orphanage as a child with four limb deficiencies.
43. After winning five golds at Beijing 2008, Australia's Matt Cowdrey is bound to be a force to be reckoned with in London
42. Tom Aggar will look to defend his Rowing title on his home waters, and he seems to be well above his challengers in training.
41. Great Britain's Will Bayley has quickly risen to world No. 1 in the Class 7 Para-Table Tennis rankings, but is he experienced enough to pull out a gold?
40. Swimmer turned cyclist Jody Cundy has become the face of British Cycling, though let's see if his media hype churns Paralympic gold on his home track.
39. Up-and-coming Aniek van Koot of the Netherlands has the best shot at beating her teammate Esther Vergeer in the women's Wheelchair Tennis singles competition.
38. Iran's Siamand Rahman lifted 260kg in 2010, and to think he has probably improved on that for London is just mind-blowing.
37. Kelly Cartwright of Australia heads to the Games as the defending world champion in the Long Jump and 100m T42 events and doesn't see anyone getting in her way for gold.
36. British sensation Sarah Storey, a swimmer turned cyclist, has won 23 gold medals, 16 world titles and competed in seven Paralympic Games. Enough said.
35. Czech para-cyclist Jiri Jezek has medalled at each of the last three Paralympics and could be the most successful competitor in the history of his sport if he wins just one more gold at London 2012.
34. At 47, Swedish shooter Jonas Jacobsson will compete in his ninth Paralympics, looking to add to his collection of 16 Paralympic golds.
33. With an inspirational back story, Israel's Sailing team of Dror Cohen, Benny Vexler and Arnon Efrati have become the heart and soul of their country's Paralympic Movement and hope to sail for their second Paralympic gold.
32. Brazil's Football 5-a-Side team could win its third straight Paralympic title, though Argentina is bound to pose some tough competition.
31. Australia's comical T38 sprinter Evan O'Hanlon has received a lot of publicity as of late, and hopes to defend his 100m and 200m titles.
30. Between Jessica Long and Rudy Garcia-Tolson, USA may need an extra suitcase for the way home to carry back all those Swimming medals. Garcia-Tolson will also be competing in the 200m T42 sprint on the track.
29. The never-ending rivalry between USA and China's women's Sitting Volleyball teams could make for an intense gold-medal match.
28. Marathon man Kurt Fearnley of Australia is aiming for his third title in the event, though Great Britain's David Weir will be tough to beat.
27. Poland's Natalia Partyka will be fresh off another Olympic appearance and ready to claim gold in the women's Para-Table Tennis Class 10 singles for the third straight time.
26. Just two years ago USA's Jarryd Wallace, previously a cross-country runner at the University of Georgia, chose to have his leg amputated. Now, he will go for a medal in the 400m T43/44 and 4x100m T42-46.
25. Brazilian judoka Antonio Tenorio has won four-straight Paralympic golds, but USA's Myles Porter defeated him at the 2011 Parapans and will look to repeat that success in the British capital.
24. The last two gold-medal men's Sitting Volleyball matches pitted Iran against Bosnia and Herzegovina, and it seems likely to happen yet again.
23. South Africa's Natalie du Toit won five Swimming golds at Beijing 2008, so who's stopping her from winning seven in London?
22. Australia's men's Wheelchair Basketball is being picked by many to win it all with the amount of talent and depth the squad is brining to London.
21. After a brief hiatus, Patrick Anderson, the world's best Wheelchair Basketball player, is back and ready to help Canada tip Australia.
20. Will Canadian wheelchair racer Michelle Stilwell – a two-time gold medallist – be the next Chantal Petitclerc?
19. American April Holmes wants another gold in the 100m T44 event, but France's Marie-Amelie le Fur will challenge her to the final step.
18. Terezinha Guilhermina of Brazil, the fastest female Paralympian on the planet, will probably break a few more world records like it's no big deal.
17. With four Paralympic silvers and two bronze under her belt, it's about time T54 wheelchair racer Tatyana McFadden went for gold in one of her numerous events.
16. USA's Wheelchair Rugby team has not lost a Paralympics or World Championships since 2004, but can it keep the momentum going in what could be the toughest field ever?
15. Between Andre Brasil and Daniel Dias, the Brazilian Swimming delegation has the potential to rack up a whole lot of hardware.
14. It's time to see what's come of Irish visually impaired sprinter Jason Smyth's training with American able-bodied sprinter Tyson Gay.
13. As the IPC social media co-ordinator, I have to advocate this one – the IPC will encourage athletes and spectators to use social media throughout the Games to enhance and share their experiences with others.
12. USA's women's Wheelchair Basketball team will go for a three-peat, seeking yet another Paralympic gold, but Germany, Canada and Australia will look to stop them.
11. Nobody seems to argue the fact that Australia's Ryley Batt is the best Wheelchair Rugby player in the world. So how will they stop him?
10. The London 2012 Games will be the most broadcasted Paralympics in history, as billions of TV viewers are expected around the world and 6,000 media representatives will be reporting on the event from the British capital.
9. Less than three years after losing his right leg in a car accident, Jamol Pilgrim, a 100m sprinter, will be the first athlete to compete in the Games for Antigua and Barbuda. And some say he could even win gold, he's that good already.
8. The Queen will have the honours of officially opening the Paralympic Games inside Olympic Stadium on 29 August. If she invites me to a spot of tea, I'll vault her to No. 1 on this list.
7. In one of the most underrated Paralympic rivalries, USA's Jeremy Campbell will try to defend his Discus F44 title against Great Britain's Dan Greaves.
6. British wheelchair racer David Weir beat Swiss Silver Bullet Marcel Hug in three T54 distances at last year's World Championships, but who will come out ahead in this rivalry in the Olympic Stadium?
5. Four flames will be lit in four different cities across the UK as part of a new concept for the Paralympic Torch Relay.
4. After winning gold at age 13 at Beijing 2008, swimmer Ellie Simmonds returns home and will hope to make a splash in the Aquatics Centre as the poster girl of the Games for Great Britian.
3. Dutch Wheelchair Tennis sensation Esther Vergeer is unbeaten in well over 440 singles matches dating back more than nine years, and she'll look to keep her streak alive at Eton Manor.
2. The Games will conclude with a giant party and Closing Ceremony starring none other than the world famous British band, Coldplay.
1. Oscar Pistorius. Jerome Singleton. Jonnie Peacock. And a slew of other really fast men. Need we say more? The men's 100m T43/44 sprint will steal the show.