Aruba's lone Para athlete Elliott Loonstra aims for spot in Tokyo 2020
Taekwondo athlete looks to make Caribbean island proud and become its second-ever Paralympian
21 Jul 2020
Imagen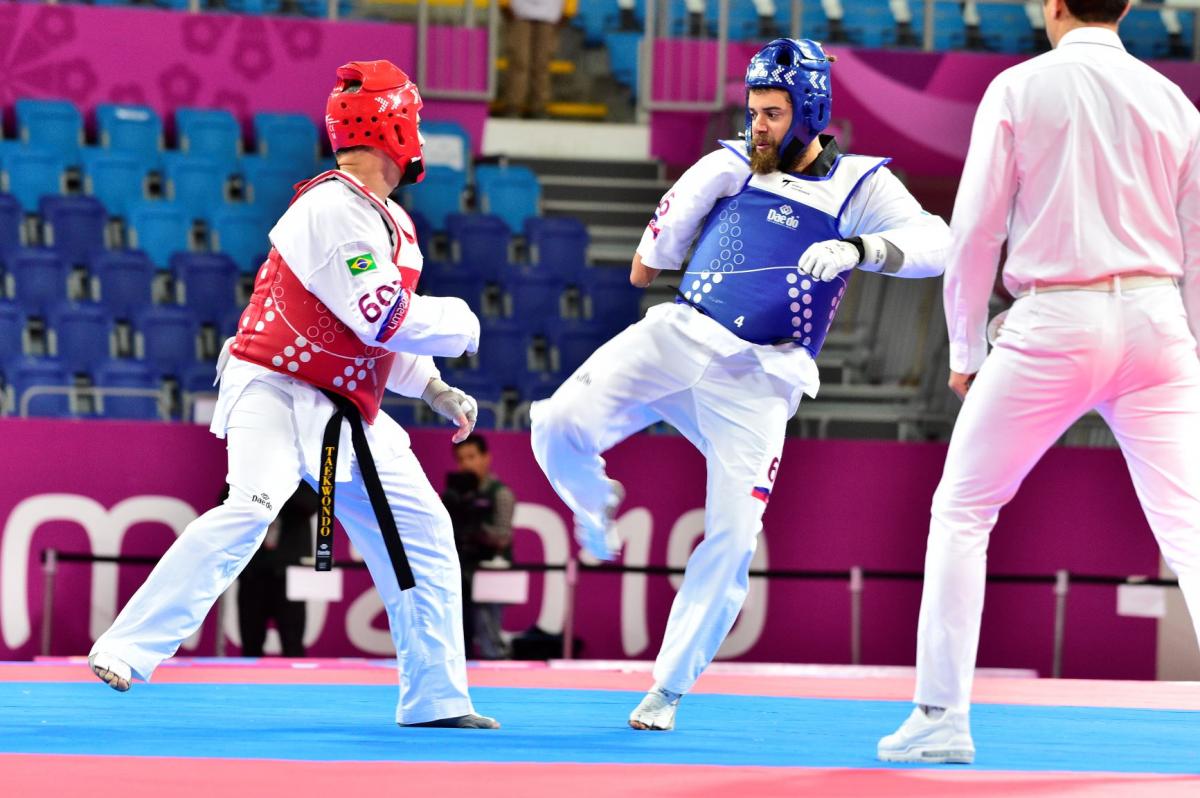 ⒸAlexandre Battibugli/Agitos Foundation
By Ros Dumlao | For the IPC
When Elliott Loonstra began training in Para taekwondo, his gym was a beach in Aruba.
He would meet his coach at 5:00am – before tourists would take over – to run, stretch and practice kicks. Eventually, they upgraded their training after landing a reasonable deal with one of the few gyms on the south Caribbean island. 
Such is the sample of the luxuries and challenges for the lone Para athlete in Aruba, whose population is approximately 112,000. 
While the COVID-19 pandemic adds another layer, Loonstra is still hopeful for next year's Paralympic Games in Tokyo. If he secures his targeted goal, he could become only the second athlete from Aruba to compete at a Paralympics; swimmer Jesus de Marchena Acevedo was Aruba's first Paralympian at Rio 2016.
The historical implications and the entirety of the Paralympic Movement were not yet realised by Loonstra. 
That was until his first multi-sporting competition almost a year ago at the Lima 2019 Parapan American Games. 
 
"On the flight to Lima I was just strangely calm because I didn't understand how big the event was," recalled Loonstra. "But when I walked into the Opening Ceremony, if you find the clip of my face, you can see the moment when I'm like 'OK, I understand how big this is now'.
"And immediately it changed my attitude of 'OK we're just at another tournament having a fight' to 'Oh no no no, this is the next level, high-level tournament. Everyone is watching, you're representing your country … You're the dude, let's do this, we believe in you.' That was a huge shift in perspectives."
He thought other Aruban Para athletes would join him in Lima, Peru. But when lining up to carry his country's flag into the Ceremony, he found himself alone in the sea of 1,850 athletes. 
"It was a very unique experience to me because it's kinda like finding a whole different tribe of people you can relate to," described Loonstra, who lost in his opening round to Brazil's Alexandre dos Santos in the up-to 75kg K44. 
"For example me in Aruba, I don't have other people with a disability so a lot of the times I feel I'm the only guy here with a disability. But once I was there and saw everyone, everyone is just rocking out, showing off how talented they are.
"I remember the first day I was there, a guy did a double spin kick, and I'm just looking at him like 'Wait. What? How did you do that?'" 
Kicking off the journey

Loonstra's family owns a scuba shop. His coach, also a scuba diver, approached Loonstra one day in 2017 and asked if he would be interested in Para taekwondo. 
Loonstra, 28 at the time, was interested in mixed-martial arts (MMA) fighting and thought Para taekwondo would be a good pipeline. A year later, he was soaked into the Para sport.
They started training with the basics on the beach and in his coach's backyard. Overtime, Loonstra dropped weight from 102 kg to 79kg, and eventually they locked in a gym that offered them adequate training space. 
In 2018, he was invited to a camp in Sao Paulo, Brazil, which allowed him to diversify his training; the camp was hosted by the National Paralympic Committee Development Programme. 
"That also was a great experience because in Aruba when it comes to training it's just me and my coach. And although it's amazing to train with a great coach, it's just the two of us. It can get repetitive," he said. 
"When we went to Brazil, I got a lot of action and we made new friends so much so that one of the coaches there invited us back last year for about three months to train with them."
Training through COVID-19

Loonstra was set to compete in four competitions in 2020 to secure ranking points toward Tokyo 2020. Although that has changed due to the COVID-19 pandemic, remains adamant to achieve a Paralympic debut. 
He practices techniques in his yard such as kicks, but has to adapt to the lack of gym equipment for strength training. The pandemic has also opened up a new hobby – aquaponics, which is growing plants using water and fish, opposed to dirt. So far, he has had success growing sweet potatoes and rosemary. 
"I'm definitely planning to still compete in taekwondo," Loonstra reassured, joking: "When people ask me 'What do you do?' I tell them 'I kick people.' Immediately they look at me and are like 'What?' And I say 'No no no. I'm an athlete.'"