Brenner Dreams of Dethroning British Team
It seems unlikely Great Britain will be defeated on home ground, having dominated the Paralympic Equestrian Team Test event for the last 16 years, but Germany certainly dreams of such a victory.
08 Jul 2012
Imagen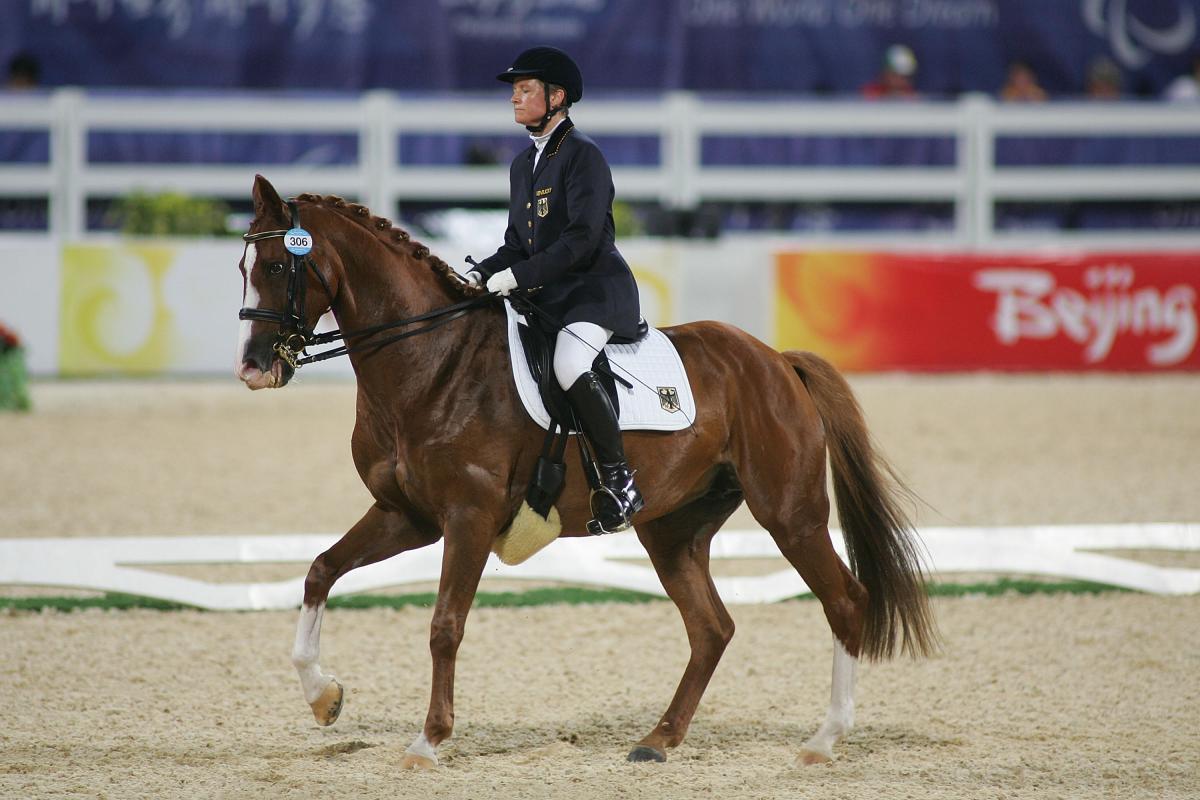 ⒸGetty Images
By IPC
"It would be a dream if we could knock them off their throne. We were often very close."
Team Test gold is probably the most sought after medal in Equestrian at the Paralympics.
Great Britain has won it more times than can be remembered in recent championships and at every Paralympic Games since 1996. The team standing one notch down on the podium has usally been Germany for the past eight years.
With a home Games, everything seems to be stacking up in Great Britain's favour.
"The home country will give everything to win," said Germany's grade III rider Hannelore Brenner, who won double-gold in the Individual Championship and Freestyle Tests in Beijing 2008.
"Britain have super horses. They have a lot more money than we do, so I'm certain that they will bring the best team imaginable."
Dreaming of victory
Brennelore laughs when asked whether Germany are strong enough to beat Great Britain this time around.
"It would be a dream if we could knock them off their throne. We were often very close," Brenner said.
"Britain is a very strong nation, so I expect it to be a very difficult matter.
"But I want to show what we're capable of doing."
The home team will not be Germany's only rival in the Team Test. Over the past four years, the Netherlands and most markedly Denmark have also stepped up their game.
"Denmark have become very strong," said Brenner. "So, I think we will be very pleased if we even get a medal at all."
Brenner can afford to be more relaxed about the Team Test event, with expectations much lower. But in the individual tests, as the reigning Parlaympic champion, she feels the pressure.
"It's difficult to stay on top. You have to be very disciplined not to fall behind," said Brenner.
In the individual events, Brenner's main rivals will be Great Britain's Deborah Criddle and Denmark's Annika Dalskov, both of whom have got new horses in the past two years, something that may play in Brenner's favour.
"I can definitely see an advantage in the fact that I've known my horse for a long time," said Brenner referring to Women of the World, who she has had since 2005. "It's very advantageous, not least because she's such a great horse.
"She always wants to give her best at tournaments, and it's great when we accomplish it."
Although Criddle and Dalskov's horses have less competition experience, they are of very high quality.
Criddle on her new horse LJT Akilles proved to be an almost equal match for Brenner at the 2011 European Championships with both riders winning a gold and silver each in the individual events.
"Deb Criddle has been doing this longer than me," Brenner laughs. "She's been competing for an eternity. She has strong nerves and is a very experienced rider."
Brenner rode against Dalskov and her new six-year-old horse Aros A Fenris for the first time at the Mannheim Maimarkt Tournament in 2012. Brenner got two golds and Dalskov finished fourth, but it remains to be seen what form she and her six-year-old horse will be on come London.
"Annika has a super horse, although he's a very young horse. He's really fantastic," said Brenner.
Joining Brenner in the German team at the London 2012 Paralympic Games are Angelika Trabert (grade II), Britta Naepel (grade II), Steffen Zeibig (grade III) and Lena Weifen (grade IV).
The Equestrian competition takes place at Greenwich Park from 30 August - 4 September.
Related Images