First African-American woman to win a Winter Games medal: 'an incredible milestone'
Para alpine skier Bonnie St. John 'completely stunned' with her achievement of winning three medals at the Innsbruck 1984 Paralympic Winter Games, which made her the first African-American woman to win a Paralympic or Olympic medal at a Winter Games
17 Feb 2023
Imagen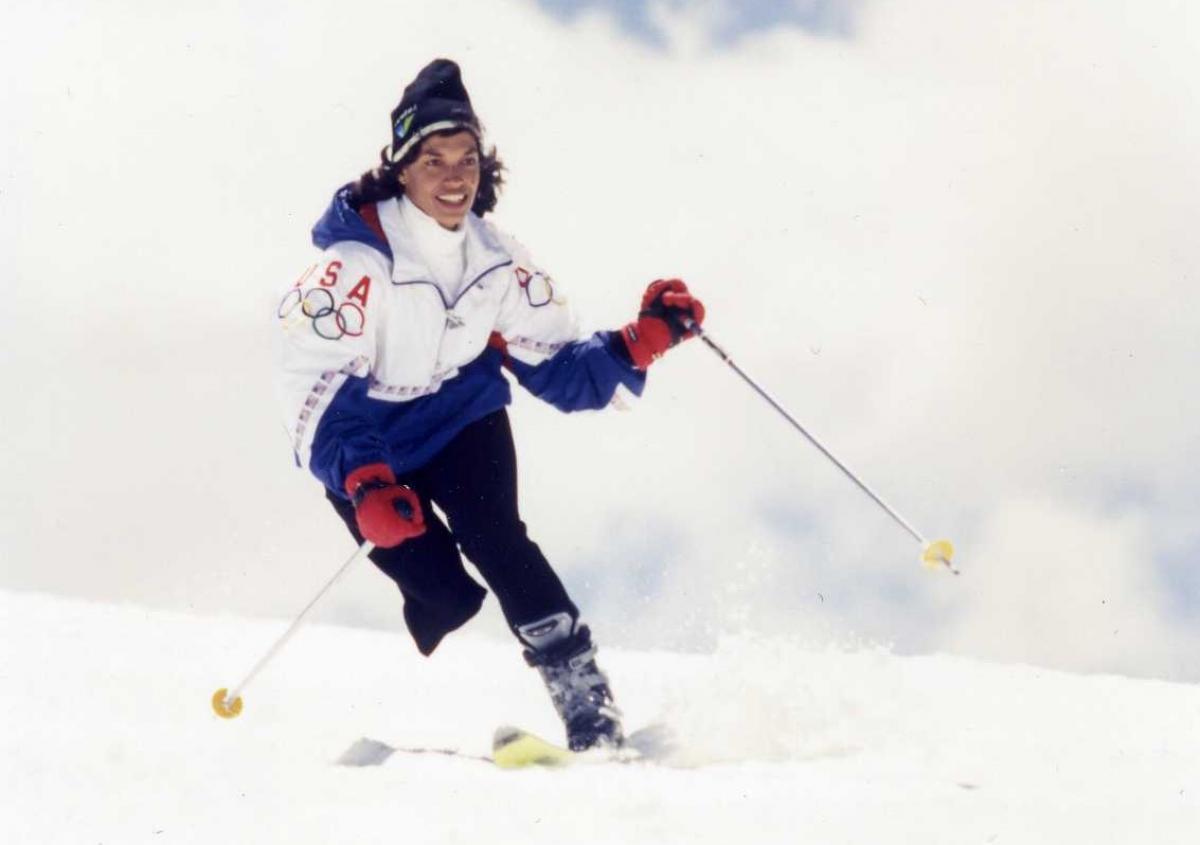 ⒸSt John Photography
By AMP Media I For The IPC
When Bonnie St. John from the United States won a silver and two bronze medals in Para alpine skiing at the Innsbruck 1984 Paralympic Winter Games, she had no idea how historic her achievement was.
Having never expected to finish on the podium, she was unaware she had become the first African-American woman to win a Paralympic or Olympic medal at a Winter Games.
"I had worked so hard to be able to participate, to qualify, to be a part of it. And then I was completely stunned at how well I did. It was a surprise to me," said St. John, 58, whose right leg was amputated below the knee when she was five years old due to a condition called pre-femoral focal disorder.
"I trained hard. I spent the summer on a glacier. I trained with two-legged skiers but there weren't as many opportunities back then to compare myself to the other competitors, so I didn't know how I would do."
She won silver in alpine combination LW2 as well as bronze medals in the slalom and giant slalom LW2.
"When I won, it was a shock to me and I think to everyone. And it was only later that I realised I was the first African-American to win," St. John said. "Oh my gosh, that was very special. It was terrific. There's just so few African-Americans in the sport, but that was a great milestone."
Road to the top
Growing up in San Diego, California, it was not expected that St. John was going to become a history-making skier. On the contrary, the journey from the Golden State to a life on snowy ski slopes was long and challenging.
After a friend had invited her to a ski trip, a 15-year-old St. John decided she wanted to become as good as possible at alpine skiing. The only problem was that she came from a humble background, lacking funding, equipment and – equally important – mountains.
"I had to be an entrepreneur to raise the money, to hire trainers, to travel to where I could train and to create my own opportunities to be able to be a ski racer. There was no farm system to find one-legged black skiers in San Diego, California," St. John said.
She started writing letters to equipment manufacturers and was donated the one left skiing boot needed when a customer had returned a pair with a damaged right boot. She got a ski the same way. 
St. John worked as a cashier in a drug store after school and took a bus to a ski area in Big Bear, California, on the weekends, where she learned the sport despite a lack of instructors knowing how to train skiers with disabilities.
"It was awful," St. John said. "When I first started skiing, I fell and fell. Even when I got better at skiing and began racing, it was hard at first. I've learned that it happens again and again."
But St. John did not give up and, five years after setting her mind to it, was winning international medals. Looking back, she believes the challenging start gave her the drive needed to make it to the very top of the sport.
"Absolutely," she said. "Because I had to work so hard to get the opportunity, I was very committed to make the most of it.
"My story is proof that if you have the drive and you really want to make a difference, you can."
The pioneering spirit
St. John never thought she stood out as an African-American at the Paralympic Winter Games. Being different had been a bigger issue on the ski slopes in California.
"As disabled skiers, we were all used to being stared at and teased because of our differences. I got more guff from able-bodied white skiers, not so much my peers with disabilities," she said.
At realising the historic importance of her achievement, her medals became much more than the shock of a personal dream coming true. St. John has spent the years since Innsbruck 1984 trying to give women from minorities opportunities to succeed – in sport as well as in the wider society.
"To win medals and then to be the first African-American, all of those things piled on each other was certainly something that strengthened my sense of self-confidence and made me set my goals even higher," St. John said. 
"After being in the Paralympics, I did as much as I could to support the Paralympic and the Olympic Movement."
From white slopes to the White House
St. John also brought the athlete mindset into her professional career. 
She graduated from Harvard University in 1986, retiring from elite-level skiing in the same year as she went to Oxford, United Kingdom, to study on a scholarship. She earned a Master's in economics in 1990, worked at a major US IT company and got a job in the White House during the Bill Clinton administration as a director for the National Economic Council. 
In her off-slope career, St. John could benefit from the drive that made her a sporting success in the mountains.
"When I first started working in the White House, I made some embarrassing mistakes but you have to pick yourself up and start again, at every level," she said.
St. John, who spoke at the Opening Ceremony of the Salt Lake City 2002 Paralympic Winter Games, has now switched her focus to helping other people with a similar background.
"I run a programme to develop corporate American leaders, who are women and minorities," she said. "Women and minorities have struggles to rise in the (Paralympic and) Olympic Movement, which we of course see in the corporate world as well. So being able to make a difference for women and minorities rising into leadership in corporate America is also dear to my heart.
"It's very important for me to get to be a role model for women, minorities and people with disabilities.
"I'm not only just a role model to say, 'See what I did, you can do it too', but to actually give people the tools and the techniques and the research to understand how to break through those barriers. I love that I get to do that."
Greater ambitions
Continuing to ski, but "just for fun", St. John still sees room for improvement when it comes to the representation of African-American women in winter sports.
"We need to continue to provide opportunities for minorities and women, to give them sponsorship and training and to make opportunities to have more diverse winners," she said.
The same goes for the rest of society, St. John said, pointing out how representation in boardrooms and on podiums can be closely linked.
"Having more women and minorities achieving in sport helps the (representation in the) corporate world. And having more women in the corporate world, rising in leadership, helps the (representation in the) sport world," she said. "I'm proud to have worked on both sides of the equation to make a difference for women and minorities.
"I do have to pinch myself sometimes to realise the barriers that I broke through. And I get very excited cheering on those who continue to break those barriers and change the world.
"Breaking through barriers in skiing has given me a lot of courage and fortitude to be able to make a difference for others. And I'm very proud that I get to do that."