Kampschreur aiming to stand on more Paralympic podiums after special walk in Beijing
Painful second-place finish at Beijing 2022 topped by memorable medal ceremony: 'I made a promise to myself – and I spread it so I would have to do it – that if I reached the podium, I was going to walk on the podium just to prove that I can do it'
14 Mar 2023
Imagen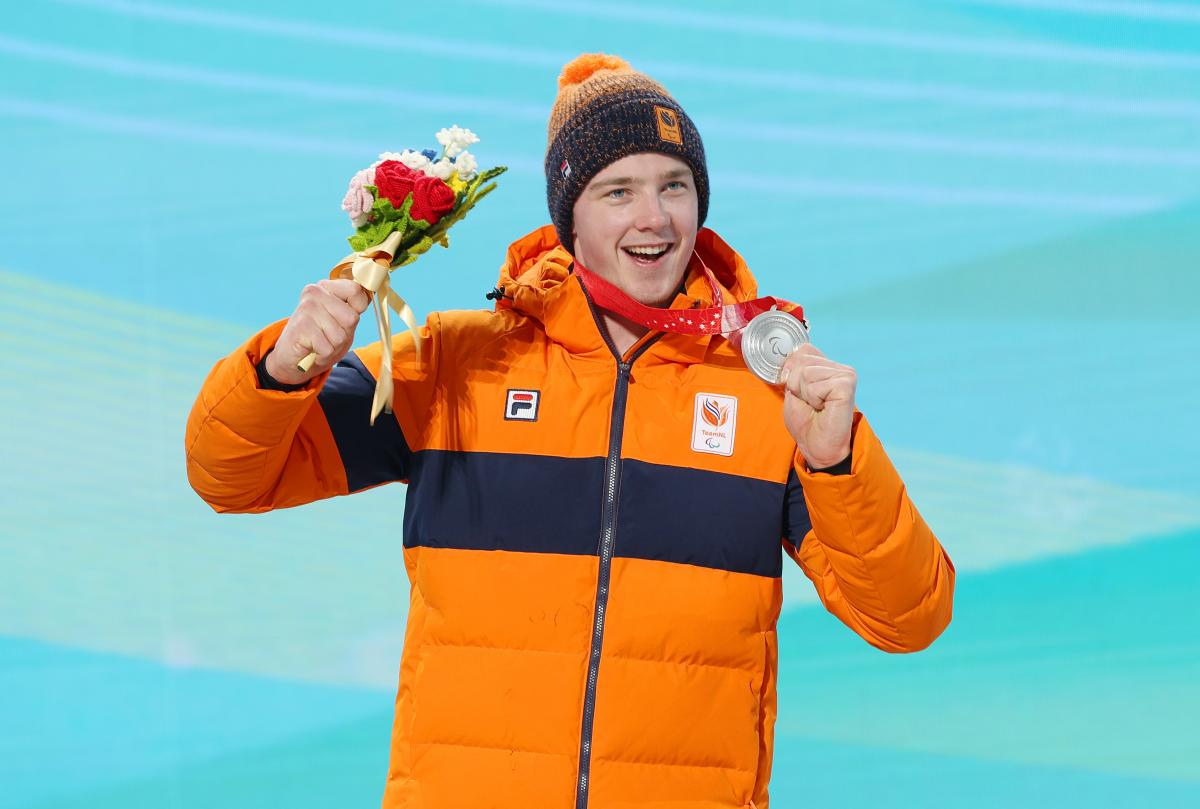 ⒸAlexander Hassenstein/Getty Images
By AMP Media I For The IPC
The Beijing 2022 Paralympic Winter Games did not turn out how Dutch Para alpine sit-skier Jeroen Kampschreur had hoped. 
Having won gold in the men's super-combined sitting event on his Paralympic debut at PyeongChang 2018, he was unable to retain the title.
"Beijing was not successful for me," the 23-year-old said, a year on from the Games in China at which he claimed silver. "I think I could have done way better.
"I have to say it was bad luck. I DNF'd (did not finish) in two races where I could have gotten on the podium.
"I also had the biggest crash in my life two days before it started. I was filled with paracetamol, ibuprofen and every day I woke up feeling like I was hit by a train."
Perhaps Kampschreur's most memorable achievement at Beijing 2022 took place in the medal ceremony rather than on the slopes: the Dutchman, whose legs were amputated above the knee when he was one year old after he was born without shin bones, received his medal standing on two brand-new prosthetic legs. 
The two-time Paralympic medallist recorded the moment on Instagram.
"STANDING on the Paralympics podium," he wrote. "Something that seemed impossible a couple of years ago, but I had to prove that I can do it. I train hard for this, it's not easy and it will take a lot of time to get better at walking, but this is a personal goal which I'm really proud of."
Goal beyond the Games
Using prosthetic legs became a personal goal for Kampschreur, who had used a wheelchair since his teenage years.
"Last season, the season of the Games, I had a lot of back injuries. I was not in my best place, mentally. The results weren't coming and I was making myself crazy about being the fastest. I was going too fast for my own stability a lot of times," he said.
"I found ways to fix my back. One of them is walking on prosthetics. It works really well.
"If you're in a sitting position all the time, some muscles get lazy and you can't do anything about it. You can of course go to the gym, but if you activate it by walking hours a day, or standing, some muscles just get way, way stronger. They were actually not active any more in my lower back."
Between the ages of two and 14, Kampschreur was using small 'stubbies' (short protheses) to protect his stumps and walk around the house.
"It gradually got less and less because it was pretty hard for me," he said. "It wasn't fast. It's not so nice on the skin, and I was still in my growing period so I used to have pressure points and go back to my prosthetics, and it was not the best place to be at that time for me.
"I quit walking because I discovered the wheelchair. I did wheelchair basketball. I was really agile, I was fast, and I was like, 'Yeah, OK, this is what I like'. But then, in 2020, I met my girlfriend and she convinced me to 'just try it again, there's nothing to lose'."
Counting the steps to Beijing 2022
In April 2021 he decided to learn how to walk and in February last year, just before Beijing 2022, he got his own prosthetic legs.
"They (the manufacturer) said, 'We hope we can get you up and standing and walking in one year'. I said, 'All right' and then two weeks later I was walking," Kampschreur said. "I was having such a hard time. But I train a lot at home, fitness-wise and skiing-wise and I kept pushing through. 
"Everybody was really surprised but I had to work hard for it. I could walk in two weeks, and I got better and better and better."
Then came the moment at the medal plaza in Zhangjiakou, China.
"It was a personal goal," Kampschreur said. "I made a promise to myself – and I spread it so I would have to do it – that if I reached the podium, I was going to walk on the podium just to prove that I can do it. That gave me more motivation for trying harder to get better and faster at walking, because it's really important for me."
Perfecting the walk
Last August, the Paralympic medallist visited a top-level prosthetics company in Oklahoma, USA to train and get the perfect legs for himself. 
"They changed my setup completely. They changed the programming of the knee, they trained me, they got me out of my comfort zone and I became a three or four times better walker within 10 days. Now I'm just walking around really comfortably," he said. "When I do fitness training, I do it with my legs, so I can walk four kilometres in one hour. That's the level where I am now.
"I want to keep training and, eventually – although it's really hard in the mountains – I want to get rid of the wheelchair and just be a full-time prosthetic user. I already do it for whole days but when you have a really steep or slippery environment, it's harder to manage with the prosthetics, and I'm kind of scared to get injured.
"But I have things in my mind I want to achieve, like maybe half a marathon or running on blades. These (prosthetics) are not made for running. I feel like when I'm strong enough and I'm getting there, I want to try it. I can't imagine how it feels running."
New perspective on accessibility
Walking on legs has not only got rid of his back pains – it has suddenly given Kampschreur another half a metre in height.
"I can stand in my wheelchair as well, so the top shelves aren't the biggest problem for me. But mostly with social activities, birthday parties, whatever, it's way easier to manoeuvre around people and be at the same height. It breaks down this social barrier, for sure," he said.
"There's a lot of stairs in the Netherlands and it's so much easier. I don't like asking for help and I really have more freedom now walking around in the city, or at home. Those small things, you do it pretty often and then it actually becomes a big thing.
"I feel more confident as well, just standing upright; chest up, shoulders down, standing there. It's a whole big difference, because at first you're 130cm and now I'm 180cm (tall). First time I was walking around, I was like, 'What? The house is so small'. The ceiling was really close to me compared to before. I felt like a giant in the beginning, but you get used to it."
After Beijing, Kampschreur and his girlfriend enjoyed a month-long holiday in Mexico.
"I was really inexperienced and it was super hot and it was super heavy," he said. "But with walking sticks and a lot of work, I actually had a really, really cool vacation and I travelled to places where I could never come with my wheelchair.
"I experienced a lot of moments where I appreciated the prosthetics a lot. And I'm really thankful for the freedom it gives me.
"It's also healthier for my body, quite simply. Sitting is not healthy and it's a really good thing in my life."
Road to Milano Cortina 2026
At January's 2023 World Para Alpine Skiing Championships in Lleida, Spain, Kampschreur won two silver and two bronze medals. 
"It was quite a flat slope, which is not my favourite at all," he said. "I struggled to find speed in the flat sections because of my weight, and maybe because of my skiing personality.
"But to have four medals is consistent. I'm happy with it. I kind of have a reputation for going 'all or nothing' but I actually finished four out of five races on the podium. I think I can be happy with that but, of course, I strive for gold."
And he was close: in the super-G he was 0.01s behind Japanese gold medallist Taiki Morii.
"I'm not sure I was really happy with it – it is mixed feelings – but I think I'm in really good form and in a happy place, if you look at the skiing style," said Kampschreur, who went on to win all four of his races at February's World Cup in Saalbach-Hinterglemm, Austria.
"I won everything so I know I'm skiing well. I'm not going to make myself crazy about not finishing first all the time. Of course, we want it, but it's not always possible."
His mind however is set on walking on more Paralympic podiums at Milano Cortina 2026.
"I want some redemption in Milano," Kampschreur said. "I just want the gold medal at the Games and there's enough time for me, but we have to be ready at the right time. We were not ready at the right time in Beijing. And I feel like it was a big shame and I want to put that right."