Martin France puts a colorful splash of paint on snow-white routine
Slovak Para alpine skier takes up painting en route to a fifth Paralympic Games appearance seeking for his first medal
15 Oct 2021
Imagen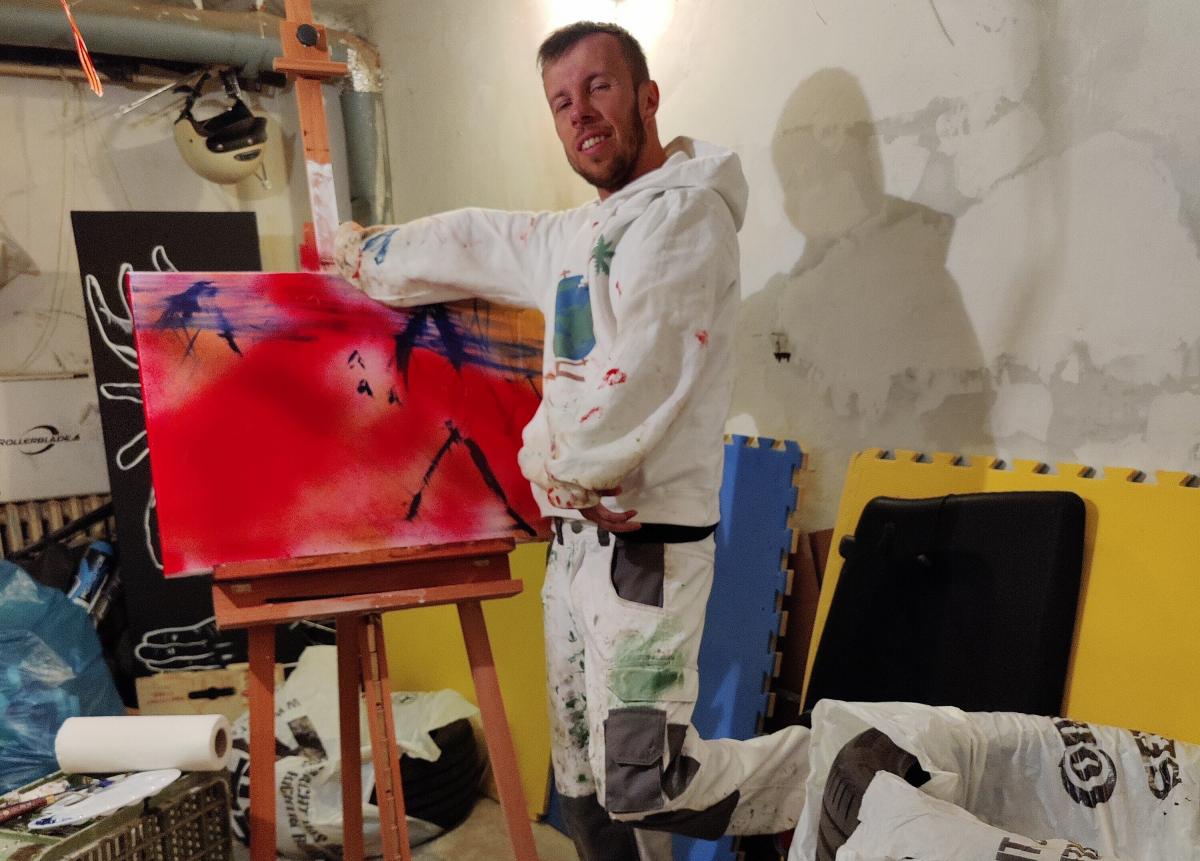 ⒸMartin France
By Lena Smirnova | For World Para Snow Sports
Skis, ski boots, and ski goggles are Martin France's usual tools of the trade. Lately, however, his to-go list has also included easels, canvases, acrylic, oil, and spray paints.
The Slovak Para alpine skier returned to his childhood hobby of painting last year, a hobby he hopes will become something more when he retires from competitive sport after the Beijing 2022 Paralympic Winter Games.
"I would like to continue painting. It is my biggest passion after skiing," France said.
"Maybe I will have success in this and maybe not, I don't know. But it helps to make me smile. I am alone when I paint and I am just listening to music. Everything is good."
THE LION OF HURBANOVO
Born with underdeveloped upper limbs, France started drawing while in school. Back then, his preferred subject was also sports, though not the one he dedicated the past 26 years of his life to.
"I tried to use the pencil in school. I remember I drew hockey players from the little cards. I made them bigger," France said. "That was when I was a child but from high school, I finished painting for a while."
In the years since putting down his pencils, France went on to become one of the most consistent Para alpine skiers on the circuit. He has now competed at four consecutive Paralympic Winter Games, starting with Torino 2006, and finished fourth in the giant slalom on three occasions.
In the lead-up to his fifth Paralympic Games in Beijing, France took up painting again. This time it was an amphibian rather than a hockey player that inspired him to start sketching.
"My brother was in New York for a trip and he wanted to buy a painting from some man in Central Park. He did not buy it because it was too expensive so I told him that I will paint the same painting for him," France said.
"It took one year, the painting that I made. It was a frog. When I finished this painting I was really excited, so I made more and more paintings."
France launched his artistic comeback from the house basement in Hurbanovo. When the basement got too small for his ambitious projects, he moved the easels to the garage, wrapped the car tires in protective plastic wrap, and turned on the music.
Abstract paintings in oil, acrylic, and spray paint followed, as well as a large canvas of a roaring lion and another of four hands spelling out 'LOVE'. Skiing also made it into the subject matter through an abstract mountain landscape and a portrait of Slovak alpine skier Petra Vlhova.
"I really like graffiti. It is my inspiration, the art of graffiti and street art, so this is what I like to paint," France said.
"I studied a lot on YouTube on how to paint and what to use. I mostly use oil paints because I like that it is not so easy. With oil, it takes a long time to finish the painting so I like it more than acrylic but sometimes I use both."
France made sure his next project is also not an easy one. He is trying to create custom-painted running shoes and already bought several pairs to experiment on.
"It's really hard to paint the shoes because there are small areas to paint. You must be careful. So maybe I can't do some nice shoes. Maybe yes, maybe no, we will see. You must try everything if you want to see the result," he reckoned.
STROKE OF BEIJING RED
France's efforts in his garage studio have not gone unnoticed. A couple of friends commissioned paintings from him, but with Beijing less than five months away and each painting taking at least two months to complete, France is putting the 'art business' on hold, for now.
Having come close to winning a Paralympic medal three times, the skier is determined to give his dream another go at Beijing 2022 and finish his sports career with a flourish.
His best medal prospects are in the giant slalom and slalom disciplines.
"The biggest motivation is to get one medal, just one medal because I was fourth three times," France said.
"Every athlete with disability who has a medal or some success in his sport, he has a good feeling and I would like to have that too. I want the medal.
"After Beijing, I will end my career. If I win a medal, or if I don't win a medal, I will finish. Everything must end somewhere," he added.
Aside from his sports and art endeavors, France works full-time for the Slovak Paralympic Committee. Like fellow Para alpine skiers Jakub Krako and Miroslav Haraus, he is a professional motivator for children and people with impairments.
France even got two of his younger clients into Para alpine skiing. They currently ski for the Slovak Paralympic junior team.
Now also their teammate, France continues to offer them words of advice and it is the same advice he follows in his own life: "Don't fall down. Smile. I am always smiling. No matter what happens, we must smile because there is only one life and the only thing to do is just smile," concluded France.