From pool to the ocean, "Amphibian Namibian" Nasilowski is swimming with a mission
Gideon Nasilowski, who represented Namibia at the Rio 2016 Paralympic Games, is on a mission to swim between Robben Island and Cape Town in South Africa to prove that there is no challenge he cannot overcome
14 Sep 2022
Imagen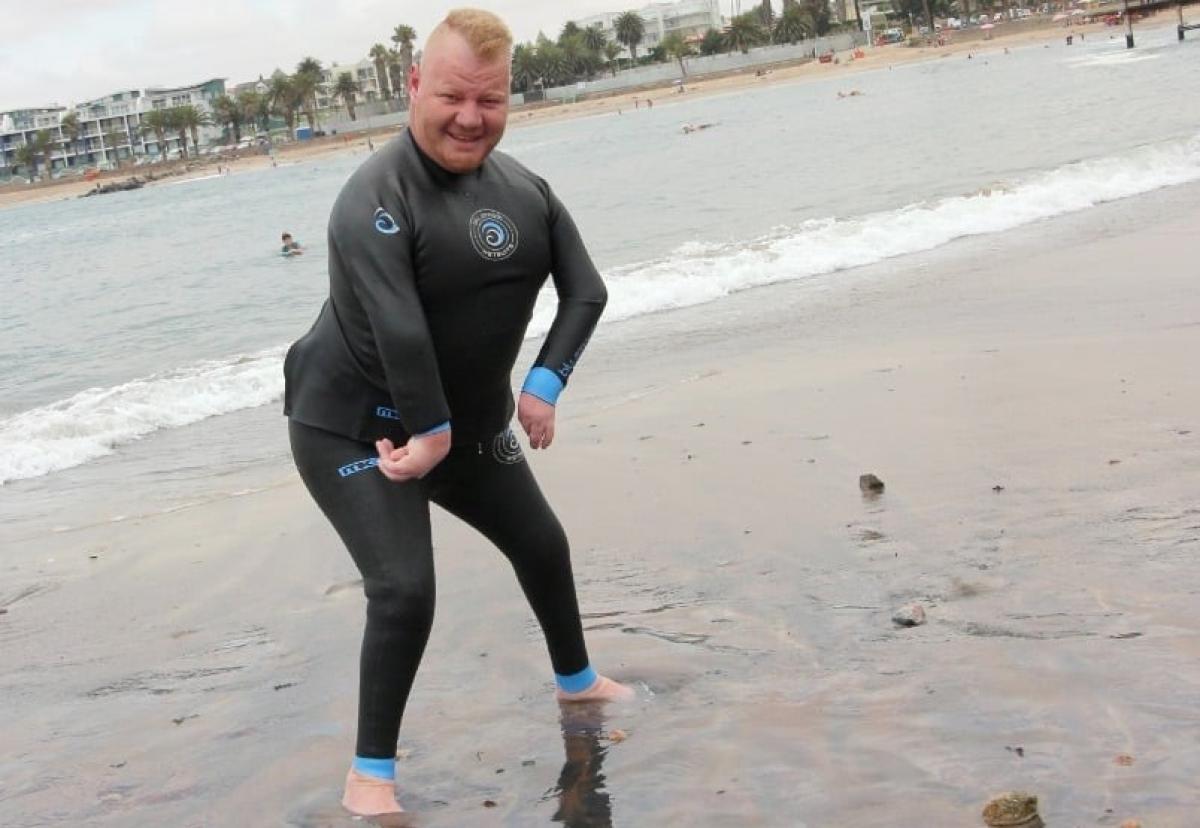 ⒸGideon Nasilowski
By Ayano Shimizu | For the IPC
Gideon Nasilowski, Namibia's sole swimmer at the Rio 2016 Olympic and Paralympic Games, has been looking for a challenge he cannot overcome – just to prove that he can do anything.
That is why he launched a challenge to swim more than seven kilometres between Robben Island and Cape Town in South Africa, an extremely difficult and dangerous pursuit for a swimmer classified in the S3 category.
Born with arthrogryposis multiplex congenita, a condition that causes joint contractures, the 37-year-old Namibian failed in his first attempt in November 2021, but is confident that nothing is impossible.
"I'm searching for something in this life that can really break me down and that can beat me. And I don't think it exists, but I'm always searching for that one challenge that can really break me down and I can say 'You know what, now I'm beaten'," said Nasilowski, dubbed the "Amphibian Namibian" by local media. 
Challenge accepted
Nasilowski has a track record of proving his naysayers wrong.
Watching discus thrower Reginald Benade represent Namibia at the Beijing 2008 Paralympic Games while he himself was at a barbecue party was the moment that changed Nasilowski's life.
During the party, his friends said he did not have what it takes to be at the Games, which led Nasilowski to pledge that he will become a Paralympian one day.
Back then, Nasilowski was overweight, smoking and drinking, and he admits that he was far from being a sportsman. While he learned how to swim at school, he had considered it a "life skill" rather than a sport.
"I said to them (my friends), 'Don't tell me I can't do anything because if you challenge me, if you say I can't do it, I will go out of my way to prove it to you.' And they just laughed at me, they thought I was a big joke and said I have a big mouth," he said. "And then I started that Monday at the gym."
Nasilowski had to start training on his own because Namibia did not have a Para swimming programme he could join at the time. His condition – he says his joints are "fixed head to toe" – makes it difficult for him to advance in the water.
He trained at the gym before and after his work at a bank, studied about classification on the International Paralympic Committee website, and also wrote proposals to local businesses asking to be his sponsors. 
"Nobody knew anything about swimming or Paralympic swimming, for that matter," he said. "I used to be the coach, I used to be the manager, I used to be the athlete, I used to be everything."
In 2013, he entered history books as the first Namibian ever to participate in an international swimming competition, at the IPC Swimming World Championships in Montreal, Canada.
Three years later, he competed at the Rio 2016 Paralympic Games. While he finished last in his heat in the men's 50m freestyle S3, Nasilowski said it was a golden moment for him and his country. 
"Just going to the Paralympic Games, that was a world record and that was a gold medal for Namibia," he said.
Anything is possible
Nasilowski's attitude about facing challenges has not changed since the barbecue party where it all started. In fact, it might have become stronger.
By doing what people think is "impossible", the swimmer wants to raise awareness about people with impairments in Namibia and raise funds for Para athletes to train and compete.
In his latest attempt to cross from Robben Island to Cape Town in November 2021, Nasilowski had to suspend the swim due to bad weather. The water was nice at first, but he was told to stop after there were large swells and the condition of the water got worse and worse.
Despite this setback, Nasilowski's message remains that it is possible to achieve anything.
"I want to show people (to) just go out there because life is about taking your chances and taking what is yours. You can do this, but you need to want it," he said. "You need to want it more than anybody in the world.
"My mother taught me (when I was) a young boy that I need to work two or three times harder than anybody else, and I was willing to do that because I wanted to be the best version of what I can be."
A star is born
While he hopes to become a source of inspiration for other people, Nasilowski said he recently got his own inspiration - his daughter Nova, who was born in August 2022.
He enjoys parenthood and looks forward to giving his daughter life lessons.
"One day when she's big and if she ever complains about anything or when life ever gets tough, I want to tell her, 'You know what, if I can do it, you can do it'," the Paralympian said.