Pride Month: Robyn Lambird on making history and being in the spotlight
'It's only now, reflecting back, I can see the importance of telling my story and being visible in order to open the sport up to more people'
15 Jun 2022
Imagen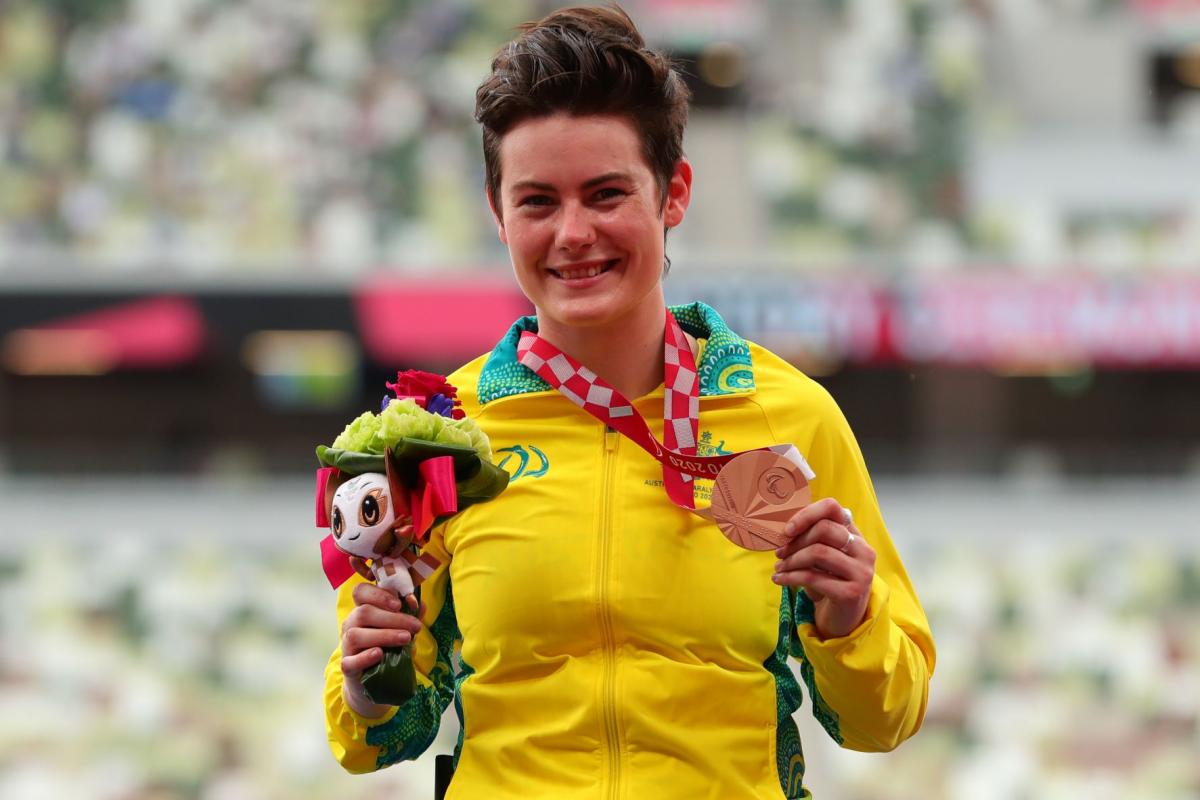 ⒸDrew Chislett/AAP Photos
By Lena Smirnova | For the IPC
Making a Paralympic debut can be stressful. Doing so while being in the spotlight as one of the first three openly non-binary athletes at a Paralympic Games takes that stress to a new level.
Now looking back at the media frenzy around their participation at the Tokyo 2020, Australian wheelchair racer Robyn Lambird is glad for not shying away from the attention and using the Games as a platform to showcase diversity.
Lambird hopes their openness will help other athletes feel more at ease in expressing their individuality.
"It's really important that we have visibility and representation for the LGBT community so that people feel comfortable coming into the sporting environment," Lambird said. "People need to know that there is a place for them there and they'll be valued in that community."
Speaking loud
While people often have doubts about expressing their LGBTQ+ identities, Lambird admits being one of the lucky ones who never felt that they had to hide it. 
A welcoming sports environment was a big part of that. 
"I've been really privileged to always live authentically and portray who I am truthfully," Lambird said. 
"I've started off in wheelchair rugby, so I was playing with a lot of guys and they were all really supportive of me being there and playing, so I think that's paved my path. It was the reason that I continued in sport because I just felt so welcome in that community, and I felt like I had all these brothers and uncles. In the team it was like a family and then, transferring into athletics, I found that there as well."
The wheelchair rugby-turned-wheelchair sprinter has not only openly spoken about their identity with teammates, but also to the public in general. 
In the posts on their Instagram account, which has 23,000 followers, Lambird tries to raise awareness about disability and sexual orientation. That includes inviting people to send in questions on a variety of potentially sensitive topics, such as gender pronouns. 
"The disability, queer community hasn't always had the platform to be able to tell their own stories," Lambird said. "To be able to have social media and to be able to take control of that narrative and to show people that disability isn't an inherently negative thing or that there is a wide variety spectrum of gender and sexuality and that those groups of people belong in sport or they belong in whatever it is they're passionate about, I think that's really important."
Tokyo spotlight
The key moment for Lambird came during their Paralympic debut in Tokyo where they – along with Australian Para shot putter Maria "Maz" Strong and USA Para rower Laura Goodkind - were among the first three openly gender-neutral athletes to compete at a Paralympic Games.
Going further, Lambird also became the first non-binary athlete to win a medal at a Paralympic Games when they took bronze in the women's 100m T34 on 29 August with a time of 18.68 seconds. 
Strong followed suit four days later, winning a bronze medal in the women's shot put F33.
"At the time I was so focused on the task at hand. I've been training for over six years to get to that Paralympic Games that I didn't really think about anything else," Lambird said. "Once everything had settled down, that's when I realised that oh, it's quite important in terms of what it could do to help people feel seen, to help people feel represented."
Lambird's historic achievement made headlines not only in Australia but also around the world. There were also messages from the disabled and queer communities thanking the Paralympian for inspiring them to take up sports.
Seeing how positive the reaction was at Tokyo 2020, Lambird hopes the attitude to LGBTQ+ athletes will continue to improve even more. 
"It's getting better and better and I hope by the time the next generation of athletes come along, they feel completely able to be who they are and to be themselves," Lambird said. "That's what we're all striving for is to make sure that everyone feels welcome and included because we all know the power of sport and how that can transform people's lives."