Pride Month: Sir Lee Pearson on speaking out to create a better world
'We should be promoting the fact that the world should be a more equal place'
01 Jun 2022
Imagen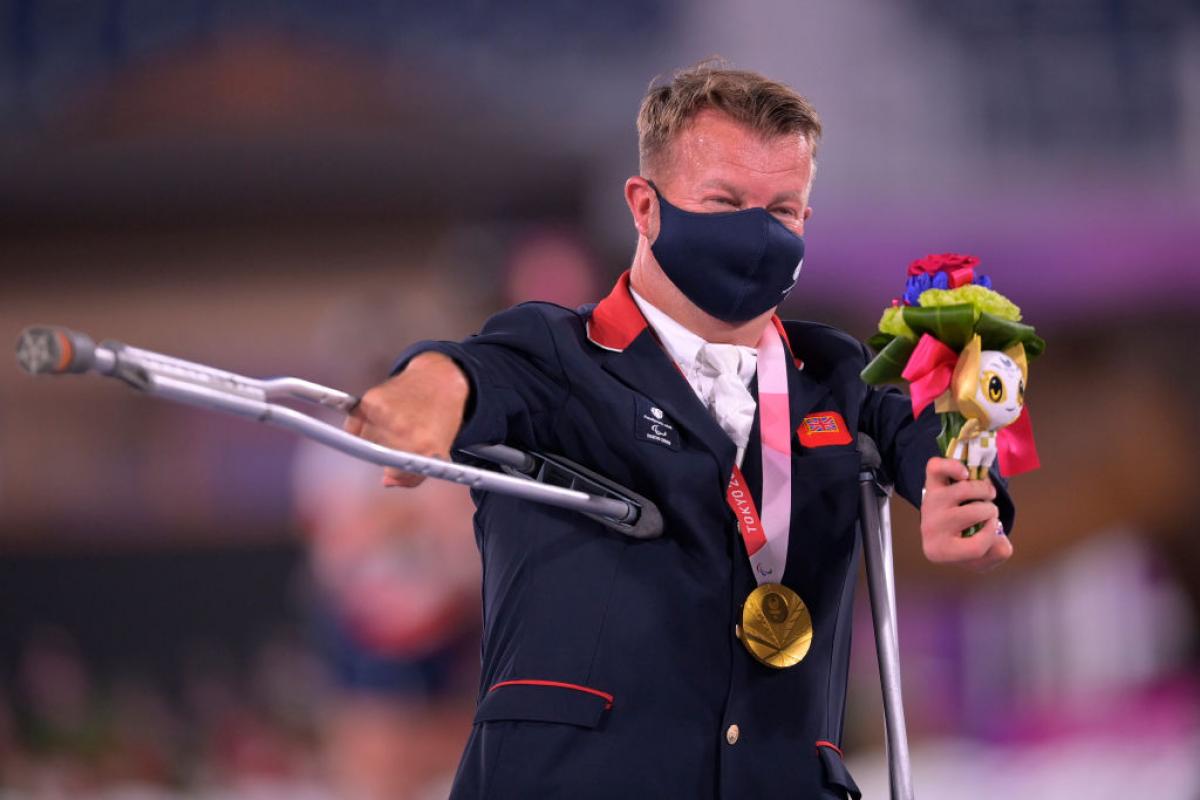 ⒸKoki Nagahama/Getty Images
By Lena Smirnova | For the IPC
Great Britain's Para dressage rider Sir Lee Pearson describes himself as a "cheeky character" and far from perfect. But no matter how much fun he might poke at himself, there is no denying he has given multiple people hope and saved at least one life.
The most successful Para equestrian rider in history, Pearson has won 14 gold medals across six Paralympic Games, showing people how limits can be broken despite a severe disability. 
He has also been a voice of comfort for those struggling to be open with their sexuality. Having come out at age 20 before his career took off, Pearson became Britain's first openly gay Paralympic champion when he won three gold medals in his Paralympic debut at Sydney 2000. 
As Pearson says, he never aimed to be an advocate for LGBTQ+ rights but realising the different attitudes on this topic around the world, felt that he had a duty to speak out.
"In Great Britain and also within international horse sport, we can feel very safe to literally be who we want to be, to a degree," he said. 
"When we travel a lot around the world we realise that the world actually isn't a very safe place and there isn't equality around the world so I think when you're in a lucky position to not live your life hidden away due to disability, or sexuality in this case, we should be promoting the fact that the world should be a more equal place for all and help to educate other countries."
A fine balance
Deciding to be open about his sexual orientation was not easy for the 48-year-old athlete who grew up at a time when attitudes to homosexuality were predominantly negative. As a person with a disability, Pearson also already knew what society's reactions could be like.
"My coming out was quite traumatic," said Pearson who was born with arthrogryposis, a condition which affected the muscles in his arms and legs. "I really battled a lot with myself so once I came out, I did have an inner strength that I am who I am, both for my disability and my sexuality."
"I don't think my disability as such made it harder or easier," he added. "It was more social pressures and also dislike of myself of having these feelings that was the biggest hurdle to get over, probably even bigger than telling family and friends, and that's the way that I think society had made you feel."
Pearson has chronicled his struggles, including his decision to come out, in his autobiography I Am Who I Am, which was released in spring 2021.
While the rider himself has never made his sexuality the main topic of conversation, he also never tried to hide it. Notably, Pearson has spoken on the topic at length after being chosen as the British flagbearer for the Opening Ceremony of Rio 2016 and after winning his career's latest gold medals at Tokyo 2020.
"I do feel sometimes for me it's more just in the doing than the chewing, which basically means I just get on with life, with my sexuality and my disability," Pearson said. "But I also have spoken (out) as in Tokyo (where) we were in a country where there wasn't this acceptance that we have in other countries and definitely Great Britain, so sport has been a great platform for me to be who I am and if that can help with positive change, then that's absolutely brilliant."
Gimme some truth
Pearson's honest talk has indeed helped. Over the years he has received multiple messages from people thanking him for this position. 
"It's touching, it is. I have received - it was years ago now - an email where somebody had said that just reading about my life and my confidence had stopped them committing suicide because of their own feelings about themselves so I mean, wow," he said.
"The lovely messages that I receive both for my riding, and people seeing how I ride with my severe disability, to my sexuality and me being myself, if that can help one person, amazing. If it can help 10 people, brilliant. One hundred people or more, then life's worth living when you feel that just being yourself inspires people and helps people, so I feel very lucky to be in that position."