Sarina Satomi keen to be 'first queen' of Para badminton
The Japanese athlete talks about why she is hooked on Para sports and what tactics she will use to win in the Paralympic Games
28 Oct 2020
Imagen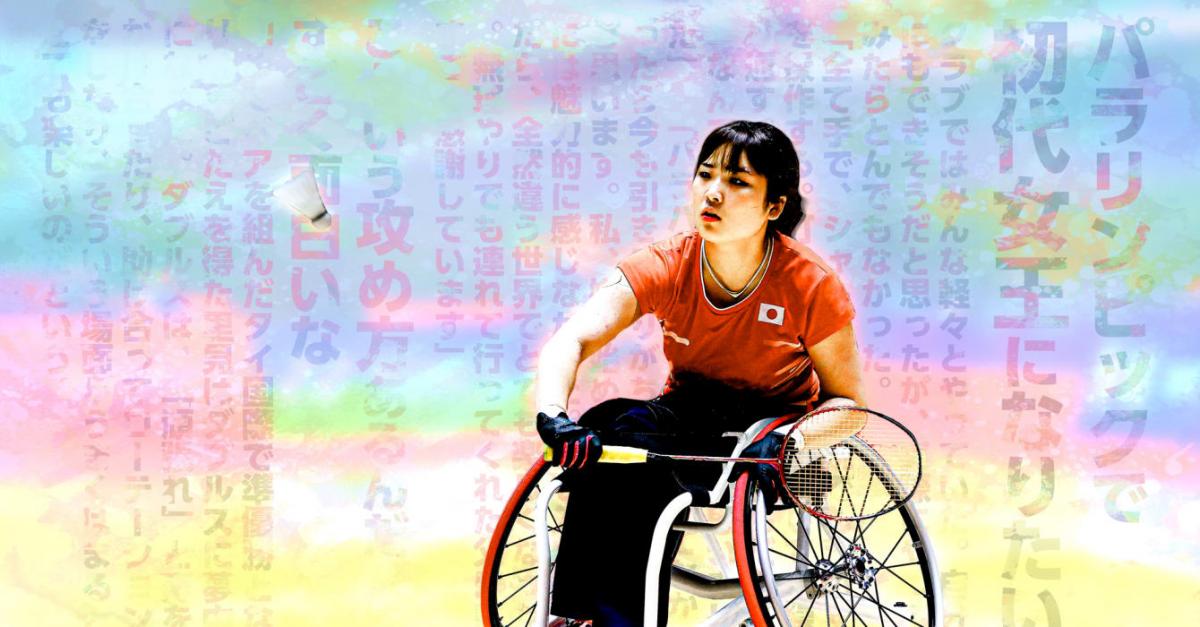 ⒸJPBF
By Tokyo 2020 and IPC
Sarina Satomi has 300 days until her dream of being a Paralympian becomes a reality, as the Japanese star is a big favourite for double gold at Tokyo 2020. 
In three years since taking up Para badminton, Satomi is already a world champion in the women's singles WH1. Now, the sport it set to make its Paralympic debut next year. While Satomi has all the momentum, the journey was not easy and she faced her share of challenges.
"This is such a difficult sport," Satomi thought when she first tried the sport. 
"At first, the coach hit the shuttle around me within my reach, so I could just about hit it back, but then he said, 'Let's make it a bit more difficult,' and started making me move from front to back and vice versa, and the shots were totally impossible to return," she recalled, laughing.
In May 2016, when Satomi was in her third year at high school, she was in a car accident and injured her legs. She spent nine months in the hospital recuperating and learning how to use her wheelchair. After a year of uncertainty,  on her father's advice she checked out a wheelchair badminton club in her local prefecture, Chiba.
Satomi had already been playing badminton at junior high school but playing the sport in a wheelchair was different. Here, she drew inspiration from other Para athletes in her club. 
"The players, were hitting the shuttle by using their hands only, then moving the wheelchair, hitting and moving, over and over again. I couldn't help but wonder how on earth they managed to do this," Satomi reminisced.
Yet, after playing the sport for a little over two years, topped the world rankings in both singles and doubles (as of October 2020).
An athlete's mindset

In the beginning, Satomi was reluctant to play Para badminton professionally and chose to keep it as a recreation. However, when she started taking part in tournaments, her fierce competitiveness took over.
One year into the sport, she was selected to play at her first international competition in Thailand in July 2018 and since then she has not looked back. 
Satomi also joined force with veteran Yuma Yamazaki (WH2) in the doubles category.  
"Yamazaki was eyeing the Paralympic Games, so, as her doubles partner, I considered switching my mindset to that of an athlete's and work hard towards the same objective too."

Pair's strength in doubles - the fun part

Satomi's first doubles event at the Thailand Para Badminton International resulted in a silver medal, which spurred her passion for the doubles. She said the fun part of playing in the doubles is voicing encouragement and helping each other in rotations. For Satomi, when all the pieces fit together perfectly like a jigsaw puzzle, it is truly exhilarating.
Since securing the World Championship in the singles event, Satomi has gained confidence and is now able to share her views openly with her doubles partner Yamazaki, and the pair have built a close bond.
Together, the highlight of their play is their rotation techniques. The Satomi/Yamazaki pair has been practising this tactic as one of their strategies to defeat their biggest rival, the Chinese pair, to whom they have lost at the Asian Para Games and succumbed to third place.
In the wheelchair badminton doubles, a side-by-side formation is commonly used, where each player is positioned on either the left or right side to cover the court accordingly. However, the Satomi/Yamazaki pair takes a different approach.
"We rotate our positions rapidly on many occasions, although it is rare to see wheelchair badminton players do this. We would shift to symmetrical and other formations to mutually cover our weak areas, for example. I think viewers will be impressed to see us spinning around on the court," Satomi explained.
An example of their rotation tactic was seen at the Japan Para Badminton International 2019 final in November 2019. When they had their backs against the wall, trailing 4‒14 in the final game, the pair switched to their rotation tactic and clinched a dramatic upset victory.
Decision to take up singles

Initially, Satomi considered the doubles to be her pet event and preferred it over singles, but over time she was a force in the singles too.
"In the doubles, the player with the greater impairment is targeted by the opponents, which means that if I become a good and strong player, we [as a pair] can win. When I realised this, I started thinking that I should also compete in the singles," Satomi stated.
The wheelchair badminton singles event is played on half of the court, with shuttles falling between the net and the service line considered out of bounds. Badminton is a psychological game of tactics. However, as wheelchair badminton is fought on a smaller court, the focus is placed more on how to force opponents to move back and forth repeatedly.
The long rallies are also one of the highlights of Para badminton. With the net set at the same height as in able-bodied badminton, viewers get the impression that able-bodied players are playing badminton with a volleyball net. Players lean backwards as far they possibly can in their wheelchair seat to perform smashes, which is a very challenging skill. They occasionally tilt their body sideways and turn the wheels backwards to roll back. 
"Sometimes I predetermine what tactics to adopt beforehand, and at other times, I just play instinctively. During long rallies, there are moments when I realise that I'm playing tactics with the opponent, which makes me truly immerse myself in the joy of playing badminton," she said.
"Of course, I feel happy when I score a point, but I also feel admiration and can't help smiling when my opponent gains a point with an attacking move I've never encountered before. It's these moments that I love about badminton."
How Para badminton changed her life

"When I started using a wheelchair, I confined myself to home, reluctant to ride on trains and buses because I didn't want people to see me in a wheelchair. Even if I did go out, I would come across many barriers, such as stepped surfaces and inaccessible heights, which made me give up. But Para badminton changed my mindset," asserted the 22-year-old.
"If I hadn't encountered Para badminton, I would still be spending most of my life at home. At first, I was reluctant to play, not being able to see the fun part of the sport, but once I got serious, a whole new world opened up. I started having great fun. I'm profoundly grateful to my father, who kind of forced me to join the club," she explained.
Satomi has set sights on two gold medals at Tokyo 2020 on her home soil, in both the singles and doubles.
"Para badminton is included in the Paralympic Games programme for the first time, so I definitely would like to become the 'first queen.' I'm exhilarated about the Games being hosted in Japan because it will help promote the sport to a wider audience. I also want to see people close to me get excited to see me play and win, so I will do my best."