Singapore's Nurulasyiqah Mohammad Taha: I don't want to be at the mercy of the virus
Missing out on Tokyo 2020 qualification, boccia athlete still finds ways to stay motivated
16 Mar 2021
Imagen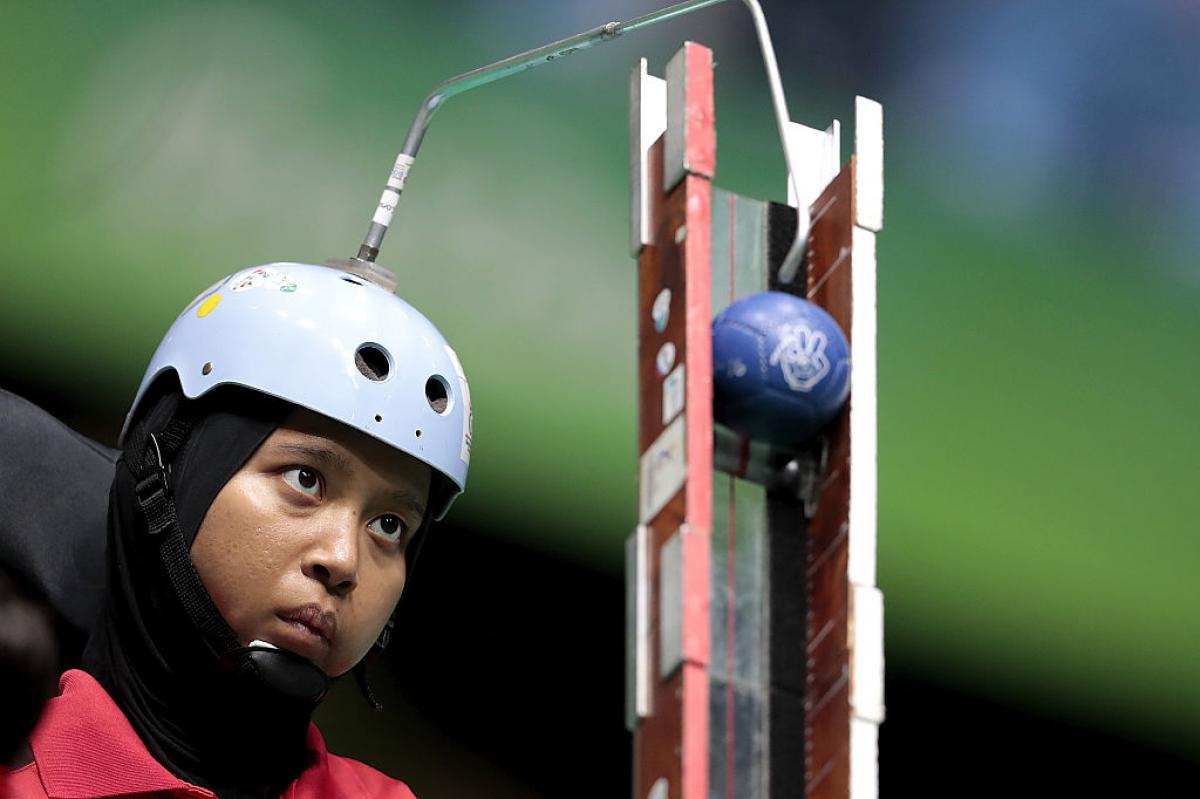 ⒸGetty Images
By Ros Dumlao | For the IPC
The COVID-19 pandemic has impacted one and all and Nurulasyiqah Mohammad Taha is no different.
As if the pandemic cancelling competitions and in-person trainings with her sports assistant wasn't hard enough on her, not qualifying for the Tokyo 2020 Paralympics was the most heart breaking.
For a person who scripted history as Singapore's first Paralympic boccia athlete at London 2012 Paralympic Games and helped the BC3 Pair team come close to a podium at Rio 2016, Taha even began doubting her identity as a boccia athlete. 
She wondered: "What if travelling becomes even more impossible for me due to my vulnerable muscular dystrophy condition? Will I ever be able to travel and compete in boccia again? How can I contribute to society other than through sports? Where do I channel my competitive drive?"
At some point, she stopped questioning and decided to go with the flow. She initiated off-court training for her team with a sports psychologist and biomechanist. 
One thing led to another.
While working with the biomechanist on video analysis, Taha had the opportunity to explore programming courses online and began seriously considering studying analytics, basic coding and programming. With a background in accounting and law, she researched for a graduate programme that welcomed students without any background in information technology.
She began her graduate programme this January at the Singapore Management University, open to where the journey would take her. During the day, with restrictions lightening, she also manages to squeeze in boccia trainings. 
"With so many changes and uncertainties in our lives as we manage the COVID-19 situation, I wanted to regain a bit more control over my life and not be at the mercy of the virus," Taha said. 
Taha, who has muscular dystrophy, was approached by the Singapore Disability Sports Council for boccia training opportunities after she finished university, and her athletic career took off since.
"Boccia has ignited the competitive side of me," the two-time Paralympian said. "In my quest to perfect my shots, I've developed resilience that couldn't have been developed under other circumstances. Through boccia, I've also have the good fortune of experiencing the highs of winning and the heartbreaks of losing together with my team."
Taha admitted one of those lows was not making it to Tokyo 2020. She continues training in the hopes of performing well at the 2022 World Championships and set herself up for Paris 2024. The healing process, she also admitted, has taken time.
But it is in her nature to find ways to channelise her energy, knowledge and experience in areas outside the field of play.
She ran for election on the International Paralympic Committee (IPC) Athletes' Council, believing in the importance "for the voices of Asian, women and athletes with high support needs" to be heard.
Then last February, she was certified to become a Proud Paralympic Educator, in which she can help Para athletes find the tools they need to give their best on and off the field of play and find their place in the Paralympic Movement. Her certification in Germany was one of her last international trips before the pandemic hit, making her eager for the next opportunity to support other Para athletes. 
"I hope the situation around the world improves soon so that we can all actively participate in all areas of life again instead of through the computer/phone screen," Taha said.