Positive mindset invigorate South Korean team amid coronavirus pandemic
"Nothing can stop me from chasing the dream I've been waiting for 22 years"
23 Mar 2020
Imagen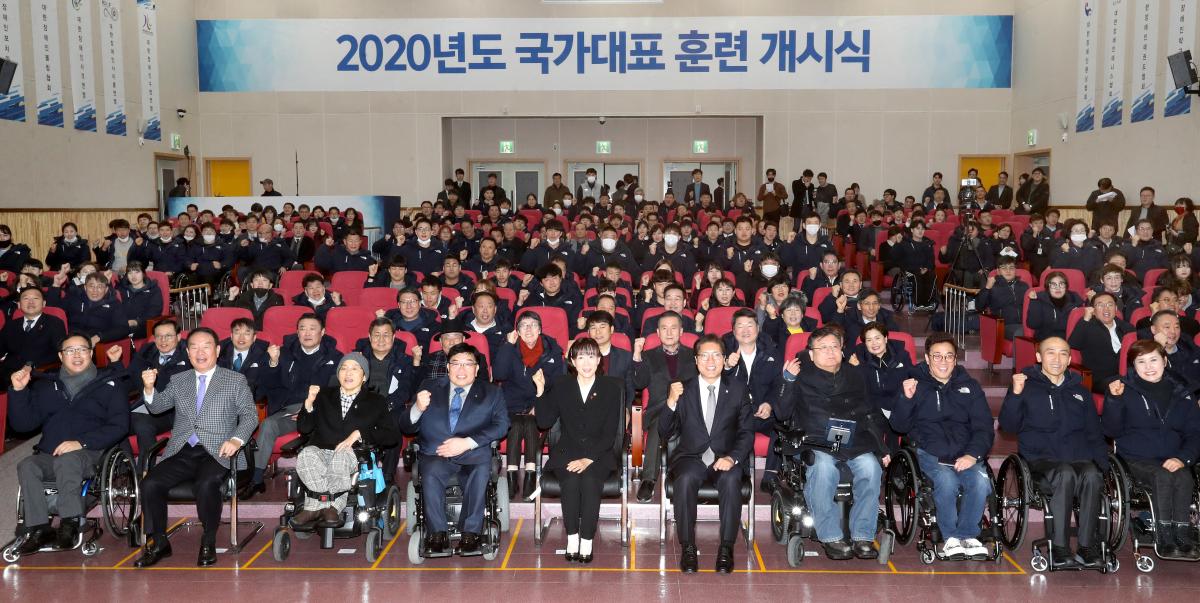 ⒸKorean Paralympic Committee
By EJ Monica Kim | For the IPC
Tokyo 2020 is supposed to mark the Paralympic debut of taekwondo, and South Korea's Kook-Hyun Han is not letting the coronavirus pandemic down his excitement for that historic moment.
"Uncertainties have hindered me a lot," Han said. "But nothing can stop me from chasing my Paralympic dream that I've been waiting for 22 years." 
Han took up the sport in 1998 and had training camps at the Korean Paralympic (KPC) Training Centre in Incheon in January and March. But COVID-19 situation accelerated and the number of coronavirus cases exponentially rose in the nation, making them the second-highest of confirmed cases in February outside of China.
Since many Para athletes were already training at the Centre, the KPC decided it was best for them to remain there to avoid spreading the virus . Visitor access was restricted as the nation began taking drastic measures. 
The crisis had domino effects on athletes than just training.
Another Para taekwondo fighter Jeonghoo Joo was struggling to rebuild his mentality after both, the Asian Para Taekwondo Championships and Asian Qualification Tournaments for the 2020 Paralympic Games were postponed. 
"I was in the process of losing weight ahead of the initial schedules in March and April," said Joo, who claimed bronze in the men's up to 75 kg K44 at the 2018 Asian Championships. 
"I'm trying to stay positive because I also gained more time for preparations."
He found a unique way to stay motivated by joining training sessions with the swimming team.  
"It is fun to learn from athletes competing in different disciplines, so we have received a great energy from one another."
On Instagram, he posted: "The hope the world will be cured."
Training in a mask
South Korea's favourite boccia team have been targeting a ninth consecutive Paralympic gold at Tokyo 2020. The difference in preparations now, however, is that they have been training in masks. 
"It was such a big challenge for our athletes who particularly, have weak pulmonary function," said head coach Gwang Taek Im who has been in charge of the national team since 2013.
"I kept encouraging them by saying that it would be helpful to strengthen respiratory muscles."
Fortunately, everyone got used to the new training method well, as they all understand that it is top priority to stay healthy. 
"We are also getting exhausted mentally due to many frustrating situations, including the cancellation of the Tokyo 2020 Test Event," revealed Im.
"However, I'm trying my best to cheer them up by reminding them of how lucky we can still play boccia at this safe venue which is disinfected twice a week, compared to other athletes who were forced to stay at home.
"Our team slogan was originally 'Go for it, Korea!' But now we changed to 'Let's fight, Corona!'" 
Benefits of outdoor sports
Rio 2016 silver medallist Doyeon Lee has been riding maximum 80km a day in Iksan, North Jello Province where they have confirmed only 0.1 per cent of the coronavirus positive cases in the country.  
"Here is a countryside which has fresh air and less people, so nothing had impact on my daily life," the cyclist explained. 
Her upcoming target had been the 2020 Para Cycling Road World Championships in Ostend, Belgium in June. But she is staying flexible knowing the global situation is ever-changing
"If I have a chance, I'll definitely compete at Ostend 2020. But my plan is just focusing on training here in South Korea until Tokyo 2020," said Lee who is called as 'Iron woman'.  
"My motto is: 'Think positively in any circumstances.' Everything is up to my mindset, not surrounding environment, so I don't want to take a pessimistic view of the current situation."