Year like no other for European Para athletes and events
Five European athletes put aside their training to fight coronavirus
26 Dec 2020
Imagen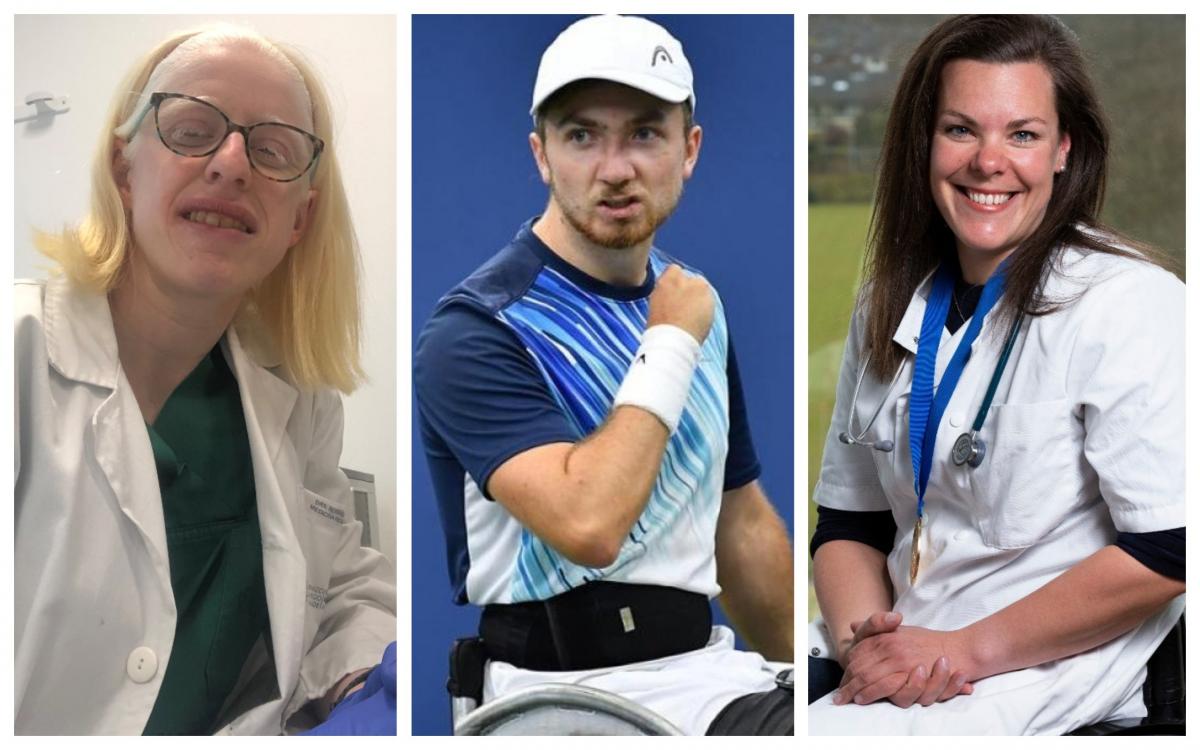 ⒸSusana Rodriguez /USTA/Annika van der Meer
By Teddy Katz | For the IPC
After the Tokyo Games were postponed, British wheelchair fencer Matt Campbell-Hill retired to focus on his other passion – assisting healthcare workers battling what became the word of 2020 - coronavirus.
Campbell-Hill is the co-founder and designer of the Aerosol Shield, a disposable plastic 'pop up tent' he supplied to use as a barrier between COVID-19 patients and medical staff.
"A lot of people were trying to help by creating stuff in their backyards, but they were not creating it with the right materials. They don't know the requirements, but our team could, and we did something really good."
In Spain, Para triathlon World Champion Susana Rodriguez was another athlete relieved the Games were postponed so she could help as a doctor in Santiago de Campostela.
"People used to ask me if I preferred sport or medicine, and I always didn't know how to answer," she says, adding, "Now though, healthcare is the most important thing to all of us.  Each morning, I see people dying."
Rodriguez was heavily involved in Covid-19 patients' recovery.
It was a similar story for two-time World Champion Dutch rower Annika van der Meer. 
"It's just bigger than being a professional athlete. For me, first I'm a doctor. Second, I'm a rower."
Over on a small island off the Italian Tuscan coast, Para rower Greta Muti thought she would be getting ready for her first Paralympics.
Instead, she was helping her mother, a doctor, and her sister who is studying medicine like Muti, as they observed the islanders to make sure there were no COVID-19 outbreaks.
"Since we were feeling a little bit useless here on the island, we started working on a project to do screenings."
Meanwhile, British Para table tennis player Kim Dayball was happy to find himself working full-time in a hospital putting his medical training to good use managing COVID-19 patients.
"One of the things that people were struggling with is that feeling of powerlessness where they can't do anything. I'm lucky to have the skill-set to help fight what's going on."
Wheelchair athlete showcases her dance moves but not everyone gives her 10s
2020 took an unusual twist for Birgit Skarstein who made history hanging from ropes suspended from the ceiling and doing backflips, stunning television viewers with her athleticism. She became the first wheelchair dancer ever to appear on Norway's Dancing with the Stars.
Skarstein, who is a two-sport athlete competing in Para Nordic skiing and Para rowing, had never danced before spending eight weeks on the show.
She proved to be a quick learner earning four perfect scores. The Crown Princess of Norway Mette-Marit even called her a role model.
Still, Skarstein's breakthrough on the big screen also highlighted the work that needs to be done to confront discrimination when the world returns back to 'normal' post pandemic.
"It surprised me that no matter how many boundaries we broke or how many crazy impossible things we managed to nail, there were always some people not believing in us saying I shouldn't be there," Skarstein says.
Skarstein received nasty messages on social media with some people saying she shouldn't be competing with able-bodied athletes and was getting sympathy votes from judges.
"Sometimes it felt like it was us against the world. Dance is for everyone and we are part of this world," Skarstein asserts. 

Russia's Muratova clinches Para Powerlifting virtual World Cup series
In a year when many sports events were cancelled, Vera Muratova of Russia celebrated a title in a uniquely 2020 way.
The Russian was the winner of the first online powerlifting World Cup Series wherein, athletes competed at home, submitting videos of their lifts through an online platform.
The event was divided into five competitions with nine athletes qualifying for the finals which took place in November.
"The competition was able to breathe life not only into us as athletes, but also into Para powerlifting," Muratova says, adding, it was an important way to get their minds off the pandemic.
First at the French Open
It was a few months delayed but there was a special moment at Roland Garros when the quad singles final was played for the first time on the big court and broadcast live.
Great Britain's Alfie Hewitt won the men's wheelchair singles title and teamed up with countryman Gordon Reid to win the doubles event as well.
European athletes continued to shine in the women's wheelchair doubles event with Diede De Groot and Aniek Van Koot of Netherlands capturing top spot.
Surprise at the US Open
Sam Schroder of Netherlands took home the US Open quad title after being offered a wild card spot to participate.

The championship almost didn't take place after the US Open originally excluded the wheelchair tournament, causing a backlash among players who called it discrimination.