Imagen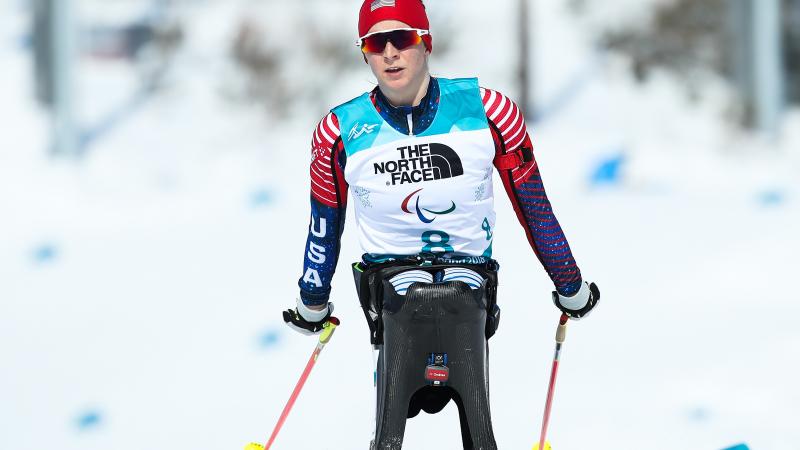 Kendall Gretsch
Athletics | Swimming | Triathlon
Having only taken up Nordic skiing in 2016, Kendall Gretsch won two golds in women's biathlon sprint and cross-country long distance sitting at her maiden Paralympic Winter Games in PyeongChang, South Korea, in 2018.
She also became the first female athlete representing the USA to win a gold medal in biathlon.
"Going into the Games I was just hoping to maybe win a medal, so to win two golds was incredible. I still feel pretty new to the sport so I'm trying to take all races as learning experiences. There's a lot you can learn by practising and training but on some level, you just have to get into races and do them to get better."
Gretsch works as technical support for a company that provides health care software to hospitals and other medical facilities.
Biography
Impairment information
Origin of Impairment
Congenital
Further personal information
Residence
Colorado Springs, CO, USA
Higher education
Biomedical Science - Washington University in St. Louis: United States
Sport specific information
When and where did you begin this sport?
She took up Para triathlon in 2012 in Chicago, IL, United States of America. She first tried Para Nordic skiing in 2016 at the Central Cross Country Ski Association in Madison, WI, United States of America.
Why this sport?
"[Para Nordic skiing] was good cross-training for Para triathlon."
Name of coach
Gary Colliander [biathlon, national]; Derick Williamson [triathlon, national]
Training Regime
"There is a lot of cross-over between the two sports [Nordic skiing and triathlon] that I do. Cross-country skiing, biathlon and triathlon are all endurance sports, so between the seasons I do a lot of endurance fitness and cardiovascular fitness. I focus on building sport-specific endurance in between the two seasons. I like to train outside, so doing a winter sport is beneficial for me mentally."
International debut
Year
2017 [Para Nordic skiing]
Competing for
United States
General interest
Memorable sporting achievement
Winning two gold medals in Nordic skiing at the 2018 Paralympic Winter Games in Pyeongchang, and a gold medal in triathlon at the 2020 Paralympic Games in Tokyo. (teamusa.org, 28 Aug 2021)
Hero / Idol
US Para cross-country skier, rower and cyclist Oksana Masters. (Athlete, 29 Mar 2018)
Awards and honours
In 2015 and 2018 she was shortlisted in the Best Female Athlete with Disability category at the Excellence in Sports Performance Yearly [ESPY] Awards in the United States of America. (fasterskier.com, 11 Sep 2018; paralympic.org, 22 Jun 2018)

She was named the 2014 Female Para Triathlete of the Year by USA Triathlon. (fasterskier.com, 11 Sep 2018)
Other sports
She won a gold medal in biathlon and another gold in cross-country skiing at the 2018 Paralympic Winter Games in Pyeongchang, while she also won gold in triathlon at the 2020 Paralympic Games in Tokyo. (olympics.nbcsports.com, 28 Aug 2021; SportsDeskOnline, 07 Jan 2019; wts.triathlon.org, 25 Jun 2017; tri.com, 03 Mar 2015)
Milestones
She became the first female athlete representing the United States of America to win a gold medal in biathlon at the Paralympic Winter Games by claiming victory in the 6km sitting event at the 2018 Games in Pyeongchang. (SportsDeskOnline, 05 Dec 2018; pyeongchang2018.com, 10 Mar 2018)
Ambitions
To compete at the 2022 and 2026 Paralympic Winter Games, and at the 2024 Paralympic Games in Paris. (paralympic.org, 05 Feb 2022)
Impairment
She was born with spina bifida and as a result her leg muscles did not fully develop. "In my case I basically just had a bunch of extra scar tissue around my spinal cord. When I was first born I had some surgeries and they take out all that extra scar tissue, but as a result those nerves are kind of damaged or just don't work as well. It impacts mainly my lower half, no function for some of my lower leg muscles or very limited." (World Triathlon YouTube channel, 25 Aug 2021; fasterskier.com, 23 Oct 2019; triathlon.org, 20 Nov 2015)
Other information
MULTI-SPORT ATHLETE
She started looking for a new sport after discovering that her triathlon category would not be part of the programme at the 2016 Paralympic Games in Rio de Janeiro. She took up Para Nordic skiing during the 2015/16 season, and went on to win gold in both biathlon and cross-country skiing at the 2018 Paralympic Winter Games in Pyeongchang. "I wanted to find another sport where I would have the chance to go to the Paralympics. I think this one [skiing] has been the tougher sport for me to pick up. I think triathlon came a little bit more naturally to me. It's a tough sport and I loved it just being outside and being able to ski. I think that's one thing that I like between the two sports is that you are travelling around the world and you get to race in beautiful venues. When I got the news that Tokyo [2020] would be postponed, and Tokyo and the Beijing 2022 Winter Games would be extremely close together - six months apart - that was terrifying. In my mind, I was going to have a much different lead-up to Beijing, but now [speaking in 2021] looking back, it is comforting. Transitioning between two seasons has been something I have done for the past five years, and I know how to manage that transition well with my coaches and other members of my team that I've worked with for so long." (teamusa.org, 09 Jul 2021; paralympic.org, 07 Feb 2019, 13 Jul 2018)

TRIATHLON
She was the first triathlete to win gold in the women's wheelchair category at the Paralympic Games when the event made its debut at the 2020 Games in Tokyo. "I got my start in Para triathlon after my sophomore year of college. I stopped doing sports when I went to college. I swam all through high school and then I took a little break from exercising at all. I wanted to get back to sports. I went to a swim practice, and the person that was leading the swim practice said, 'Hey, we have track practice after this'. At that point, I had not done any adaptive sport, just swam with my high school team, so I didn't know that much about it. She then said, 'You can come race in your wheelchair, we started a Para triathlon club and we have practice on these days'. This was the Dare2tri Para triathlon club based out of Chicago, and that's how I got started in the sport. I was not so sure where I was going to be with triathlon after Tokyo. I think at this point, I still love the training so much and can't see myself stopping after Tokyo. The plan is to keep training and competing in triathlon while I still love it. If that ever changes, then maybe it's a decision of not continuing. I do not want to commit myself to saying I am going to Paris 2024 or any specific year - but as long as I am loving the training and racing, I will keep going." (teamusa.org, 09 Jul 2021, 28 Aug 2021; triathlete.com 28 Aug 2021)

OTHER ACTIVITIES
She has worked as a technical support agent for a company that provides healthcare software to hospitals and other medical facilities. (LinkedIn profile, 01 Jan 2020; teamusa.org, 24 Aug 2018)
Results
Prince George 2019 World Para Nordic Skiing Championships (Prince George, Canada)

| Event | Medal | Unit | Date | Rank |
| --- | --- | --- | --- | --- |
| Women's Middle Distance Sitting | | Final | 2019-02-16 | 2 |
| Women's Middle Distance - Free Style Sitting | | Final | 2019-02-17 | 2 |
| Women's Sprint - Free Style Sitting | | Final | 2019-02-18 | 3 |
| Women's Sprint Sitting | | Final | 2019-02-20 | 2 |
| Women's Long Distance Sitting | | Final | 2019-02-21 | 1 |
| Women's Long Distance - Classic Sitting | | Final | 2019-02-24 | 2 |
Lillehammer 2021 World Para Snow Sports Championships (Lillehammer, Norway)

| Event | Medal | Unit | Date | Rank |
| --- | --- | --- | --- | --- |
| Women's Middle Distance - Classic Sitting | | Final | 2022-01-13 | 1 |
| Women's Sprint Sitting | | Final | 2022-01-15 | 9999 |
| Women's Middle Distance Sitting | | Final | 2022-01-16 | 1 |
| Women's Long Distance - Free Style Sitting | | Final | 2022-01-18 | 2 |
| Women's Long Distance Sitting | | Final | 2022-01-20 | 1 |
| Women's Sprint - Classic Sitting | | Final | 2022-01-22 | 5 |
| Mixed Relay | | Final | 2022-01-23 | 4 |