#50daysToGo: Pozzerle focused after new baby
The Italian snowboard-cross world champion celebrated the birth of his first daughter, but that meant he was not entirely ready for the start of the new Worlds season.
13 Dec 2016
Imagen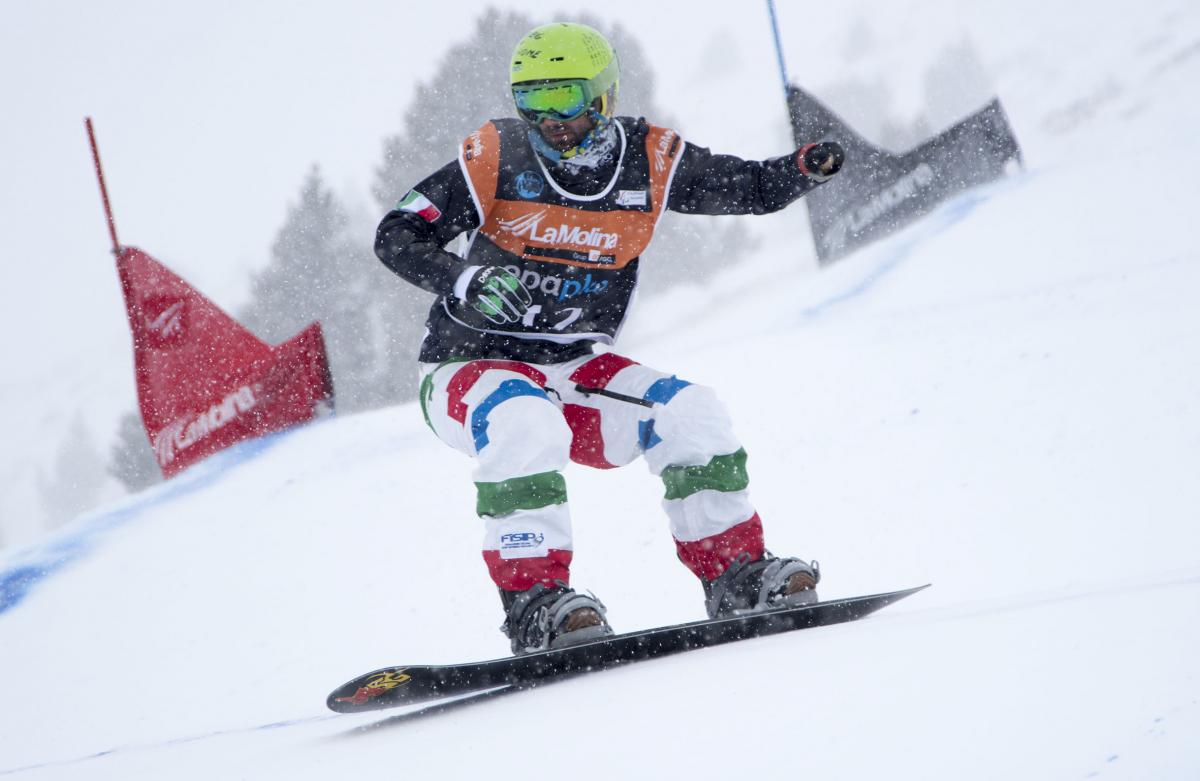 ⒸOriol Molas
By Giuseppe Di Florio | For the IPC
"Step by step, race by race, if I work well I will manage to achieve this goal as well."
Men's snowboard-cross SB-UL world champion Manuel Pozzerle had a bitter-sweet start to his 2016-17 season, celebrating the birth of his first daughter but not quite putting in the performance he wanted at the opening World Cup.
Pozzerle trained for the new season on the slopes of Stelvio, Italy, together with some gym work, although he was unable to devote much time to the latter.
"I was very late compared to my teammates due to the newcomer in the family, the little Nives, who was born in July," Pozzerle said. "But I'm 100 per cent committed to catch up. December is a very busy month in this respect, especially thanks to the workout with Andrea Capuzzo, our fitness coach."
Now with 50 days to go until the 2017 World Para Snowboard Championships get underway in Big White, Canada, Pozzerle is keen to get himself back on track after a disappointing start to the season.
He competed last month in Landgraaf, the Netherlands, where the World Cup kicked off with banked slalom on an indoor slope.
"Races in the Netherlands are a thing apart from any other, especially when it comes to snow. As in any races, I always carry boards with different characteristics and use what I think is most suitable depending on the track. I thought I could have done well with a narrow range, a 7m, but unfortunately it proved me wrong" he said.
Pozzerle, who had failed to ride below 36 seconds in the three days of competitions, decided to go for broke in the last run.
"We tried to change the board, a very risky choice to do during the race. But that led me to make a time of 35.86 seconds and to reach the fourth place. Let's say we dressed the losses," he said.
Pozzerle finished third in the overall men's SB-UL World Cup rankings in 2015-16. He will also defend his world title and banked slalom bronze medal from 2015 at Big White 2017 from 1-8 February.
It is clear that to get on the podium, the mere desire to win is not enough and you need kilometers on the slopes and many hours of training in the gym. And this is even more evident since the level of the sport is increasing year after year, with many young snowboarders eager to give their best on the road to PyeongChang 2018.
Among the most experienced snowboarders, Pozzerle is not going to throw in the towel.
"I started to snowboard professionally quite late and I carry around many mistakes from the past years, when I used to go on the slopes just to have fun with my friends. This is something I feel at times when I'm on a track but I kick back with the will to win and the experience," he said.
And he believes the desire to win will take him to the next Winter Paralympics.
"I've been thinking about PyeongChang for the last three years! This dream is slowly becoming a reality, I still miss a few steps but I know I can do it. Step by step, race by race, if I work well I will manage to achieve this goal as well," Pozzerle said.
"The teammates and staff - is the basis of my serenity when I'm away. They give confidence, support and, if you don't mind me saying, we are a great team!"
__
The Big White 2017 World Para Snowboard Championships will feature around 80 of the world's best Para snowboarders from 25 countries.
Media accreditation is open at the Big White 2017 website.