Alberto Simonelli's remarkable feat
Archer ready for Worlds after defying illness
05 Apr 2019
Imagen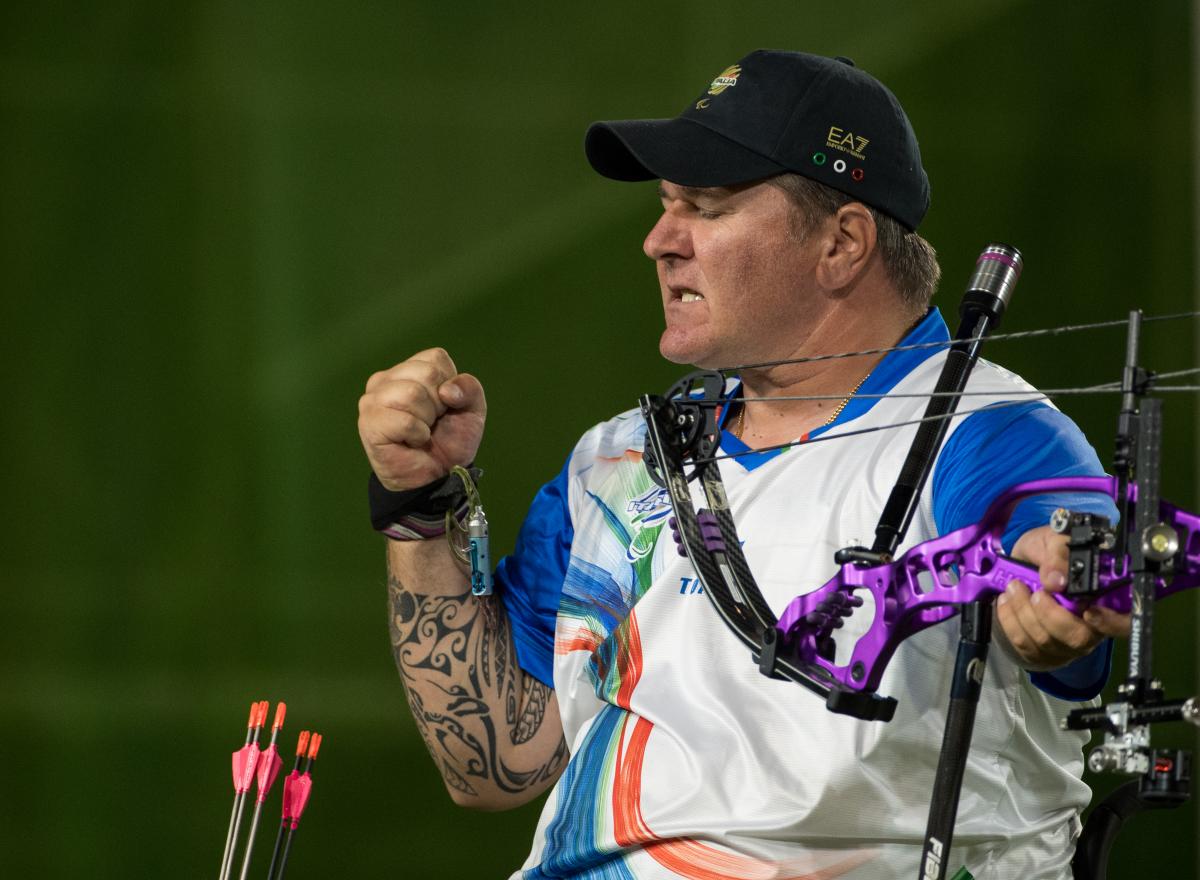 ⒸOIS
By Lena Smirnova | For the IPC
Taking it easy in training and competition after being bedridden for three months with a serious illness would be the default comeback for most athletes. Instead, Alberto "Rolly" Simonelli skipped that step and shot straight for setting a new world record.
Italy's star Para archer went from hospital bed to world pace in a matter of weeks as he added a new line to the record books at one of his first competitions back.
Now having proved to himself that he could achieve this feat, nothing seems impossible for Simonelli as he heads to the 2019 World Para Archery Championships in 's-Hertogenbosch, Netherlands, this June.
Record recovery
Illness struck Simonelli quick and hard in late 2018.
Feeling sick in the afternoon, by the evening he was in hospital, where his condition continued to deteriorate. The archer was diagnosed with phlebitis, an inflammation of the veins, on both legs. He later also contracted bronchitis and even risked having three toes amputated.
"Physically I was very bad, and mentally I was depressed," said the double Paralympic silver medallist of the three months he spent going between the hospital and his home.
"I was very weak in the hospital and I thought only of getting better quickly and getting back to archery. In those months of illness I missed it very much."
Simonelli was finally able to return to archery in December. Not setting any time aside for training, the athlete jumped straight into competition and shocked onlookers with an incredibly high result, which matched his Para archery world record of 590 points.
He repeated this feat again in another competition and improved even more in January at the 2019 Nimes Archery Tournament.
Shooting 594 out of a possible 600 points at the qualification round in Nimes, the Italian athlete broke his own world record that has stood since February 2018. The result was all the more unexpected since Simonelli was initially hesitant to go to the competition and ultimately went only because he wanted to test his new equipment.
"After the illness I was expecting poor results at the first competition," Simonelli said. "Then, with my bow in hand, shooting on the line and people around me who supported me, my confidence soared. I re-entered the competition right away as if nothing had happened and I scratched out this ugly period from memory."
For the love of archery
Spending three months without archery was a torturous experience for Simonelli, who has been competing for a quarter of a decade.
"This sport has helped me in everyday life," he said. "I had to start again from scratch 25 years ago without knowing what was waiting for me. Then I discovered archery and it gave me an extra boost. I wanted to prove to myself that my life was not over, but a new chapter of my life was beginning. I wanted to be competitive and successful so that I could show that even though I was in a wheelchair I was a normal person and I had goals.
Simonelli has won two silver medals at the Paralympic Games, in 2008 and 2016, as well as one gold, four silvers and three bronze at various world championships. In addition to his contribution to the Para archery national team, Simonelli has helped the able-bodied national squad win several medals at top international tournaments.
Now, after his sensational comeback to the sport, Simonelli is feeling confident that he can collect even more hardware at the upcoming Worlds, which take place from 3-9 June.
"My goal is surely to do well, and like everybody, I will try to win," Simonelli said of the Worlds. "The results are coming even though I am not 100 per cent yet."