Wu Chunyan: From stargazing to star shooting
Hard work pays off for Para archer with milestone victory
06 Mar 2019
Imagen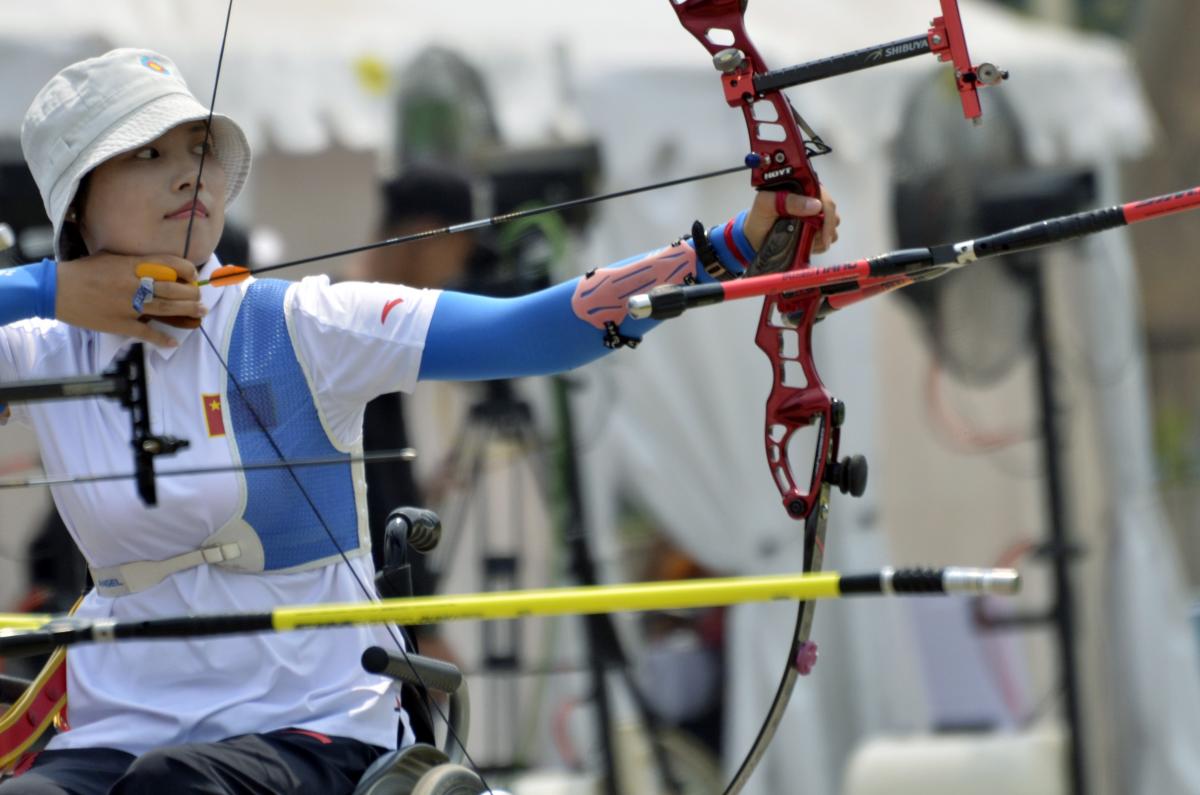 ⒸINAPGOC
By Lena Smirnova | For the IPC
"When I first heard the name Zahra Nemati, I was only a new archer. At that time she was already a champion of the Paralympic Games. She is an Olympic athlete too. I think it is a kind of unyielding belief and her own efforts that make her a strong athlete."
From admiring her archery hero from afar to beating her at the 2018 Asian Para Games, Wu Chunyan has had a meteoric rise in the sport over the last four years. The Chinese athlete beat double Paralympic champion Zahra Nemati in the individual recurve event in October to wrap up a four-year cycle that saw Wu emerge on the world stage.
Stargazing
It was in 2014 that Wu made her international debut in Para archery. It was also the first time that she met Nemati, the gold medallist in the women's individual recurve at the London 2012 Paralympic Games.
"After that competition, I regarded her as my role model in the archery field," Wu said. "After returning to China, I trained harder to improve my competitive level and strengthen my self-confidence."
Nemati was an easy figure to admire. A blackbelt in taekwondo before a car accident left her paralysed, the 33-year-old champion from Iran decided to take up Para archery and within months was already winning medals in national able-bodied competitions.
At London 2012, Nemati became the first Iranian woman to win a gold medal at an Olympic or Paralympic Games. She also qualified for both Olympic and Paralympic competitions at Rio 2016.
"When I first heard the name Zahra Nemati, I was only a new archer," Wu said. "At that time she was already a champion of the Paralympic Games. She is an Olympic athlete too. I think it is a kind of unyielding belief and her own efforts that make her a strong athlete."
Shooting for the stars
Wu finished second to Nemati at the Rio 2016 Paralympic Games. Since then, the Chinese archer has undertaken a massive effort to push her own athletic career forward.
"After the 2016 Paralympic Games I became an undergraduate student of Beijing Sports University," she said. "I believe that learning new knowledge is good for the future. Majoring in sports training will help me to have a more comprehensive understanding of sports and improve my skills in archery."
In addition to being an athlete and student, Wu has become a spokesperson for people with impairments, taking part in local affairs related to the subject.
"As an athlete, I always believe that achievements can only be won through diligent study and hard practice," Wu said of her dedication to the sport. "From the annual plan, the monthly plan, the weekly plan to the daily plan, I should set goals for myself. The daily training should be completed with quality and standard."
Beating the best
Wu's hard work paid off when she crossed paths with Nemati again, this time at the 2018 Asian Para Games in Jakarta, Indonesia, and emerged the winner against the woman who had been her long-term inspiration in the sport.
"Several major international events improved my performance, until 2018, when she and I met in the final again. The score was very close," Wu said. "I should thank her for being a strong opponent."
Wu continues to train hard, for as long as eight hours a day, with the goal of repeating the same performance at the 2019 World Para Archery Championships. Nemati was golden at the previous edition of the World Championships in Beijing, while Wu was third.
"The will to win is important to me," Wu said. "I love archery from the bottom of my heart. It has brought me great happiness and something beyond honour.
"At the 2019 World Championships, what I need to do is to make the best of what I have in training and not leave with any regrets."