Bochet, Gmur, Kampschreur victorious in Veysonnaz
World Cup wraps up after three super-G and giant slalom races
10 Feb 2019
Imagen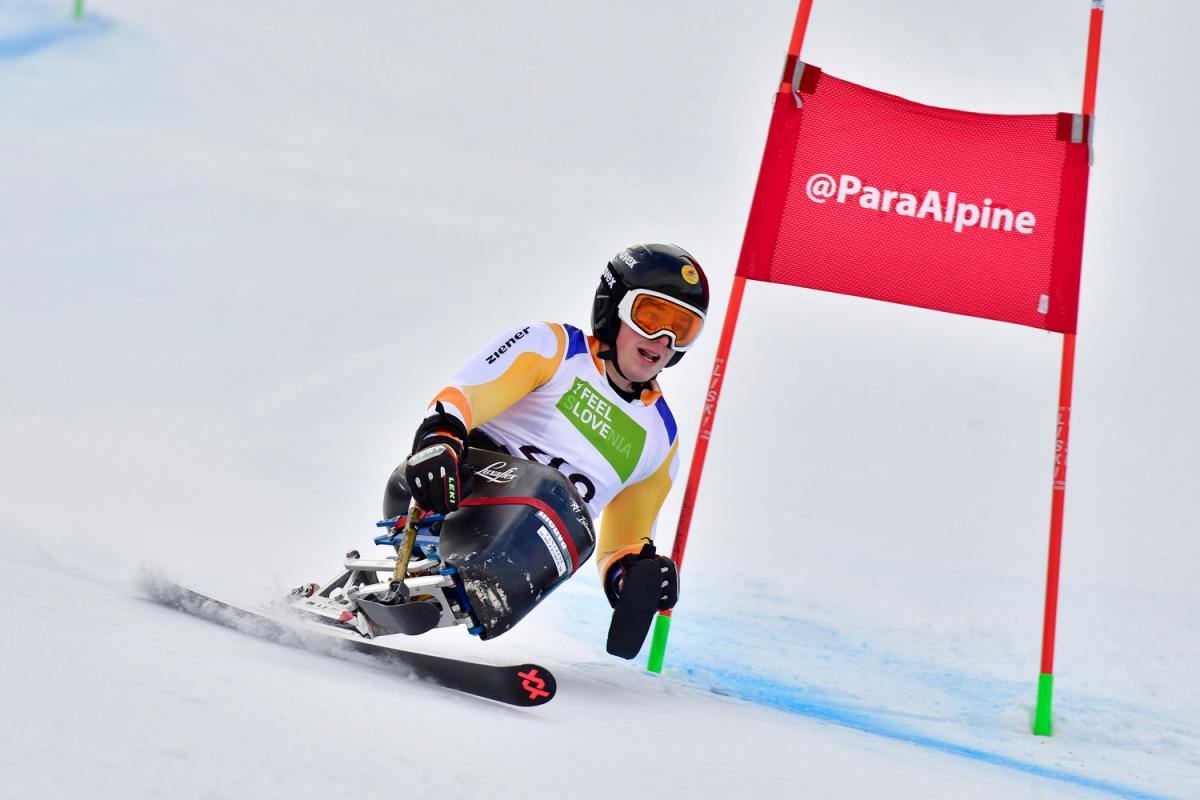 ⒸLuc Percival
By Lena Smirnova for World Para Alpine Skiing
"I had a great season until now because we made so much improvement, both in physicality and skiing. I'm so much more consistent, no DNFs this season yet. It's special. Every time it's for the win and going for the win. I'm loving this flow"
The World Cup in Veysonnaz, Switzerland came to a close with a triumphant golden sweep from French ski queen Marie Bochet, giant slalom hat-trick by world champion Jeroen Kampschreur and a triple home victory for local area skier Theo Gmur.
After raking up crucial World Cup points in Switzerland, the athletes will next compete in the season's final World Cup competitions to kick off in Spain and France in March.
Men's sitting - Golden Jeroen
Jeroen Kampschreur completed a hat-trick in the giant slalom events to inch even closer to his key rival Jesper Pedersen of Norway in overall World Cup points.
The Dutch skier swept to victory with two winning runs on the last day of the World Cup stop in Veysonnaz to finish 2.43 seconds ahead of Pedersen.
"Last season was a bit disappointing for me," Kampschreur said of his meteoric rise this season, which he started by winning all the races at the 2019 World Championships and four out of six races at the World Cup.
"I had a great season until now because we made so much improvement, both in physicality and skiing. I'm so much more consistent, no DNFs [did not finish] this season yet. It's special. Every time it's for the win and going for the win. I'm loving this flow."
And it was the first podium in Veysonnaz for Italy's Rene de Silvestro who completed two aggressive and quick runs to earn the bronze.
Men's standing - Swiss success
Long-standing rivals Theo Gmur and Arthur Bauchet ended the Switzerland stop of the World Cup in a draw, with three gold medals each.
Bauchet got the best out of three in super-G, but Gmur evened out the score in giant slalom as he claimed the last medal of the home competition against the world champion in the discipline.
"The most important thing for me was to win here at home, especially in giant with the reigning world champion," Gmur said of winning two giant slalom races in Veysonnaz after coming second to Bauchet at the 2019 World Para Alpine Skiing Championships. "The entire week was good for me, so I'm happy with this week at home."
The impeccably consistent Markus Salcher from Austria got his fifth consecutive bronze to finish behind the two youngsters.
Women's standing - Royal affair
It was a perfect six out of six for Marie Bochet in the super-G and giant slalom races at the World Cup in Veysonnaz to wrap up a birthday week to remember.
The French skier completed her sweep of gold medals in the women's standing class, similarly as she had swept the golds at the 2019 Worlds last week. However, in Veysonnaz some races proved a lot more of a challenge in contrast to her dominant leads in the races in Kranjska Gora and Sella Nevea.
"I learned this week that every victory is not easy and it's not already a victory before the race," Bochet said. "I'm very happy to win every race, to not go out in Run 2. I was very regular and I'm very proud of that."
Andrea Rothfuss finished second in the last giant slalom race to finish this World Cup with five silvers in total. Fellow German skier Anna-Maria Rieder was third.
Men's vision impaired - King Kubacka
Marek Kubacka had a rocky start in Veysonnaz, struggling with two incomplete races and one last-place finish in super-G, but in giant slalom the discipline's world champion proved once again why he is the best in the field.
The Slovakian skier and his guide Maria Zatovicova finished the three giant slalom races with two gold medals and a silver. Always the perfectionist, however, Kubacka focused on the single giant slalom race that he lost to teammate Miroslav Haraus instead of his next two victories.
"I feel very confident in GS right now but I still need to train more and I still need to have more power," Kubacka said. "The first GS here in Veysonnaz, our colleague just showed us that he can beat us very easily. That's the reason why we were trying to push much, much harder."
Kubacka's victories in giant slalom broke Haraus' winning streak in Veysonnaz at four golds. Haraus and his guide Maros Hudik finished the last giant slalom race with a silver.
France's Hyacinthe Deleplace and his new guide Maxime Jourdan grabbed the bronze.
Women's sitting - Samurai on guard
After two victories in super-G and two in giant slalom, Japan's Momoka Muraoka was the one to beat in the women's sitting class - and the other competitors went after her hard.
Laurie Stephens and Anna-Lena Forster were both less than one second behind the world champion after the first run. Stephens' gap of 0.18 seconds was particularly dangerous.
But Muraoka was in full warrior mode for the second run and fended off the challenge with spectacular skiing that was almost four seconds ahead of the second place finisher Stephens. Germany's Forster took the bronze.
Women's vision impaired - The empire strikes back
Menna Fitzpatrick and guide Jennifer Kehoe were victorious again over the Australian duo Melissa Perrine and guide Bobbi Kelly.
The British pair got more than a second lead on Perrine and Kelly in the first run, and while the Australians beat them in the second run, their combined time was still 0.55 seconds slower.
The World Cup races will resume next month in La Molina, Spain with the finals taking place in Morzine, France from 18-21 March.