Chef de Mission Sainsbury: 'Rio 2016 my proudest moment'
Tony Sainsbury, who led two refugee Para athletes at September's Paralympics, reflects on his experiences.
01 Dec 2016
Imagen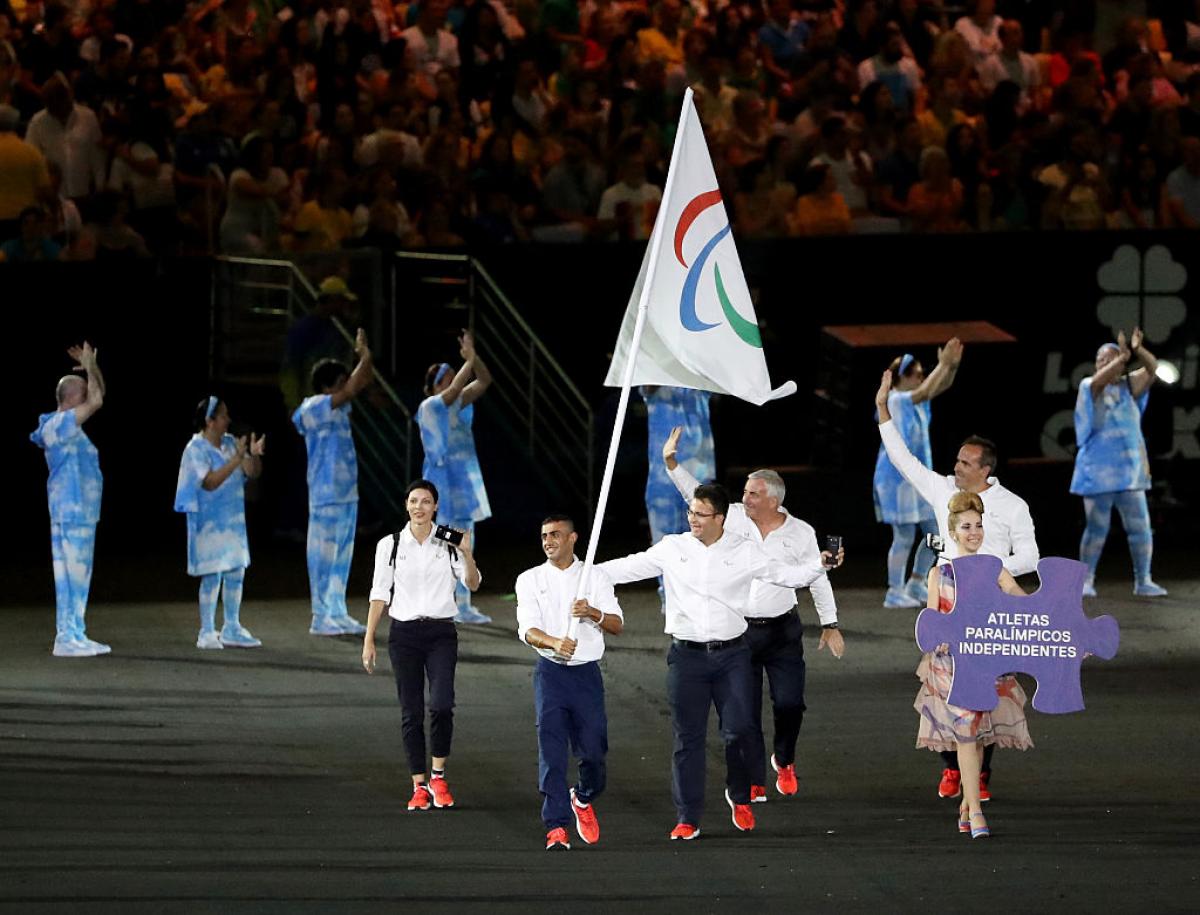 ⒸGetty Images
By IPC
"The biggest thrill was walking out with them at the Opening Ceremony."
Tony Sainsbury, the Chef de Mission of the Independent Paralympic Athletes' (IPA) Team at the Rio 2016 Paralympic Games, has described the experience as the proudest moment of his illustrious career.
Sainsbury spoke of his time with Para athletes Ibrahim Al-Hussein and Shahrad Nasajpour who were the first in history to compete at a Paralympics as refugees and asylees.
The Agitos Foundation is currently running a fundraising campaign that aims to help more refugees with impairments get into Para sport.
The British born Paralympic Order recipient was no stranger to the role, having led Great Britain at five Paralympic Games. However this time things were different.
"I have never been so proud as to take this team," Sainsbury said. "I was proud every time with the British team, because of all the work we had done, but Rio in terms of a role for me was very, very positive."
Alongside long-term colleague and personal friend Ramon Boixadera and Greek coach Eleni Kokkinou, Sainsbury was charged with uniting a team that consisted of a wide range of cultural backgrounds.
"I was nervous in the sense that I was so used to knowing everybody on the team, and having a single common aim because, for example, you put the British flag up and everyone salutes. And here we are, this group of five disparate people with five different languages and I was desperately trying to find a hook that would unify us.
"Secondly, I'd never taken a team to the Games before in an administrative sense because the teams were massive. So with all the paperwork and background work, I had to make a few calls to make sure I understood it and I did it right. There was a certain amount of trepidation."
Sainsbury has a long history in the Paralympic Movement, beginning in the mid-1970s. As he joked: "People have died listening to the story!"
He accepted the role of Chef de Mission for the IPA Team after a call from International Paralympic Committee (IPC) CEO Xavier Gonzalez.
"I've always been involved in the Games and I get more buzz doing it than sitting around watching it," Sainsbury said. "It's in the blood basically. I'm not very good at sitting around at Games not doing anything."
When he arrived on site in Rio de Janeiro, Sainsbury had to solve practical challenges such as sleeping arrangements, collection and distribution of uniforms and a daily schedule as well as building a team culture.
With the eyes of the world's media, thousands of spectators and more than 4,000 athletes from 159 countries on them, he cites the Opening Ceremony as one of his most enduring memories.
"The biggest thrill was walking out with them at the Opening Ceremony, leading the parade; their excitement sitting with the No.1 beforehand, hardly able to contain themselves and them really not having any inkling of the scale.
"Of course I knew as I'd been down the line at No.15 in the past, but being No.1 was going to be a whole different ball game!"
As the Games progressed, Sainsbury recalls the reactions of Al-Hussein and Nasajpour when every day presented a new experience. Al-Hussein lost his leg in Syria before fleeing to Greece through Turkey, whilst Nasajpour had moved to the USA from Iran. It was their first experience of a major, global competition that came without most of the normal pre-Games camps and gatherings that an athlete competing under a country flag would get.
"The boys were absolutely in cloud cuckoo land," he said. "It was like Charlie and the Chocolate Factory, they just couldn't believe it. Every moment there was a new experience, it was just so overwhelming for them.
"They both had an inkling but the scale of things was really massive for them."
Al-Hussein was fitted with a new leg by IPA Team partner Ottobock and participated in media interviews, whilst the whole team had lunch with IPC President Sir Philip Craven and took part in a number of other engagements.
But Sainsbury cut through to the long-lasting impact the athletes' sport performances potentially have on other refugees and displaced people.
"You can be in the worst position possible in some camp in the middle of the dessert and you can watch a video and you can see these guys, and it might just give you, at your very lowest moment, the thought of if they can do that, what can I do?"
The development arm of the International Paralympic Committee, the Agitos Foundation, aims to raise EUR 25,000 by 3 December towards helping refugees with impairments into Para sport in Greece, Cyprus and Serbia. The project is supported by the UN's Refugee Agency, the UNHCR, and Athens University.
The project will provide information about Para sport to agencies running the refugee camps; register refugees, especially children, with impairments; give refugees the chance to learn about the Paralympic Movement; organise a training camp and grow a network to ensure that refugees with impairments have access to sport programmes and competitions.
The fundraising will conclude at the end of the UN's International Day of Persons with Disabilities on 3 December. Donate now to help ensure refugees with impairments are not left behind.
__
A series of stories about refugees and the IPA Team will be published at Agitos Foundation's website as well as videos, pictures and updates at Facebook.com/agitosfoundation and Twitter @Agitos or by searching #TeamAgitos.
Related Videos