Chynka looks to end silver streak in Malle
Ukrainian on quest to upgrade silver medals from Rome 2015
18 Oct 2017
Imagen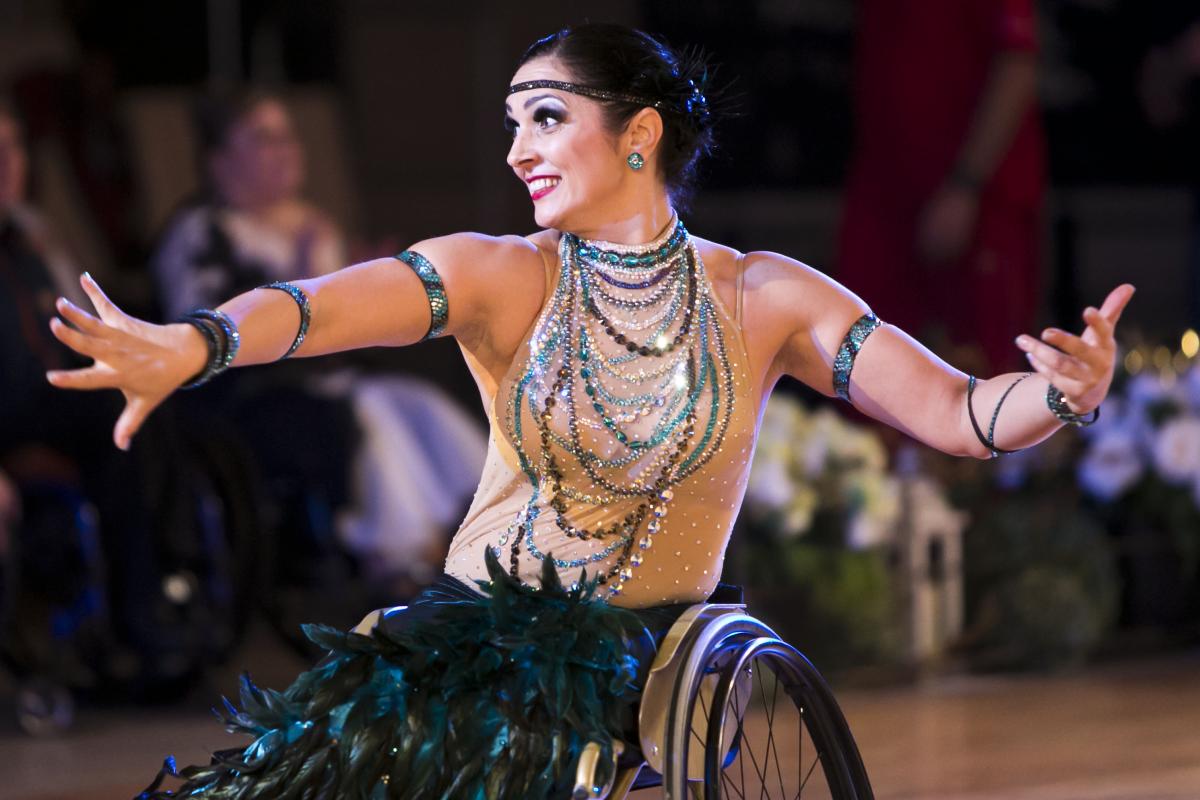 ⒸRoman Benicky
By Lena Smirnova | For the IPC
"Of course I would like to win first places in all the programmes that I am dancing in, but the decision will be up to the judges and the spectators"
Ukraine's Para dancer Olena Chynka came tantalizingly close to winning her first World Championship title two years ago in Rome, Italy, barely missing the feat to leave with two silver medal finishes.
At the 2017 World Para Dance Sports Championships, which begin Saturday (21 October) in Malle, Belgium, Chynka will once again compete in a physically demanding set of four separate events – duo Latin, duo standard, singles and singles freestyle class 2 – in the hopes of winning her first world gold.
"It was very hard," Chynka said of her competition experience at Rome 2015. "Each programme is difficult in its own way and it's very important how you approach it. I will repeat my performances in all the same programmes. My aim is to become the best that I can be."
Chynka competed in four events at the 2015 Worlds, taking silver medals in the women's single and freestyle single competitions. She also finished fifth in the duo Latin and duo standard events.
While the physical and emotional burden of competing in four events was high, Chynka has not dropped a single programme ahead of Malle 2017 and is determined to test herself to see how much she can improve on her past results.
Her reason for competing in so many events is simple: "My love for dance."
"Of course I would like to win first places in all the programmes that I am dancing in, but the decision will be up to the judges and the spectators," she said. "I believe that we have all the opportunities to represent Ukraine well."
To prepare for Malle 2017, Chynka underwent intense training with her partner Oleksandr Onischenko under the guidance of national team coach Elena Chizh, coach Irina Kotyrlo and choreographer Svetlana Kryukova.
Chynka has been competing in international Para dance competitions since 2009 and has won more than 30 medals. She has competed in dance both on a wheelchair and using prosthetics.
She was in a train accident in 1998, when she was 22. A multi-medallist in aerobics in Ukraine, Chynka was coming back from vacation by train when she stepped onto the platform at one of the stops to buy water. Seeing that the train had started to move, she chased it, but her hand slipped from the rail and she fell under the locomotive.
Although she had her legs amputated as a result, Chynka continued to teach dance to children after being released from the hospital and eventually started training as a Para dancer. She first tried the sport at the invitation of Chizh.
She has also worked in the political sphere and has helped to rehabilitate Ukrainian soldiers with amputations following the Russia-Ukraine military conflict.
"My strength is my spirit," Chynka said of her success as a dancer. "I am ready to grind in the training hall for hours, I am impossibly stubborn and I really love dance."
Around 170 athletes from 22 nations are expected to compete in 18 medal events at the 2017 World Para Dance Sport Championships, which runs 21-22 October. The event will be streamed live on World Para Dance Sport's website.