Hamburg 2018: Gold at last for Carina de Rooij
Captain ends 16-year wait for wheelchair basketball title
04 Sep 2018
Imagen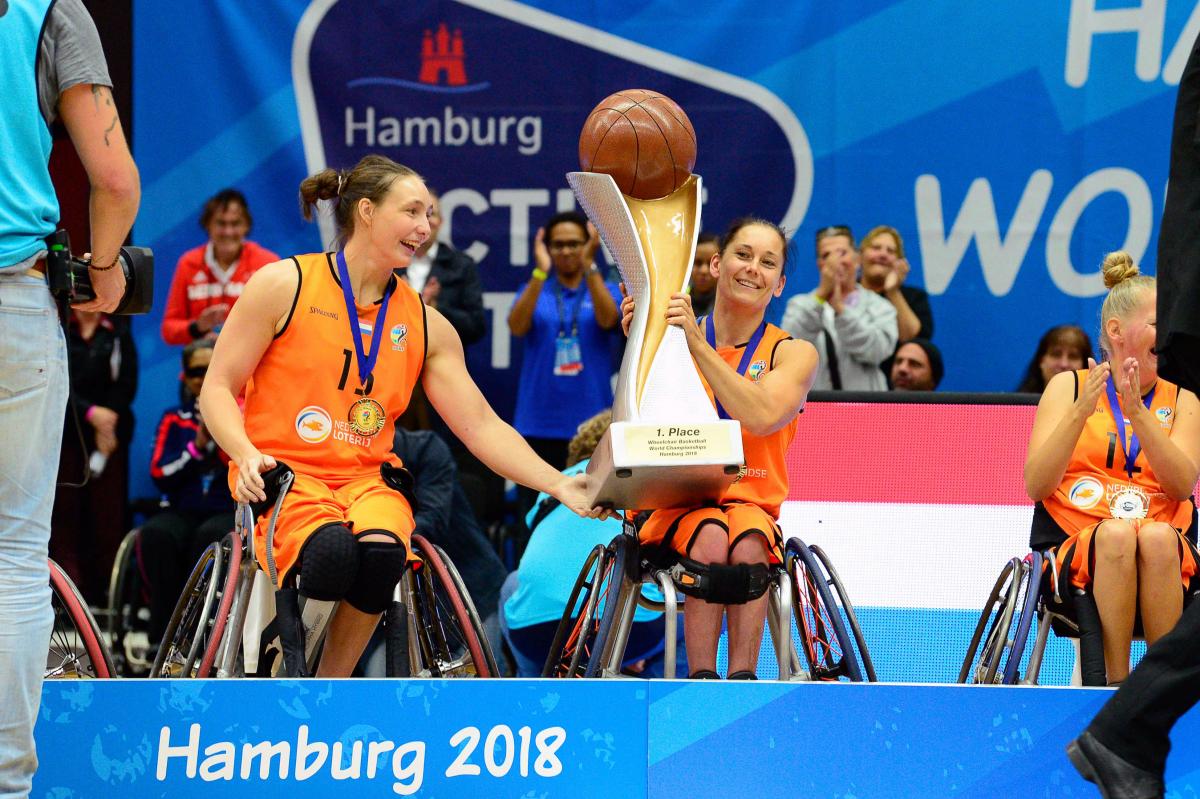 Ⓒuliphoto.de
By Stuart Lieberman | For the IPC
"There was a moment where they got within four points, and for a small moment, I thought 'Oh God, it can't be happening again."
Carina de Rooij has been waiting more than a decade for a wheelchair basketball gold medal on the World Championship or Paralympic stage, and now she has one.
Following victory at the 2018 World Championships in Hamburg, Germany on 25 August, the Dutch women's team captain was hoisted in the air to cut the basketball net, a sporting tradition for the winners.
"After 16 years, I finally have a gold medal," said de Rooji, who was previously part of the Dutch squad that lost three consecutive semi-final appearances at either the Paralympics or Worlds.
"Because we experienced that feeling too many times, it makes this victory even more special now."
Breaking the cycle
In a repeat of the Rio 2016 Paralympic bronze medal game, the Netherlands bested Great Britain, 56-40, with the Dutch using its 18-8 advantage in the fourth quarter to seal their first world title.
"There was a moment where they got within four points, and for a small moment, I thought 'Oh God, it can't be happening again,'" de Rooij said. "But then I thought we've played those matches before and for them it's the first time, so we can pull it off."
De Rooij, who averaged nearly seven points per contest and had a team-high seven assists in the gold-medal game in Hamburg, has finally reached the peak in the "second part of her life."
The former gymnast broke her back while doing a routine as an 18-year-old in 1999, and after that she began looking for a new sport.
"The moment I started with wheelchair basketball I felt, this is it. I love it," she said. "This is what I wanted to do."
Journey to gold
She has been through the thick and thin of wheelchair basketball's development in the Netherlands; the Dutch really solidified a formalised programme for the first time in in 2010. She owns a silver medal from the 2011 World Championships, bronze medals from the London 2012 and Rio 2016 Paralympics, as well as 2014 World Championships, and a gold from the 2013 European Championships.
"In Rio, we thought we were ready to reach the finals, but some nerves got the best of us in the semi-finals," she said.
She helped flip the script for the 12-strong Dutch squad this year, playing her role as the floor leader to keep everyone calm to make history.
"The final, you can't practice," she said. "It's a different feeling than the rest of the tournament's games."
And this time around, so was the result.