Illona Slugovyna chasing more gold in Malle
Para dance sport powerhouse out to defend title at Worlds
19 Oct 2017
Imagen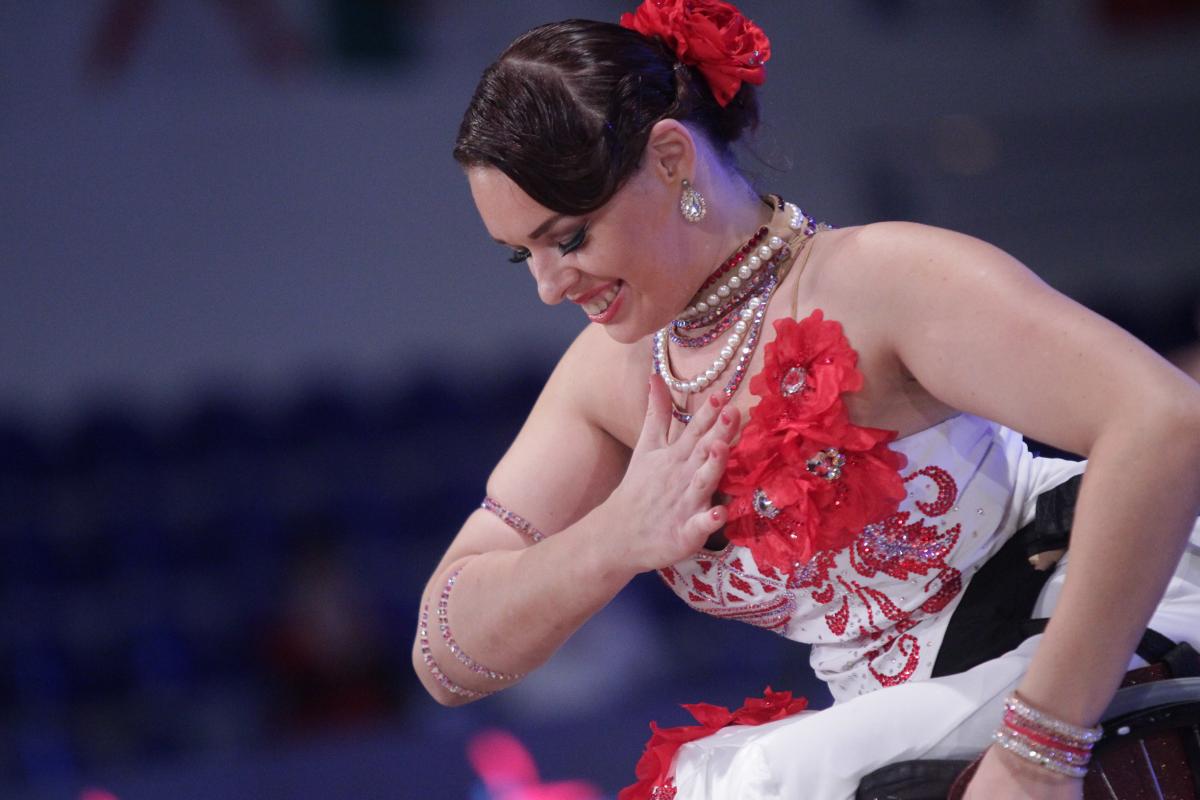 ⒸDS Photo Dance Sport
By Lena Smirnova | For the IPC
"We made a lot of effort, myself and my coaches. I am counting on a first place finish. I want to win."
There are few things that multiple world champion Illona Slugovyna has not achieved as a Para dancer.
The Ukrainian athlete is one of the legends in her sport where she has already claimed five gold medals at previous world championships. Despite her numerous victories, Slugovyna is far from taking it easy and is setting high expectations for herself ahead of the 2017 World Para Dance Sport Championships, which begin Saturday (21 October) in Malle, Belgium.
The defending European and world champion is one of the favourites to win the women's singles class 1 title. She has been training for four to five hours, six days a week in pursuit of this result.
"We made a lot of effort, myself and my coaches," Slugovyna said of her preparations for the upcoming competition in Malle. "I am counting on a first place finish. I want to win."
While the victories may be numerous for Slugovyna, this does not make them any less special. This fact was impossible to miss at the 2015 World Para Dance Sports Championships in Rome, Italy where Slugovyna became so overwhelmed after her victory that she began crying on the dance floor.
"Then on the floor everything depended on me. I was dancing alone for the first time, there was no partner nearby that I could always rely on," she explained. "And this very feeling that I was able to take on this new challenge naturally led to tears of happiness."
This deep feeling for dance is also what Slugovyna sees as her main strength.
"I love profoundness and sincerity in dance," said the champion dancer, who approaches her dances as an opportunity to tell stories to the spectators.
"Training in this type of sport is the strongest rehabilitation as well as an opportunity for creativity," she added.
One of the many indirect victims of the Chernobyl disaster, Slugovyna had to undergo an operation on a spine tumour as a young child and lost the freedom of movement in her lower body as a result. In 1999, she got an invitation to try out Para dance and has been involved in the sport since, travelling the world for competitions and winning countless medals.
Aside from dancing, Slugovyna is a talented doll and dress maker. She designs her costumes and her designs are also worn by fellow female dancers from her club Berezil in Kiev, Ukraine. As at previous competitions, she will compete in Malle wearing her own designs.
"I came up with all my dresses," Slugovyna said. "I like to draw, design and create interesting characters. I look for individuality in costumes."
More information on the 2017 World Para Dance Sport Championships can be found on the World Para Dance Sport website.