IPC is 'Proud Supporter' of Global Sports Week Paris
International forum to take place between 1-5 February 2021
23 Nov 2020
Imagen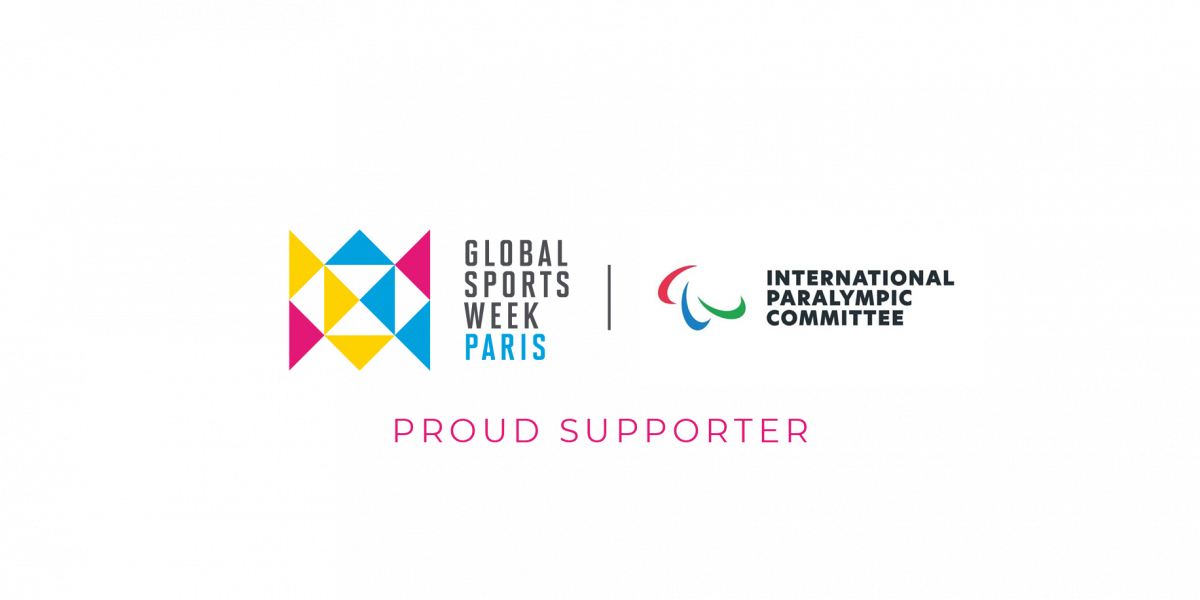 By Global Sports Week Paris
A broad coalition of key partners from across the world sports ecosystem will come together in February for the Global Sports Week Paris, held under the patronage of UNESCO and the high patronage of French President Emmanuel Macron.
The International Paralympic Committee (IPC), UN Women and World Federation of the Sporting Goods Industry (WFSGI) are among those who will help to co-create the event as official 'Proud Supporters.'
More than 10,000 sports leaders, cultural changemakers, athletes, activists and emerging talents are expected to participate across Global Sports Week, whose programme will feature talks, debates, pitch contests, exclusive screenings, sports demonstrations and behind-the-scenes venue tours.
IPC President Andrew Parsons, a returning Global Sports Week Proud Supporter, said: "We're pleased to renew our support for Global Sports Week, which offers an important platform for exchange around the key issues linking sport, business and society.
 
"The IPC firmly believes that Change Starts with Sport and Global Sports Week, with its emphasis on multilateral solutions, will set the tone for a defining year for the Paralympic Movement."
Meanwhile, Adidas has been announced as a new Founding Partner of Global Sports Week Paris - a relationship founded on the brand's commitment to equality and sustainability. Adidas joins France's Ministry in charge of Sport, French banking group BPCE and EGG Sports in the top-tier category of a partner roster that also includes Associate Partners EDF and Vivendi.
The first multi-country edition of Global Sports Week is billed as a platform to shape a new, post-Covid future for sport between business and society.
It will take place primarily online, with speakers linked live across studio settings in Paris and five future Olympic host cities – Beijing, Tokyo, Milan, Dakar and Los Angeles. Where local health conditions allow, physical events will also be organised with support from France's Ministry of Foreign Affairs.
Highlights are set to include Le Tremplin Invest Finals, Europe's biggest event for investors to connect to sportstech startups, whose finalists raised EUR 3 million at Global Sports Week in 2020. 
The new edition will also see the return of Global Sports Week's Young Sports Makers - a group of talented under-25s selected from around the world with a mission to shape and shake up debates with international sports leaders. Meanwhile, Les Trophees Sporsora, France's premier sports business awards, will be integrated with the programme.
Overall, the Global Sports Week agenda will focus on accelerating trends, such as digital transformation, as well as the growing business with purpose movement at the heart of sport. It comes at the end of a pivotal year that has seen sport champion social justice and reveal its fundamental role in human health, while also suffering the devastating effects of a global lockdown.
Global Sports Week organisers believe the event can be a platform to reignite the international sports economy.
Alongside the main Arena content channel, the new Global Sports Week digital platform includes access to intelligent networking tools as well as a Village channel offering partner workshops, activations and private professional masterclasses.
Global Sports Week will also feature a first-of-its-kind virtual exhibition – the GSWMarketplace – comprising immersive, customisable and interactive booths, accessible for businesses and organisations of all types and sizes.
Lucien Boyer, President and Co-Founder of Global Sports Week, said: "Global Sports Week Paris has a crucial role to play after the extraordinary year we have experienced.
"We have seen huge appetite from organisations throughout the international sport ecosystem to come together – not only to shape a new agenda for this new era in sport and society, but also simply to reconnect; to discover new global connections and new business leads.
"I have no doubt sport will come roaring back in 2021 and beyond. As France looks forward to hosting some of the biggest sports events in this decade, it is appropriate that Paris should be in a position to kick off this comeback year".
Noemie Claret, Managing Director of Global Sports Week, said: "Our ambitious new format for Global Sports Week is testament to our own ambition to put reinvention in action. We aim to channel the freshness and diversity of our inaugural event at the Louvre into a whole new kind of experience, mixing a rich variety of formats and world-class international content across the themes of sport, business and society."
Global Sports Week Paris will take place between February 1 and 5 2021. The first wave of passes are now on sale at Super Early Bird rates, starting from 99 Euros + VAT. Ticket holders will also benefit from on-demand access to Global Sports Week content as well as other exclusive experiences and networking opportunities year round as part of an annual subscription to the new GSW Club.