Malle 2017: Marquez, Obero close Worlds with memorable dance
An array of freestyle performances leave lasting memories on final day of World Championships
22 Oct 2017
Imagen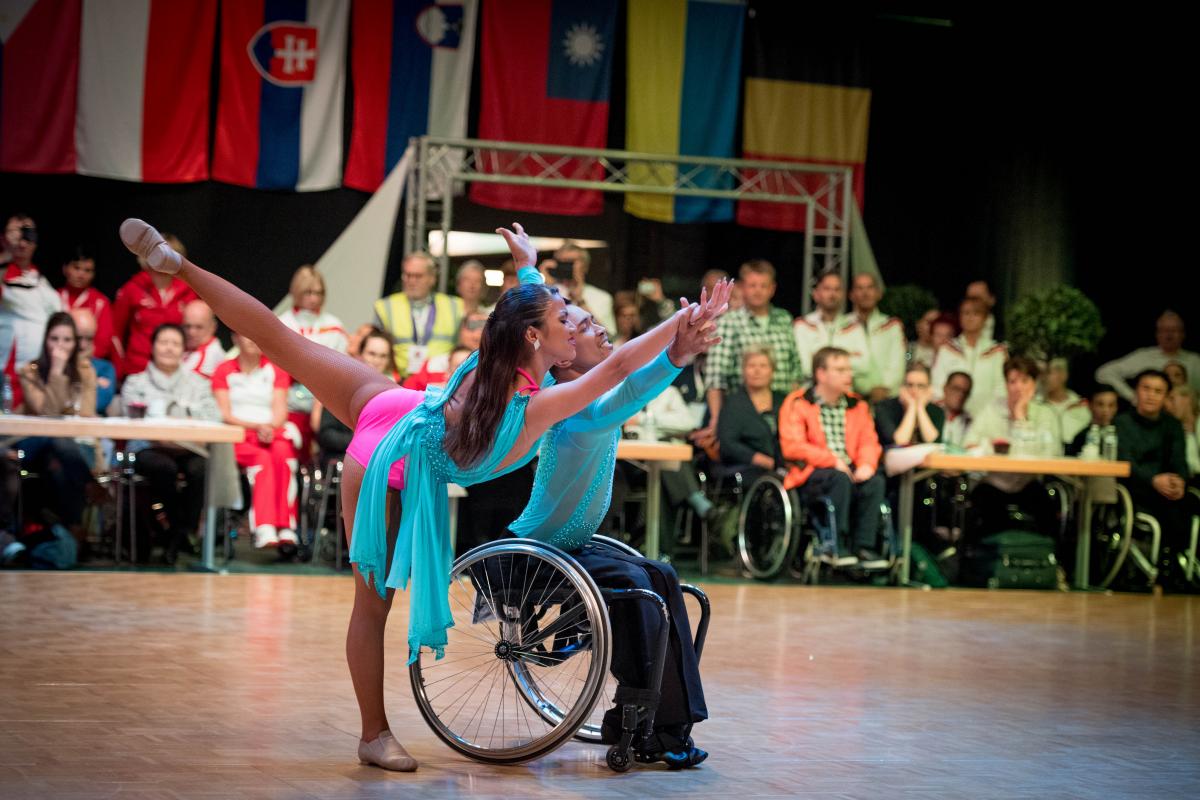 ⒸSven Bruggeman
Rhea Marquez and Jun Julius Obero were swarmed by congratulations from other dancers, as the Filipinos defended their combi freestyle class 2 title on Sunday (22 October), the final day of the 2017 World Para Dance Sport Championships in Malle, Belgium.
Dancing to Roxette "It Must Have Been Love," the couple finished their performance with an extra pause on the dance floor, soaking up the moment that drew a loud applause from the audience. Japan's Kiyomi Otake and Koichi Omae captured the silver, and Kazakhstan's Malika Muktarova and Vladislav Sahno earned the bronze.
"I broke down and cried [backstage during warm-ups] because I couldn't handle the frustration," said Marquez, who was nursing an injured shoulder. "Thanks to him, my partner, he helped me a lot. He's the leader this time. I just followed. … The fulfilment that we had [to finish] our performance made me cry."
"I just told myself to finish my job, then I felt emotion," said Obero, as the couple left Malle 2017 with two gold medals together.
The final day was filled with plenty of entertainment in the freestyle, as the discipline was back in the World Championship programme for the second straight time.
Ukraine went one-two in the combi freestyle class 1. Natalia Chekhonatska and Pavlo Ivliushkin bested their compatriots Veronika Pedchenko and Valeriy Bevzyuk for the top prize. Kazakhstan's Aidana Beglenova and Ardak Otorbayev secured the bronze medal.
Mexico's Jesus Yermain Angeles Fernandez impressed the judges for his second straight world title in the men's single freestyle class 2. Fernandez switched up his hip-hop winning performance from 2015 in Rome, Italy; to a jazzy rendition that gave him mere points in choreography and technical skill to finish ahead of Japan's Koichi Omae. Ukraine's Ivan Sivak took the bronze to add to the gold he won yesterday in the men's single.
"I was very anxious for this moment, it was not a lot of pressure [to come in as the reigning world champion]," Fernandez said.
"It is an honour to be representing Mexico and I am very grateful to be getting another medal for my country."
The women's single freestyle class 1 was also decided by slim margins. Kazakhstan's Karlygash Tynabekova Bollywood choreography ultimately won the judges' hearts to secure her first world title. Ukraine completed the podium, with Natalia Chekhonatska and Snejana Kernichnaya taking silver and bronze, respectively.
"I'm very happy because I'm proud for my country and for my trainers and for my team," Tynabekova said. "It was a long trip, a long journey with my trainer and my team and I want to thank them very much."
Ukraine did find singles success in the women's freestyle class 2. Olena Chynka's graceful and colourful performance impressed the judges across all three criteria to be the clear winner. She left Malle 2017 with four gold medals. Haydee Guadalupe Guerrero Reynosa continued to show Mexico's strength in the freestyle as she grabbed the silver medal. Kazakhstan's young teenage talent in Malika Muktarova was an audience favourite with her dance to The Weather Girls' "It's Raining Men," to take the bronze medal.
Hong Kong's Asian Championship silver medallist Ma Wah Keung won the gold medal in the men's class 1 equivalent. Slovenia's Amir Alibabic and South Korea's Daesun Kim finished second and third, respectively.
Belarus celebrated double dominance in the combi standard events.
In the class 1, Belarusian couple Iryna Makeichyk and Yauhen Yarmoshka were presented their gold medals by Slovakian two-time world champions Helena Kasicka and Peter Vidasic, who retired last year. Ukrainians Illona Slugovyna and Andrii Tovstyi took the silver medal. Kazakhstan's Beglenova and Otorbayev celebrated another bronze medal together on Sunday; it was extra special after just missing the podium in this event two years ago.
Hanna Harchakova won her second straight world title in the class 2, this time with Roman Usmanov. The reigning European champions grabbed the judges' top marks across all five standard dances. South Korea's Juhee Hwang and Kangwon Cho captured the silver, and Slovakia's Maria Dutkova and Martin Solc completed the top three.
Chynka landed her fourth World title from Malle in a competitive duo Latin class 2 event. She teamed up with Oleksandr Onishchenko to add to the gold medal they won Saturday in the duo standard. Ferndandez and Guadalupe Jazmin Cajero Torres danced to the silver medal; and Poland's Joanna Reda and Pawel Karpinski equaled their third-place finish from the 2015 Worlds in Rome.
The class 1 equivalent prize was also taken by Ukraine in Snejana Kernichnaya and Vladimir Kernichny. Hong Kong's Chan Kam Tim and Ma Wah Keung finished second, followed by Finnish sister-brother duo Karin and Gustav Antell.
Complete results from the Malle 2017 World Para Dance Sport Championships are available at www.worldparadancesport.com.
Pictures will be available at www.flickr.com/photos/Paralympic.