Malmo 2018: Title defence over for US women
World champions knocked out in quarter finals by Turkey
08 Jun 2018
Imagen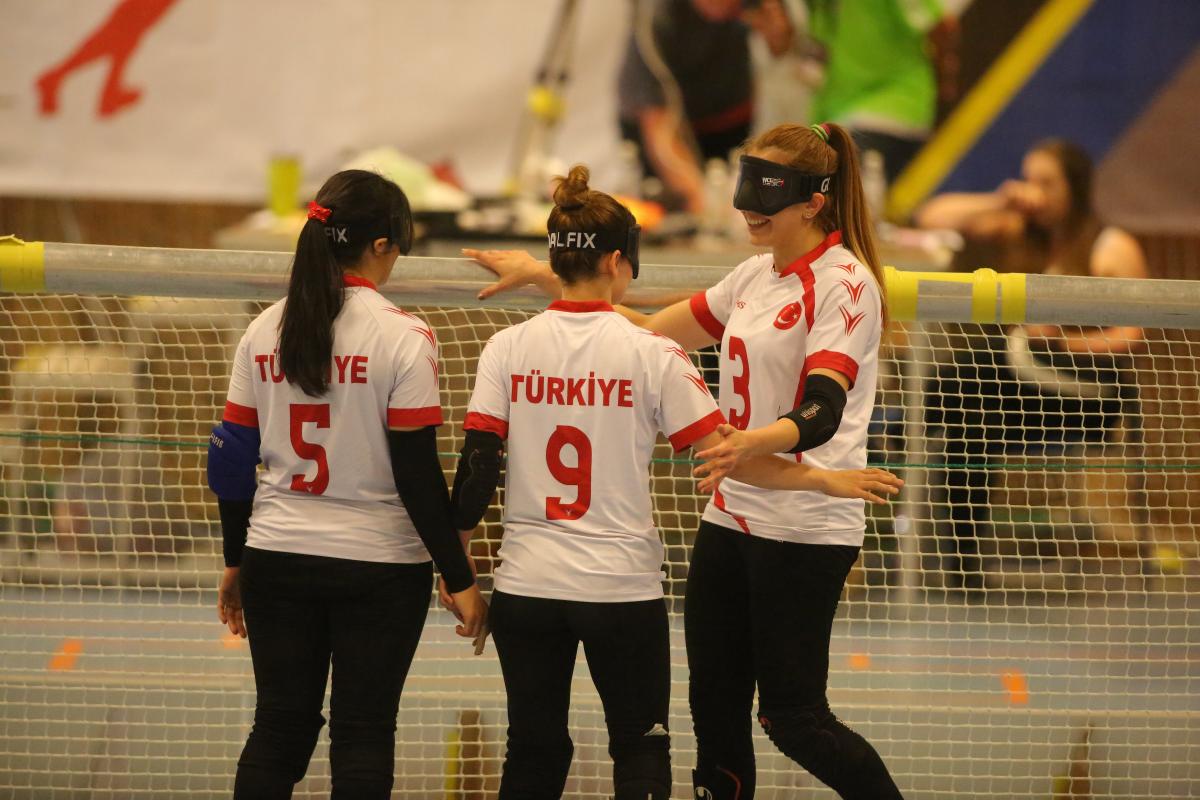 ⒸKarl Nilsson
By IBSA
The semi-finals spots have been decided following Thursday's (7 June) results at the 2018 IBSA Goalball World Championships in Malmo, Sweden.
Women's quarter finals – Turkey, Brazil, Canada and Russia* advance
Paralympic champions Turkey knocked out defending champions USA in their women's quarter final match-up.
Turkey dominated thanks to Sevda Altunoluk – their talented attacker – who scored 10 goals out of a 12-2 score line that shook the Baltiska Hallen.
The USA's Lisa Czechowski and Paralympian Asya Miller managed replies in the first half, but the deficit was 7-2 after 12 minutes.
The USA could not find another way through. After a further four powerful strikes from Altunoluk hit the back of the US net, Zeynap Cikla scored Turkey's 12th goal to end the match by default.
"Firstly I am very happy to win this game and America is very powerful team, but we are also a powerful team," Altunoluk said. "But we were just successful for this game. We knew it before but we didn't expect a 10 point difference!"
Brazil's semi-final spot is the furthest they have ever got at a World Championships after they beat Australia 5-2.
Ana Carolina Custodio, who played a starring role once again with four goals, said: "This is for sure the best result that we had until now. We know we have more games to reach the final but we are very happy with the result."
Canada continue their search for their fourth medal at this level after just edging Japan 3-2 in overtime.
Buoyed by their group stage win over title holders the USA on Wednesday (6 June), the 2006 world champions and 2010 bronze medallists impressed on court once again.
Japan opened the scoring but later threw away the two-goal lead that Eiko Kakehata and Saki Amuro had built. Star striker Emma Reinke bagged two goals to bring the score level for Canada at the first whistle.
A goalless second half meant the match went into extra time. Reinke was the difference once again for the Canadians, crashing through the Japanese defence to find the back of the net once more.
Canada will now play 2014 World Championships silver medallists Russia*, who defeated Algeria 5-1, on Friday for a place in the finals.
Men's quarter finals – Lithuania, Brazil, Belgium and Germany secure spots
Paralympic champions Lithuania claimed a convincing 7-2 victory over 2014 Worlds bronze medallists USA.
In a repeat of the Rio 2016 Paralympic final, Lithuania were the first to score. Justas Pazarauskas found a way through the USA defence and Mantas Panovas followed up a few minutes later to get the offence going.
Lithuania's Nerijus Montvydas said: "In the first half we slowly gained point by point and the defence was very good. Then we got a lead and we repeated the Paralympic final and we won."
Lithuania will now play Brazil in the semi-final.
The Brazilians broke Swedish hearts by beating the hosts 9-3 in their quarter final.
Sweden secured the first goal courtesy of Magnus Rendahl to give the home supporters a boost.
But the visitors began to pound the Swedes with a series of powerful throws from Leomon Moreno. The crowd gasped every time a Brazilian ball bounced off a Swedish chest before it finally rolled in off the post to level the score.
But Brazil was too much.
"Of course a defeat is always a defeat, it doesn't matter against who. I believe they thought this game would be easier than it was. We gave them a fight for it but it just wasn't good enough this time," Sweden's Fatmir Seremeti said.
In the other men's quarter finals, Belgium continued their incredible unbeaten run with an 8-1 win over Iran, and they will face Germany in the semifinals.
Klison Mapreni got the Belgians on the board before adding a further three in the first half. Bruno Vanhove also scored to put Belgium 5-0 up at half time.
Iran tried to come back in the second half with a successful strike from Mohsen Jalilvandshirkhanitabar. But that was all the Iranians could manage against an in-form Belgian team.
Germany went unanswered against China secure their semi-final place on Friday.
A hat-trick from Oliver Horauf, was followed by goals from Thomas Steiger and Michael Feistle in the first half. Feistle added a further three for the Germans to bring the score to 8-0.
The medallists from both the men's and women's competitions will qualify for the Tokyo 2020 Paralympic Games.
A livestream and results are available at www.wcg18.se.
*Editor's note: The International Paralympic Committee suspended the Russian Paralympic Committee on 7 August 2016 for its inability to fulfil its IPC membership responsibilities and obligations, in particular its obligation to comply with the IPC Anti-Doping Code and the World Anti-Doping Code (to which it is also a signatory). As a result of the suspension, Russian athletes cannot enter IPC sanctioned events or competitions, including the Paralympic Games.