Netflix's 'Rising Phoenix' lands four Sports Emmy nominations
Ground-breaking Paralympic film up for Outstanding Long Sports Documentary, among other categories
22 Apr 2021
Imagen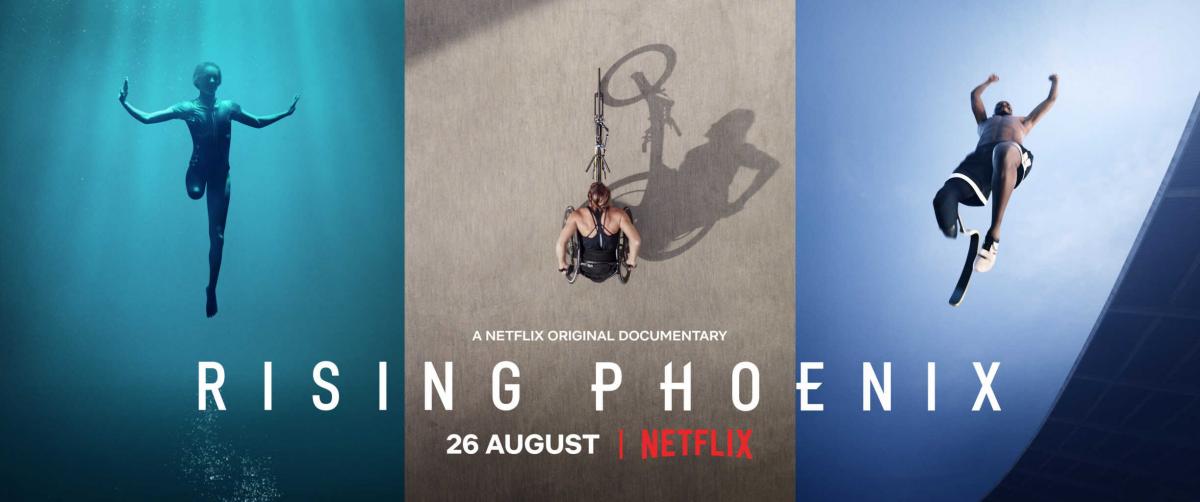 By IPC
The documentary's storytelling of the Paralympic Games scooped up four nominations in Outstanding Long Sports Documentary, Outstanding Camera Work, Outstanding Editing and Outstanding Music Direction. 
This year's ceremony will award winners in 46 categories and will be livestreamed at Watch.TheEmmys.TV on 8 June at 2 p.m. CEST.
Produced by HTYT Films, Rising Phoenix premiered globally in over 190 countries on 26 August 2020.  Featuring nine Paralympians from across the world, the movie told the story of the Paralympic Games from the rubble of World War II until becoming one of the biggest sporting events.
Bebe Vio (Italy), Ellie Cole (Australia), Jean-Baptiste Alaize (France), Matt Stutzman (USA), Jonnie Peacock (Great Britain), Cui Zhe (China), Ryley Batt (Australia), Ntando Mahlangu (South Africa) and Tatyana McFadden (USA) all provided powerful athlete anecdotes to show the Paralympics as a force for social change. 
The title track, which contributed to the film's nomination for Outstanding Music Direction, was written and performed by two-time Golden Globe award nominee Daniel Pemberton. 
Pemberton composed the original score for the movie together with three artists who all have a disability: George Doman (known as georgetragic) and Keith Jones, both of whom have cerebral palsy, and Toni Hickman, who has survived two brain aneurysms and a stroke.  

Craig Spence, the IPC's Chief Brand & Communications Officer, said: "For Rising Phoenix to be shortlisted for four Sport Emmy Awards is a stunning achievement and huge credit must go to the fantastic team at HTYT Films led by Greg Nugent who were the brains behind this wonderful project.  Words cannot describe our gratitude towards them.
"Thanks to the outstanding work of the directors Peter Ettedgui and Ian Bonhôte, as well as composer Daniel Pemberton, Rising Phoenix has helped the stories of Paralympians and the Paralympic Movement reach and engage new audiences around the globe.
"Congratulations must also go to George Dorman, one of three artists to perform the documentary's title track.  George is currently working at the IPC as Brand Campaigns Assistant and with the nomination for Outstanding Music Direction, becomes the IPC's first ever employee to be nominated for an Emmy.  We are in absolute awe of him!"
George Dorman, one of the three Krip-Hop Nation artists who performed the title track, said: "In Chicago, while going to my elementary school, I sang to the radio, riding on the bus alongside my friends, who all happened to have a disability. 
"Cerebral palsy changed the trajectory of my life. See, back at that school bus, those kids with disabilities and I would rap, beatbox, and one particular young girl I knew would sing to my poems. When I got the news I reached an Emmy nomination, I thought of that school bus, full of us, hoping for inclusion, music is made in audio waveforms, and on Tuesday, Rising Phoenix's waveform made a dent in the universe, reaching the shores of the very established Emmys! This is for the lucky ones, the ones on that school bus in Chicago."

Four categories Rising Phoenix is shortlisted in:
Outstanding Long Sports Documentary
Ringside - Showtime 
Rising Phoenix - Netflix 
The Scheme - HBO 
The Weight of Gold - HBO 
Yellow Brick Road - Golf Channel 
Outstanding Camera Work – Long Form
Blackfeet Boxing: Not Invisible - ESPN+/ESPN - ESPN Films
The Old World: A Mindtrip Through Europe - RBTV 
Return to Earth: "The Series" - Outside TV 
Rising Phoenix - Netflix 
Tua - FOX 
Outstanding Editing – Long Form
NFL 360 - NFL Network
The Old World - A Mindtrip Through Europe - RBTV
Rising Phoenix - Netflix 
The Scheme - HBO
We Are the Champions - Netflix
Outstanding Music Direction 
FOX NFL Sunday - FOX
Rising Phoenix - Netflix
Super Bowl LV - CBS
Under the Grapefruit Tree: The CC Sabathia Story - HBO
Yellow Brick Road - Golf Channel