Nicole Roundy: My best and worst
As the US snowboarder prepares for the new season, Roundy reflects on her career so far as she prepares to improve on her double World Championships bronze.
29 Oct 2016
Imagen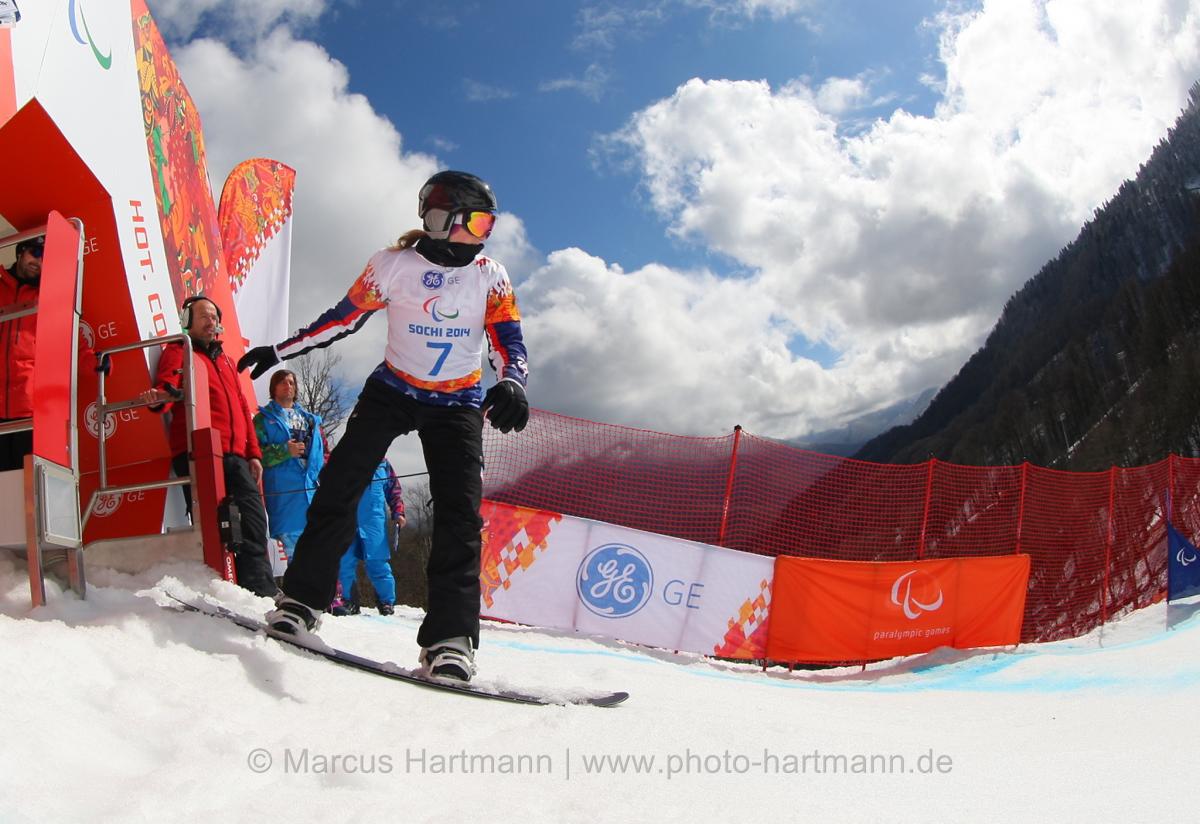 Ⓒwww.photo-hartmann.de
By Giuseppe Di Florio and the IPC
US snowboarder Nicole Roundy had a great 2015-16 season despite an injury to her left knee, winning the women's snowboard-cross SB-LL1 World Cup.
After a summer of rehabilitation and training she will be back on the slopes in Landgraaf, the Netherlands where the new season will kick off with a World Cup on 17 November.
Roundy will also be aiming for the 2017 World Para Snowboard Championships in Big White, Canada, from 1-7 February, where she is the returning bronze medallist from 2015 in banked slalom and snowboard-cross.
Here are Roundy's three best and worst moments of her career so far.
My best moments
1. La Molina, Spain, 2014 IPC Snowboard World Cup
"I was standing in the finish corral. Everyone around me started screaming and Joany Badenhorst [Australian Paralympian] grabbed my shoulders and said, "you took third!" I didn't believe her at first, because it meant that I had beat most of the field. I was shocked, but I won a bronze medal, and that was one of my last opportunities to do it before classification was applied and split up the class. It was a really big deal!"
2. Finding out, half a world away, that she had won the 2016 World Cup globe in snowboard-cross
3. The day the IPC announced that snowboard would debut at the Paralympic Games
"That sunny spring day in May 2012 when the IPC announced that we would debut snowboarding in Sochi. A year earlier I had felt heart broken when they denied our application, but that spring day, I felt like it all made sense, that as a sport maybe we needed that year, to band together and show the world that we were athletes".
My worst moments
1. Sochi 2014 Paralympics
"Standing at the top of that course looking down, I felt deflated. The snow was melting faster than anyone could do anything about. My first run hadn't be great, but my second was devastating. For every athlete that goes home with a medal, there are a handful of others that trained every bit as hard, but fell short. I fell short that day, in every way. Mentally, physically, even emotionally".
2. Competition in France in 2012
"I crashed in practice and sustained a concussion. Even though I was cleared to race, I wasn't comfortable with the course. Normally I cope mentally with features that don't adequately work with my prosthetic, but that day I couldn't get past the mental frustration and put the fear behind me".
3. A competition in New Zealand before snowboard became part of the Paralympic family
"It was so foggy we couldn't see our hands in front of our faces. It came and went though, so it would sweep in the middle of your run and you just had to hold on and hope you crossed the finish line. It was cold, windy and completely miserable. Funny thinking back on it. If anyone could have seen it, I'm sure we looked ridiculous, stopping to wipe ice from our goggles in the middle of the course".
Around 80 Para athletes from 25 countries will travel to Big White for the 2017 Worlds to compete in both snowboard-cross and banked slalom events in men's and women's SB-UL, SB-LL1 and SB-LL2 classifications between 1-7 February.