Ostersund 2017: 5 things learned
Paralympic Winter Games Qualifers highlighted strengths and weaknesses in all teams
16 Oct 2017
Imagen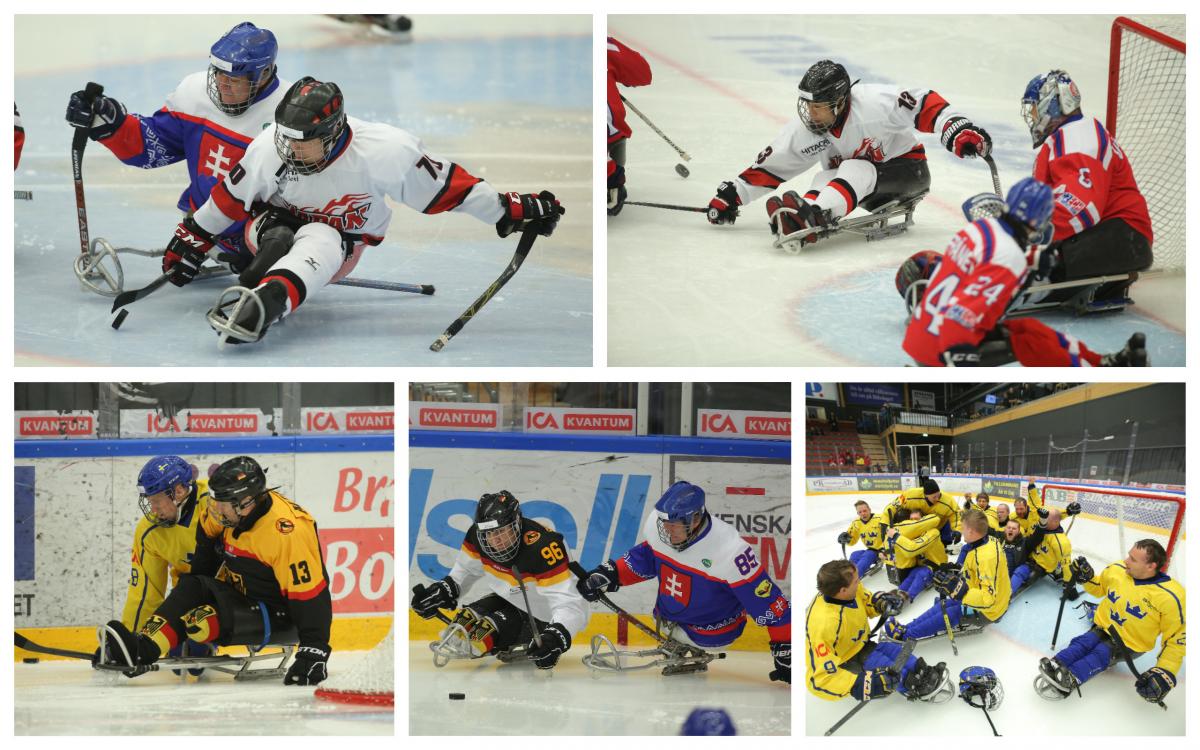 ⒸKarl Nilsson
By IPC
Now that the 2017 World Para Ice Hockey Paralympic Winter Games Qualification Tournament is over, the first thing we learned that the event's name is too long to say in one breath! But of course, there are other takeaways.
From 9-14 October in Ostersund, Sweden, five teams battled it out for the last three available spots at PyeongChang 2018. The Czech Republic, Japan and Sweden all made it through, while Germany and Slovakia leave disappointed. Here are the main takeaways from the tournament:
1. The Czech Republic belong in the A-Pool
It was clear that after two games on the ice, the Czech Republic were more talented than their "2016 World Championships B-Pool" title shows. The Czechs went undefeated in the tournament, and if you ask their opponents what made them so dominant, the answer was clear – they play well as a team, passing the puck from one end of the ice to another to wear down their opponents, executing textbook plays, and taking their chances. They pounced on Germany 5-1, then triumphed under pressure against Sweden; both teams who were in the 2017 World Championships A-Pool.
Jiri Briza's squad were unlucky in their 1-0 loss to Germany in the 2015 A-Pool that relegated them down. But guys like Pavel Kubes, who finished with a team high five goals and tournament's Best Forward Michal Geier – an all-around talent with four goals and three assists – are just some of the lethal weapons the Czechs will rely on in March.
2. Japan, the Asian assassins
The four European nations were far too familiar with each other having played regional friendlies and a European Championships. The only time they get to see Japan at their best are at tournaments like this, especially with a Paralympic Games at stake. And like the Czech Republic, the 2016 Worlds B-Pool silver medallists proved they were one of the stronger teams in Ostersund.
For a squad with an average age of 40, Japan were the quickest and highest-tempo team on ice. Their 3-2 victory against Sweden stunned the tournament, as the host nation suddenly realised they would have to battle for third place while the top-two would be decided between the Czech Republic and Japan. In addition, the tournament showcased the talent of defender Wataru Horie. The former wheelchair basketball player truly stepped up after Japan lost defender Eiji Misawa for the rest of the tournament due to an injury in the first game. Horie wore Misawa's credential around his neck every day and was named the tournament's Best Defender, scoring two goals and making five assists.
3. Nilsson makes stops look easy
Sweden's Ulf Nilsson snatched pucks away from the net, would toss it in the air, then hand them over to the referees like no big deal.
His reaction time and efforts in front of the goal would make many doubt he is really
53-years-old. He rightfully earned Best Goalkeeper, and performed outstandingly when it mattered in the deciding game against Germany, restricting them to one goal.
But for Sweden to avoid slaughter in PyeongChang, the Swedish offense needs to help Nilsson out. Sweden kept their home fans at the edge of their seats in throughout the tournament as they watched their Paralympic dreams grow slimmer and slimmer, loss after loss. Luckily they still had a chance because of an overtime loss that gave Sweden one point in the tournament. They need guys like forward Per Kasperi to step up like he did against Germany.
4. German team needs to come together
One team was bound to suffer a heartbreaker in Ostersund and wait another four years for a shot at Beijing 2022. Unfortunately that team was Germany.
After a penalty that eventually led to a goal and 2-1 lead for Sweden in the third-place game, the Germans appeared to go into meltdown. While that goal happened early in the third period, Germany still had plenty of time to bounce back. But they could not, and a further two goals by Sweden in the final 60 seconds of the game signified something must be done in the next four years, such as improving their goalkeepers.
Twenty-year-old forward Felix Schrader is one of the young talents who showed plenty of promise on the ice but needs to be surrounded with players who can help him reach his potential; he finished Ostersund 2017 with two goals. Whether or not veteran Bas Disveld will keep playing is up in the air. But the 41-year-old captain was huge in keeping the team in place and showing class both on and off the ice in Ostersund.
5. Slovakia have come a long way
Off the ice, Slovakian and Czech players like to chat. Behind those small talks and conversations is some history; many of the Slovakian players were playing with Czech clubs because there were little to no opportunities in Slovakia. Much has changed over the years.
It was clear Slovakia is still a country needing to develop skill-wise, equipment-wise and knowledge-wise. But the underdog team also became the headline act when they defeated hosts Sweden in overtime. Twenty-year-old forward Martin Joppa and 23-year-old goalkeeper Eduard Lepacek showed that with time and the proper guidance, they can be the future for the sport in their country.
For highlights, stats and full match reviews you can visit the official Ostersund 2017 website.