Ostersund gears up for Para Biathlon World Championships
Three days and 18 world champions to be decided at historic event
11 Mar 2020
Imagen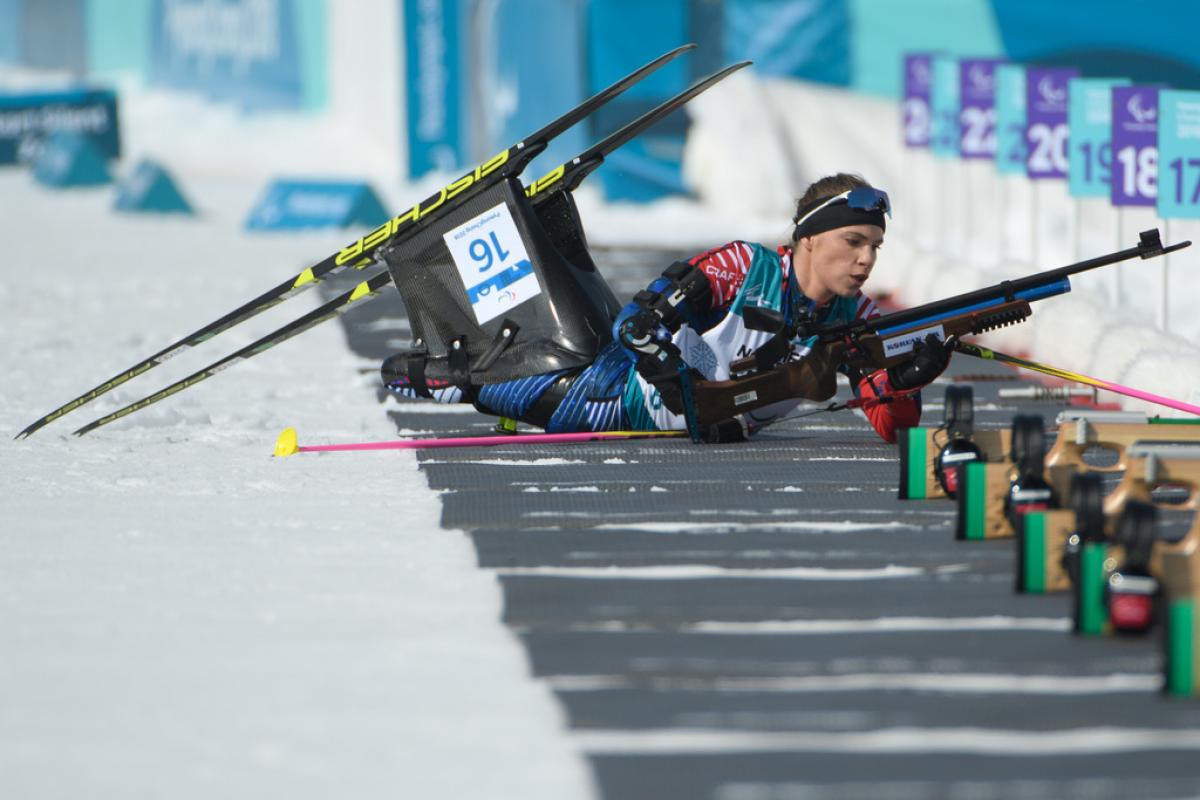 ⒸThomas Lovelock for OIS/IOC
By Ros Dumlao | World Para Snow Sports
Sweden's Ostersund city is all decked out with light blue banners to mark the historic debut of the standalone Para Biathlon World Championships that gets underway on Thursday (12 March).
Three action-packed days will feature 104 sitting, standing and vision impaired athletes compete across individual, middle and sprint disciplines. Eighteen world champions will be crowned, and all sessions will be streamed live on the Ostersund 2020 event website and also followed on Instagram and Twitter.
DAY 1 - Individual (12.5km sitting, 15km standing/VI)
The first six world champions will be decided on Thursday.
Oksana Masters will be among the high-profile athletes closely followed at the historic Championships. She will be trying to add a trio of biathlon world titles alongside the prestigious award she won in February — the Laureus Sport Award for 'Sportsperson of the Year with a Disability'.
Masters, going into the contest very well knows a perfect sweep across the individual, middle and sprint sitting disciplines will be challenging.
She had attempted the feat at last year's World Championships in Prince George, Canada, and had succeeded in the middle and sprint, but fell short in the individual.
"Ostersund has hosted so many world class events, from the IBU's to Para, and they did an amazing job when I was here last year for the World Cup," said Masters, who admitted she is more a cross-country specialist and still working on biathlon.
"Just about every athlete here is peaking and this is an opportunity for me to go up against the best and see where I am and what I have to work on."
With reigning individual world champion and US teammate Kendall Gretsch focused on triathlon qualification for Tokyo 2020, the window of opportunity is wide open for Masters.
Having said that, Paralympic champion Andrea Eskau of Germany is also a strong contender for the title.
Other stars battling for the individual gold medals are 2019 world champions Taras Rad (men's sitting) of Ukraine, France's Benjamin Daviet (men's standing) and Germany's Clara Klug (women's vision impaired).
DAY 2 - Sprint (6km sitting, 7.5km standing/VI)
Action resumes Saturday (14 March), and the next generation of Para biathletes can add to their resumes with favourites Clara Klug and Belarus' Yury Holub. Klug, 25, and Holub, 23, won their respective sprint races in the vision impaired category at Prince George 2019.
Youth might be the key for speed at this year's Worlds, but the men's sitting event will test that theory. Ukrainian 20-year-old Taras Rad is another future prospect and will be going for a consecutive sprint gold.
The sprint, however, holds a special place in the heart of 39-year-old Daniel Cnossen. The US biathlete won this event at the PyeongChang 2018 Paralympics to celebrate his first major career gold medal, and perhaps a maiden world title will come this week.
"I've had a lot of ups and downs this season and I'm just looking for a consistent performance with the shooting. That's my personal goal," Cnossen commented. "The mental part of shooting is what can be very inconsistent.
"I also think we have a more complete field this year, so personally I'm thinking if I need to shoot quicker or hit more shots, Cnossen explained.
"There's a big mental component, and that's what's challenging but also rewarding about the sport."
However, after a pair of runner-up finishes, Germany's Martin Flieg is determined not to repeat his Prince George 2019 results. He won the individual gold in PyeongChang but appears strongest in sprint.
In the standing category, the women's race could be a Ukrainian showdown between reigning world champion Liudmyla Liashenko and runner-up Oleksandra Konokova. In the men's race, reigning world and Paralympic champion Benjamin Daviet remains the man to beat.
DAY 3 - Middle (10km sitting, 12.5km standing/VI)
Sunday (15 March) is the last chance to make World Championship dreams come true. And if there is any stopping French favourite Benjamin Daviet, it could be Canada's Mark Arendz or Norway's Nils-Erik Ulset.
The men's standing is among the most competitive categories, and it was this event where Ulset almost won his first world gold in a while. The Scandinavian air could play to his benefit. But Arendz, bronze medallist from last year, could have other intentions.
"For me, the objective is gold in the biathlon sprint, and I want to medal in the individual and middle," Daviet admitted, adding that key to winning in Ostersund are: "One, my physical fitness. Two, white snow. Three, mentality. Four, the wind."
Yury Holub (men's vison impaired) and Taras Rad (men's sitting) are the defending world and Paralympic champions. Meanwhile Oksana Masters (women's sitting), Liudmyla Liashenko (women's standing) and Clara Klug (women's vision impaired) are the returning winners from the 2019 edition.
Live results will be available on Ostersund 2020's event website, and daily photos are available on Flickr.