Peters has belief to win at Panorama 2015
New Zealand's Sochi sit-ski silver medallist Corey Peters has seen everything come together in the last 12 months.
21 Feb 2015
Imagen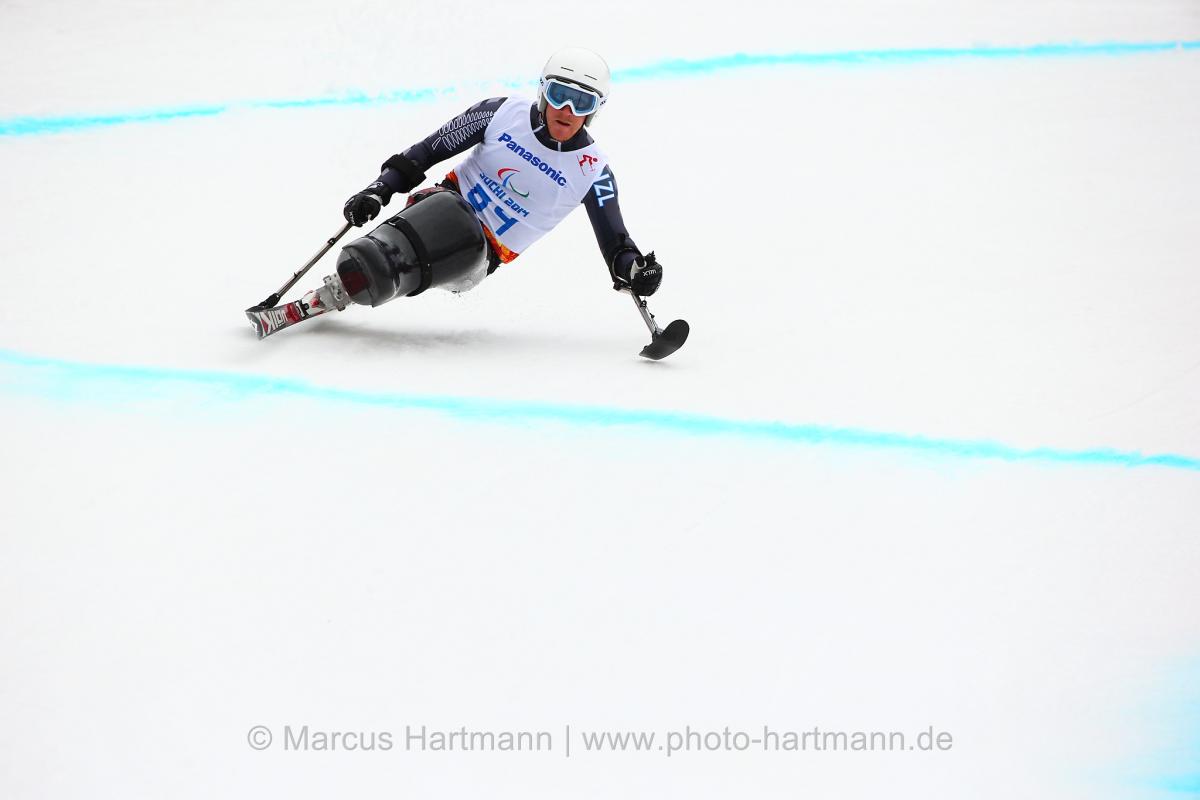 Ⓒwww.photo-hartmann.de
By Ciara Metcalfe | For the IPC
New Zealand's Paralympic slalom silver medallist Corey Peters is heading to the 2015 IPC Alpine Skiing World Championships with a quiet belief that if all elements come together, he could be in line for gold from 28 February in Panorama, Canada.
Peters' silver was his first major international medal, and he has followed it up with a series of podiums at IPC Alpine Skiing World and NorAm Cup events in 2014-15. This has led to him finishing amongst the best in the world in the overall men's sitting rankings for the season.
Those triumphs have led to an increase in confidence for Peters, who believes that he has what it takes to top the podium at the biggest gathering of international skiers since Sochi 2014.
"Ski racing is a tough sport," sit-skier Peters said. "There are so many variables that play a factor including snow conditions, course sets, visibility. If all these elements come together on the day and I ski to my full potential I believe I can win.
"Having the great results in Sochi and a third overall in the giant slalom standings this season has given me huge confidence and self-belief that I can perform well in Panorama."
In order to achieve what he has in the past 12 months, Peters has had to make some difficult lifestyle choices to get as much time on snow as possible. But he also points out that the punishing schedule is a clever balancing act.
"We spend three months on snow during the New Zealand season and a further four months in the Northern Hemisphere season so every year is pretty full on," Peters, who also studies psychology part-time, said.
"If anything it's been more a case of training smarter and trying to get the most out of each training session without over training and becoming fatigued."
Peters, 31, is under no illusions that his competition at Panorama 2015 will be tough. With a classification that includes top-level skiers from Asia, Europe and the Americas, the men's sit-ski field is deep and contains multiple world and Paralympic medallists, especially in the giant slalom.
"I think in regards to giant slalom I would say Roman Rabl [Austria], Tyler Walker [USA], Christoph Kunz [Switzerland], Taiki Morii [Japan] and Georg Kreiter [Germany] would be my toughest opponents."
Peters seems to have found his form and a training schedule that works, and is beginning to look to the future which could now include his first World Championships medal.
"As long as I keep working hard in training, refining my technique and race tactics, and continuing the back-to-back winters between New Zealand and the Northern Hemisphere I think things are looking good," he said.
The 2015 IPC Alpine Skiing World Championships run from 28 February-10 March and are expected to attract around 130 of the best skiers from 30 countries.
All races will be shown live and live results will be available at Panorama2015.com.
Live updates and behind the scenes content will also be posted to IPC Alpine Skiing's Facebook and Twitter accounts.