PyeongChang 2018: IPC President's Closing Ceremony Speech
Full text of Andrew Parsons' Closing Ceremony address
18 Mar 2018
Imagen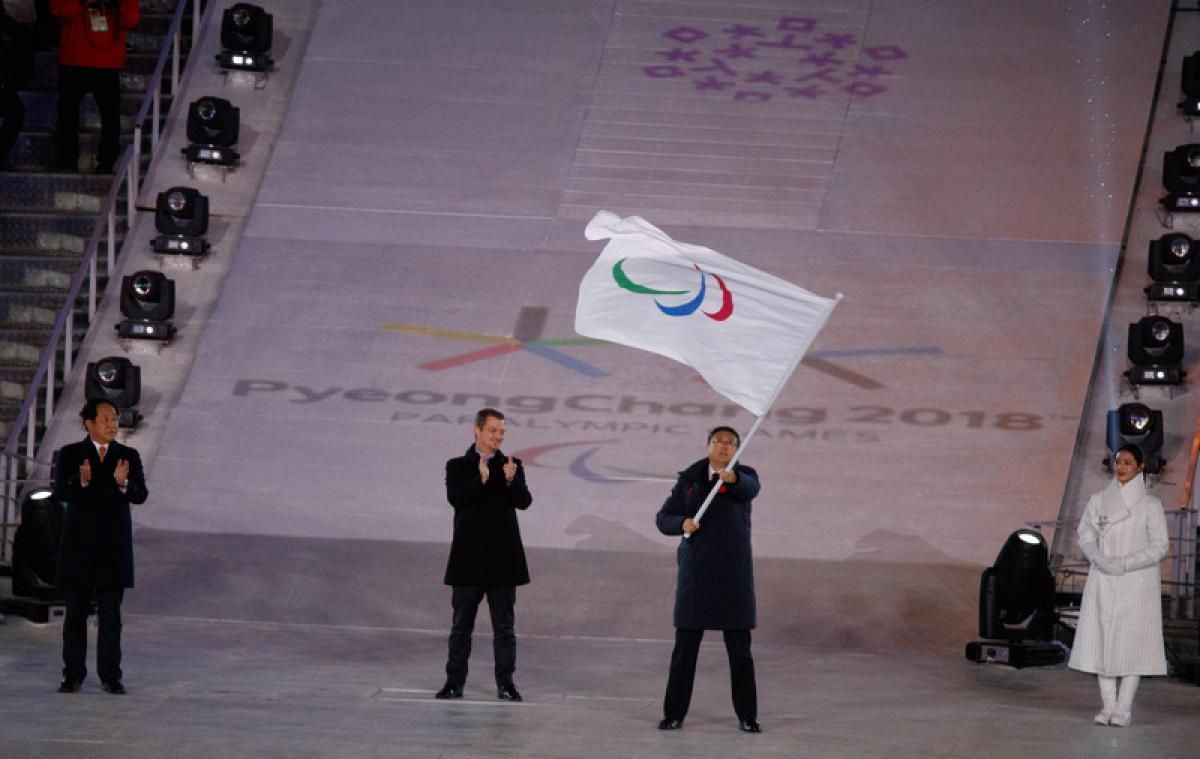 ⒸSimon Bruty for OIS/IOC
By IPC
Bangawoyo daehanmingook (Greetings Korea)
Yeoreobun Jashineul Jarangseureobgae Saenggak Hasae Yo! (You should be proud of yourself)
Tonight is a celebration; a celebration that if you dare to dream, you must do your best to fulfil it.
One man who had a dream was the late Professor Stephen Hawking, a genius of a man, a pioneer and inspiration to us all.
At the London 2012 Paralympic Opening Ceremony, Hawking noted that we are all different and that there is no such thing as a standard or run of the mill human being.
He urged us all to "Looks at the stars, and not at our feet". And, over the last 10 days the stars have shone brightly here in PyeongChang.
While Hawking tested the limits of his imagination, Paralympians, you have once again pushed the boundaries of human endeavour.
Your logic defying performances have focussed the world not on what holds you back, but on what motivates and pushes you forward.
You have shown that with a strong mind and even stronger heart, you can achieve incredible feats.
Ultimately, you have rewritten the theory of everything and given new purpose to possibility.
Every generation gets a chance to change the world. Proud Paralympians this is your time to be role models and catalysts for a more inclusive society.
Now I want pay tribute to those behind the success of these Games.
Thank you to the Games officials, National Paralympic Committees, International Federations and International Paralympic Committee team for your tireless work.
Thank you to national government, Gangwon Province and to the host cities for your support.
Huge credit to Olympic Broadcasting Services,
Olympic Information Services, all broadcasters and all media.
As the storytellers of each Games, it is you that transforms our perceptions and it is you that opens the eyes of the world to what is possible in life.
Volunteers - Ari –ari!
Huge thanks and massive cheers to the 5,800 strong volunteer Passion Crew.
Each day no job was bigger than your glorious smiles. You rose to the challenge. In PyeongChang you did yourselves proud and your country even prouder.
Thanks to President Lee Hee-beom and every member of the PyeongChang 2018 Organising Committee.
With your passion connected, you delivered not just new horizons, but new records too.
With more athletes, more countries, more media, more broadcasters and more spectators than ever before, you raised the bar for Beijing.
Finally the time has come for me to declare the PyeongChang 2018 Paralympic Winter Games closed. I call upon Paralympic athletes all over the world to meet again in Beijing, China, in four years' time, where once again, you will inspire and excite the world with your sporting excellence.
Thank you!!! Muito Obrigado!!! Gamsahamnida!!!