Rome 2015: What to watch on day two
Six world titles are left on the final day of the 2015 IPC Wheelchair Dance Sport World Championships.
08 Nov 2015
Imagen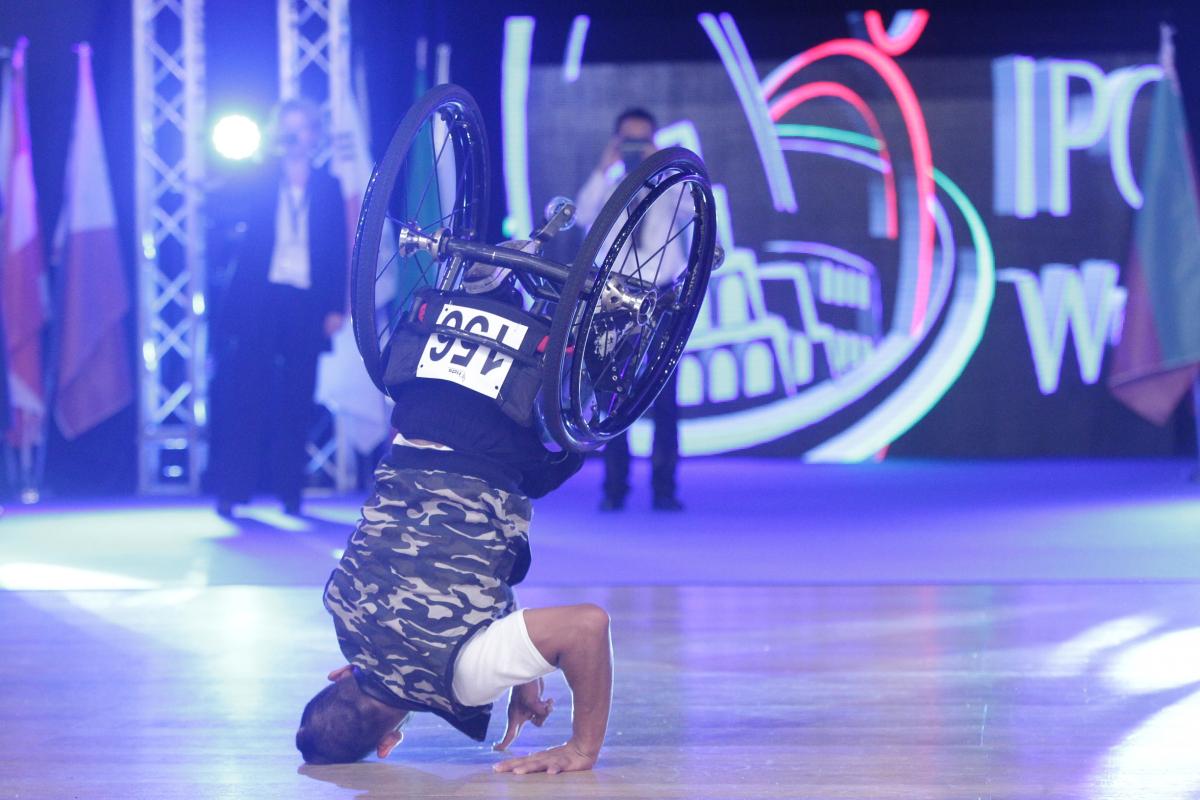 ⒸDS Photo Dance Sport
By IPC
The 2015 IPC Wheelchair Dance Sport World Championships wrap up on Sunday (8 November) with six still available.
For the first time the World Championships see the introduction of the freestyle and singles events, and Saturday's (7 November) performances showed that Russia's Galina Ryzhkova and Ukraine's Illona Slugovyna are the best in the field.
Further freestyle and singles action will take place on Sunday.
Combi freestyle class 2
This class will be one of the most exciting to watch, with Russian couple Galina Ryzhkova and Viacheslav Osipov coming off gold in Saturday's combi Latin class 2 and seeking another title. Fellow teammates Svetlana Kukushkina and Maksim Sedakov, who took bronze in the combi Latin, are also podium contenders.
Men's single class 2
On the men's side, the single class 2 is one to watch. Erik Machens has been on fire lately and the German returns as the European champion. But Russia's Sedakov and Sergey Antonov, who took silver and bronze respectively from the first IPC Wheelchair Dance Sport World Cup, will contend.
Combi standard class 1
Slovakia's Helena Kasicka and Peter Vidasic return as the defending champions. On Saturday, the couple took silver in the combi Latin class 2 and will hope to leave with gold this time. But South Korea's Hye-Jeong Jang and Jaewoo Lee are coming off an emotional performance from Saturday's duo standard competition, in which they took the title.
Combi standard class 2
The talent-packed event will feature 21 couples taking to the floor. Slovenia's Barbara Samperl and Klemen Pirman won two medals from the IPC Wheelchair Dance Sport competition in Hasselt, Belgium, including the combi standard. But they must out-perform defending world champions Russia's Gulnaz Akbasheva and Vitalii Morozov.
Women's single freestyle class 2
This event could see Ryzhkova leave Rome with a sensational four world titles.
Duo Latin class 2
Husband-and-wife duo Nadiia and Ivan Sivak of Ukraine are the reigning world champions and would like end the season with gold medals, especially after Saturday's bronze medal in the duo standard class 2. But Belgium's Sofie Cox and Sander Deckx have been impressive this season, recently finishing second in Hasselt.
For more information on the 2015 IPC Wheelchair Dance Sport World Championships visit the event website.
Live updates will be posted to @IPCWDS on Twitter and on Facebook.
Pictures will be available at www.flickr.com/photos/Paralympic.