's-Hertogenbosch 2019: Stunning Suresh Selvathamby
Malaysian arrives ranked 35 in the world and leaves as champions
10 Jun 2019
Imagen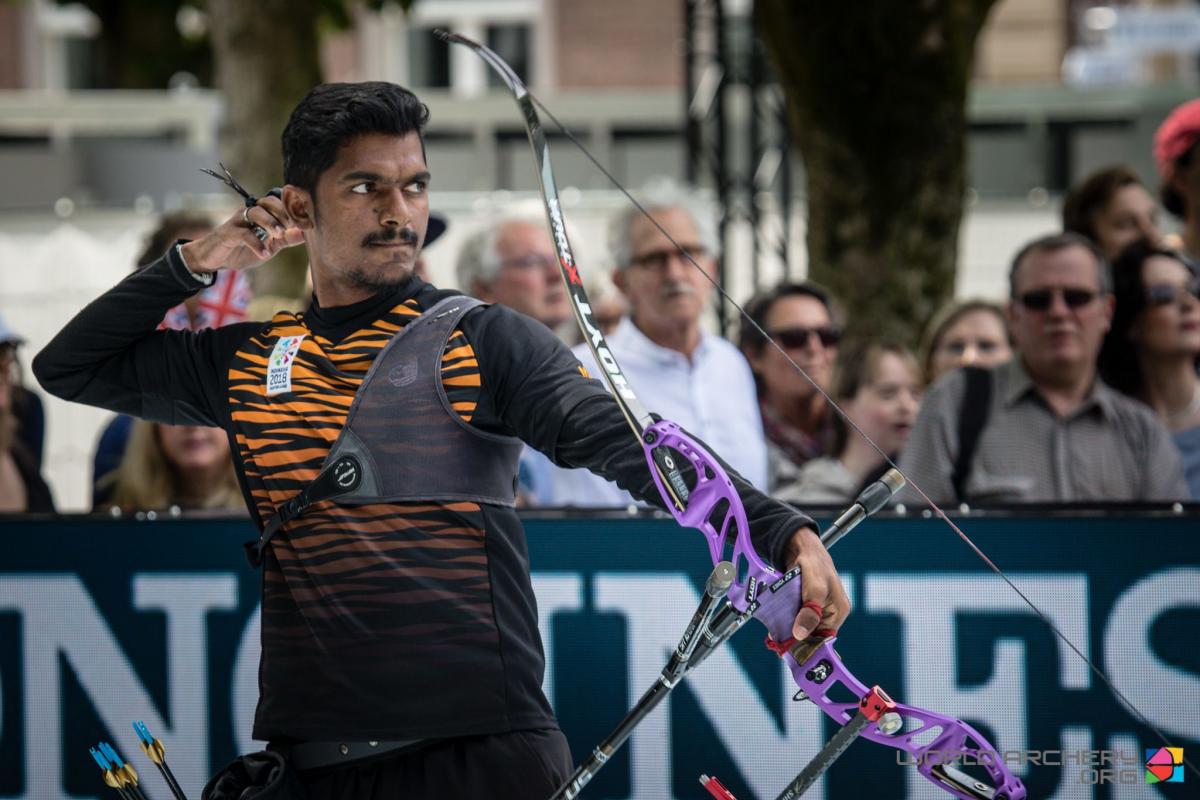 ⒸWorld Archery
By World Archery
Suresh Selvathamby of Malaysia beat the USA's Eric Bennett in five sets to become the new world champion in the recurve men's open category on final day at the 2019 World Archery Para Championships in 's-Hertogenbosch, Netherlands.
"I'm so happy. I don't know what to say. I'm speechless. These are my first championships and I got champion," said Suresh.
It was a second dramatic final, after the recurve men's team gold medal match, for Bennett on finals day at these championships.
The 45-year-old, who was world champion at Donaueschingen 2015, opened the match better and built a 3-1 lead. But that was as far as he would get – as Selvathamby rallied and won three consecutive sets.
It was in the fourth set of the match that the Malaysian archer showed his mental strength. His first arrow landed in the seven. However, it was followed by a nine and a 10. He took the lead 5-3 as the American shot 25 to his 26 points.
Despite Bennett's 10 with his first arrow of the final set, Selvathamby stayed focused, finishing with 29 points and securing the title.
"It wasn't difficult. For me it was easy. I just did my best," said Suresh.
The Malaysian para archer arrived in 's-Hertogenbosch as world number 35. He leaves the Dutch city a world champion.
Russia's Bato Tsydendorzhiev took recurve men's open bronze. He defeated Iranian athlete Pouriya Jalalipour, 6-0.
Sixth gold to Chunyan
Wu Chunyan of China beat Milena Olszewska of Poland in four sets, 6-4, to win the recurve women's open gold medal and the second world title of her career at the 2019 Worlds on Sunday's afternoon.
"Four years ago, it came a lot easier; this time it was a little bit more difficult, but I want to practise more to get even better," said Wu. "Every day, every second, I give my best in training."
It was not a high scoring gold medal match.
Wu won the first two sets with sets of 25 points. She and Milena split the third and fourth, giving the Chinese archer what she needed to take gold, 6-2.
It is Wu Chunyan's second world crown after she won the world para championships in Donaueschingen in 2015.
At this event, she seeded fifth over the ranking round and then beat Svitlana Shatkovska of Ukraine, Jo Jang Moon of Korea, teammate Gao Fangxia and, finally, Svetlana Barantseva of Russia in the semis to secure her second world final against Milena.
She received her medal from HRH Princess Margriet of the Dutch royal family, who is a keen supporter of para sport and watched the archery finals in the afternoon.
"I was very happy. I am really thankful to the Princess that she awarded me with a medal," added Wu.
In the bronze medal match, Svetlana Barantseva of Russia beat reigning Paralympic Champion Zahra Nemati of Iran, 6-2. Barantseva did not shoot a single 10 in the match but averaged 8.6 points an arrow to Nemati's 8.16.
Team events
The USA, China and Russia won gold medals in the recurve men's team, women's team and mixed team competitions at the 2019 World Archery Para Championships in 's-Hertogenbosch, Netherlands.
The final between USA and Russia was a rematch of the recurve men's open team gold medal match of the last world championships.
Two years ago, it was Russia that won, 6-2. But this time in 's-Hertogenbosch it was the USA para athletes who were more consistent. They didn't lose a single set point during their victory.
"I'm ecstatic. But actually, I don't think there is a good word to describe our feelings. It's awesome," said Michael Lukow.
China took the recurve men's open team bronze medal over India in a tiebreak.
The Chinese women's team mounted a second successful defence of its title. The reigning champions from Donaueschingen in 2015 and Beijing in 2017 beat Turkey, 6-0.
After a dramatic tiebreak, Italy won the recurve women's open team bronze over Russia, 22 points to 16.
After two lost finals, Russia did get a win – and a gold medal – in the mixed team competition. Bato Tsydendorzhiev and Svetlana Barantseva paired up to beat defending champion Italy, 5-3.
"I'm definitely pleased. It was very good for us to experience that," said Bato.
The Russian duo had an issue in the first set. In para team archery, athletes are obliged to raise their arms after each arrow to indicate their next teammate can begin. That didn't happen properly – and it showed on the target, allowing Italy an early lead.
But once Russia settled down, Bato and Svetlana's average arrow value went up.
The pair shot 36 out of a possible 40 points for the back two sets to jump ahead and grab the win, 5-3.
China beat 5-3 South Korea to secure the recurve open mixed team bronze medal.