's-Hertogenbosch 2019: France claim Paralympic spot
Julie Chupin wins thrilling single-arrow shoot-off to seal Tokyo 2020 place
08 Jun 2019
Imagen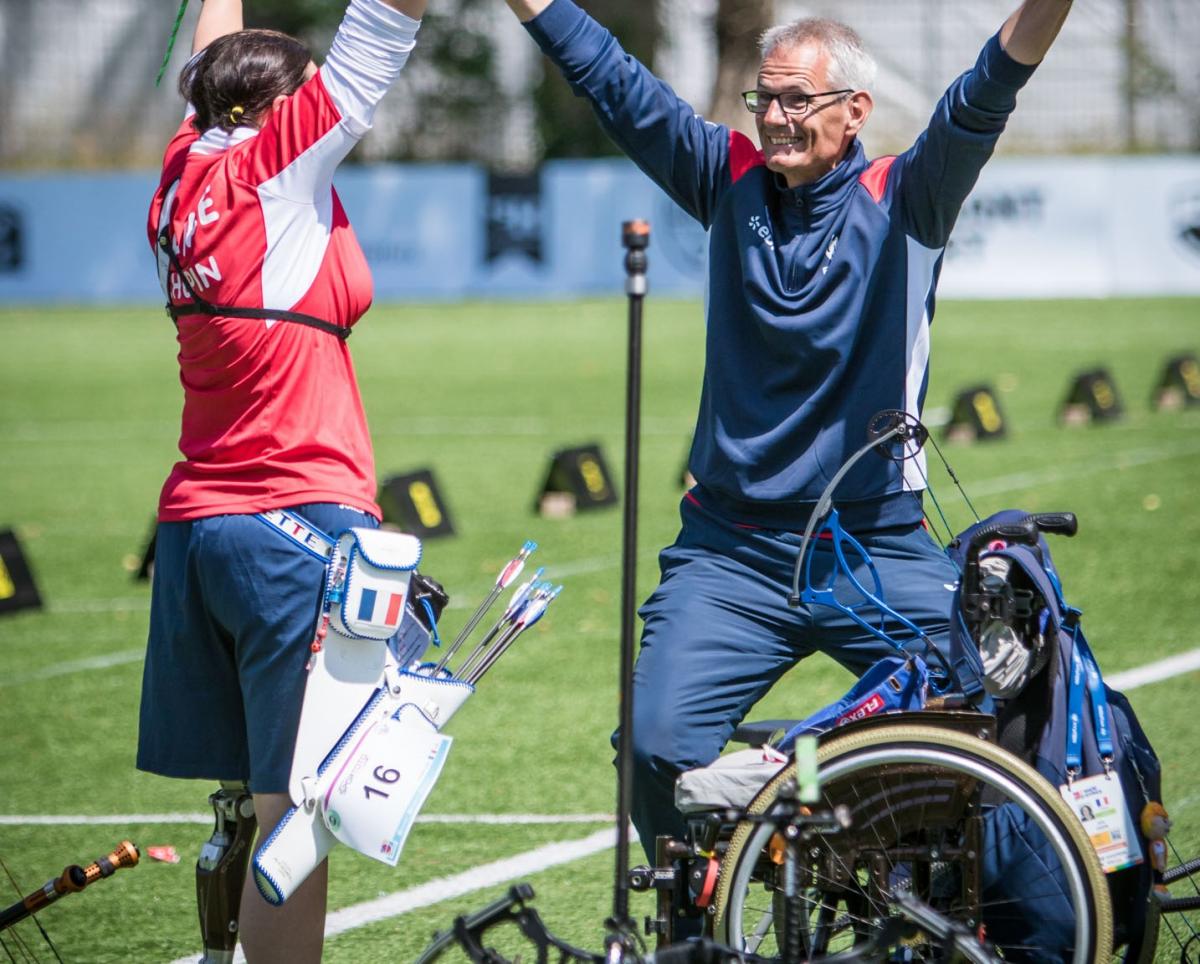 ⒸWorld Archery
By World Archery
Sixteen places for the Tokyo 2020 Paralympic Games were awarded in the secondary tournament at the World Archery Para Championships in 's-Hertogenbosch, Netherlands, on Friday.
The highlight of the day was a single-arrow showdown which saw Julie Chupin win a space at the next Paralympics for France.
In the final of the compound women's open secondary tournament, which awards the places left over from the main tournament, she faced Anastasia Dzhioeva of Russia. Dzhioeva had already won a double shoot-off against Mariana Zuniga Varela of Chile in the quarter finals.
The final went well for Chupin until the last arrow. She had a one-point lead after four ends and shot two Xs in the fifth. But her last arrow, drawn with just six seconds remaining on the clock, landed in the seven.
Dzhioeva scored 28 and the pair tied at 137 apiece.
It was the key moment. Both had to forget about what happened just minutes ago and control their emotions.
"I was very nervous at first after the last arrow. Before the shoot-off I spoke with my coach about just doing what I know, just to shoot the arrow," said Chupin. "And I am really happy."
She had a simple solution to calming her nerves. "I tried to breathe a lot," she said.
With her tiebreak arrow, Chupin found the 10. Dzhioeva shot a nine. The result had to be confirmed by a judge before the French archer could celebrate with her team.
"I was just waiting to know where my arrow went, where my opponent's arrow was and to realise it was good enough," she said, her first reaction obvious: "I did it!"
Quota places
There was only one space available in the compound women's open category in the secondary tournament at the 2019 World Archery Para Championships, but more in the other divisions.
Compound men's open (eight places available): Australia, Finland, France, Italy, Slovakia, Thailand x2 and Turkey.
There is one more space in the compound men's open to decide. If Ben Thompson wins the world title then the USA will receive it. If he loses the final, it will go to Poland.
Recurve men's open (four places available): Great Britain, Thailand, Turkey and USA.
Recurve women's open (three places available): Great Britain, Japan and Ukraine.
W1 women (one place available): The last place in the W1 women's event will be decided after the W1 mixed team final.
If China wins gold, the country wins an additional W1 women's place. If Russia wins the final, then Italy gets the place.
The finals of the 2019 Worlds are underway and continue until Sunday, with live coverage on the International Paralympic Committee's website.