's-Hertogenbosch: Zahra Nemati stunned
Milena Olszewska upsets reigning Paralympic champion on day four
07 Jun 2019
Imagen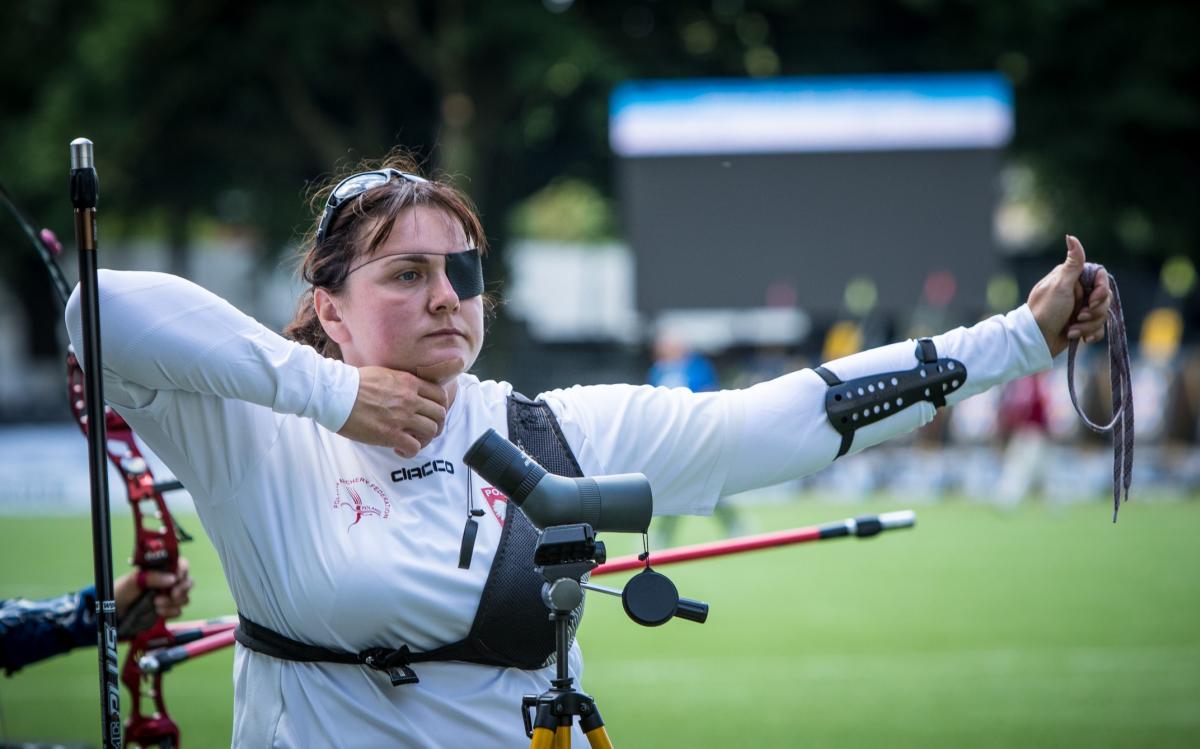 ⒸWorld Archery
By World Archery and IPC
" I aimed for the top eight and said I would welcome everything above that"
The biggest rivalry in Para archery will not take place at the World Championships in 's-Hertogenbosch, Netherlands; as Zahra Nemati lost in Thursday's semi-finals and therefore will not face 2015 world champion Wu Chunyan.
Iran's Rio 2016 gold medallist was stunned by Poland's Milena Olszewska, who seemed surprised by her accomplishment in the women's recurve open.
Olszewska is a bronze medallist from the Rio 2016 and London 2012 Paralympics, finishing behind Nemati and Wu Chunyan – the two finalists favourites.
On Sunday, the 35-year-old will have a shot at her first individual gold against Wu.
"My goal was to be in the top eight," Olszewska said. "If I'm right, it provided a quota spot for Tokyo Paralympics. I aimed for the top eight and said I would welcome everything above that. I think I'm still a bit shocked I advanced to the final and beat Zahra."
After four ends in 's-Hertogenbosch, Olszewska and Nemati – also a 2016 Olympian – were tied at 4-4. The Polish archer shot 26 to Nemati's 24 to win the last set.
Despite the result, Olszewska said that having changed technique and equipment over the winter, she was missing comfort and consistency in her shooting during eliminations.
Nemati will fight for the bronze medal against world No. 3 Svetlana Barantseva of Russia, who was the silver medallist four years ago.
Bennett vs. Selvathamby showdown
In the recurve men's open final, the USA's Eric Bennett will face Malaysia's Suresh Selvathamby.
The latter beat Russia's Bato Tsydendorzhiev 7-3, who earlier eliminated defending champion Zhao Lixue of China.
Bennett, world champion in 2015, did not begin his match against Iranian Pouriya Jalalipour particularly well. But he recovered, winning the third and fourth ends to take the lead 5-3. They split the last – and the US archer won the match 6-4.
Both Tsydendorzhiev, who is the world record holder for the ranking round, and Jalalipour are yet to win their first individual medals at a World Championships.
Stutzman stunned
Ben Thompson beat his US teammate and top seed Matt Stutzman, famously known as the "Armless Archer," 144-142 in the compound men's open semi-finals to secure his first Worlds gold medal match.
"I struggled early and then found my groove, and then the match was a little nerve-wracking because Matt is an awesome archer, so I was a little nervous," said Thompson.
The bronze medallist at the last Worlds in Beijing, China, opened with a 29 to Stutzman's 28 to take a one-point lead. Both men then scored 28 points in the fourth end and went into the last three arrows tied at 114 points. Thompson shot a perfect 30 points to take the match by two.
"I'm coming off from an injury," Thompson said. "I've been struggling hard, so to shoot this well here means a lot. I didn't touch [the bow] until April for the trials for this event. Squeezed into the team and then I found a strike."
He will face Turkey's Murat Turan in the gold medal-match, while Stutzman will shoot for bronze against India's Rakesh Kumar.
The compound women's open final will see Singapore's Nur Syahidah Alim and Great Britain's Jessica Stretton take to the arena.
Stretton, who recently switched from the W1 women's division, shot a personal best and a new world record of 148 out of a possible 150 points in her semi-final match against Italy's Eleonora Sarti.
"To be honest, I'm all disbelieved. I literally just wanted to get in the top eight, so to be going for gold in the gold medal match is definitely a good surprise," said Stretton.
"I'm always driving to get those few extra points, so like with this match that I just shot, where I dropped just two, it's a personal best for me, so I'm really happy with that."
Sarti and Russia's Tatiana Andrievskaia will contest the bronze.
The 2019 World Archery Para Championships, which picks up on Saturday with W1 and compound open individual and team finals; wraps up on Sunday. Complete results are available on World Archery's website.