Snowboard crystal globe winners confirmed in Big White
Huckaby and Schultz sweep top prizes ahead of PyeongChang 2018
09 Feb 2018
Imagen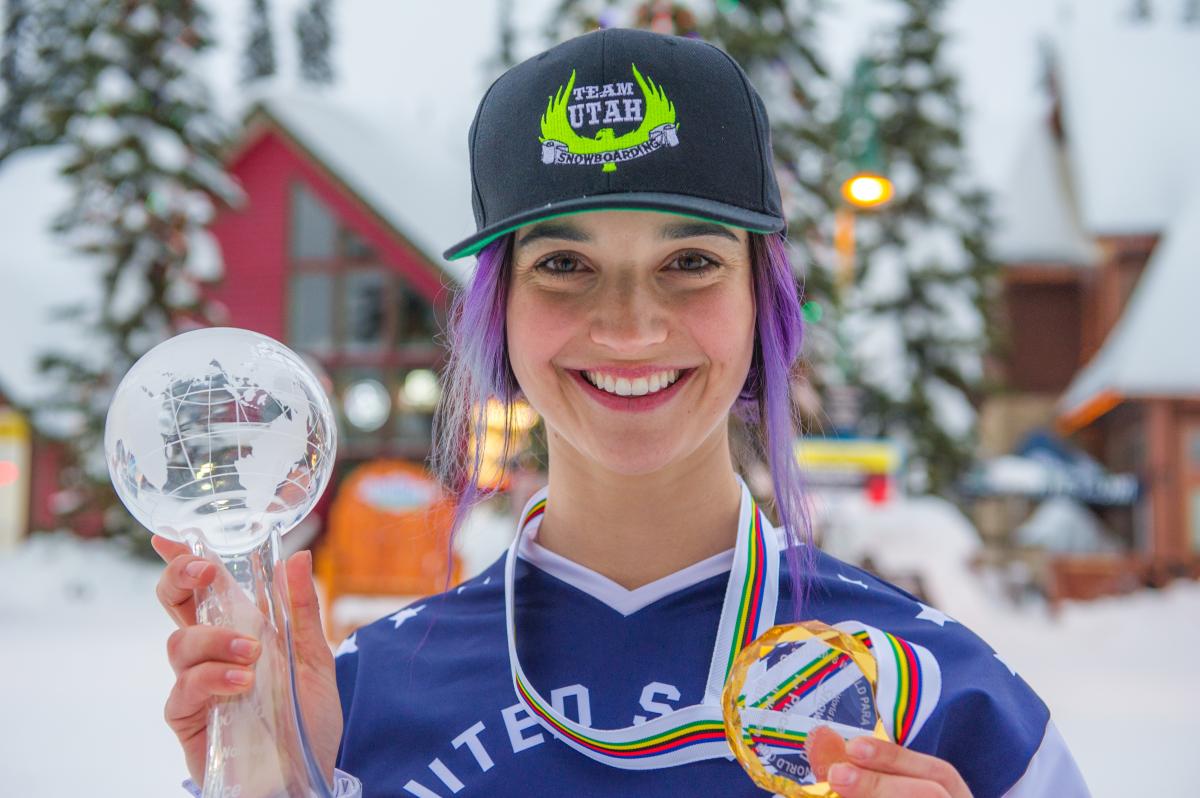 ⒸAndrew Jay
By IPC
"I've wanted one of these for about four years so I'm super excited to finally get one."
The USA's Brenna Huckaby and Mike Schultz can celebrate one month to go until the PyeongChang 2018 Paralympic Winter Games with their crystal globe trophies, as the World Para Snowboard World Cup season concluded on Thursday (8 February) in Big White, Canada.
The US snowboarders won their respective banked slalom races on Thursday, to follow up on their victories from Tuesday's snowboard-cross competition. With perfect performances in Big White, Huckaby further established herself as the overall World Cup winner in the women's SB-LL1 category, and Schultz the overall winner in the men's equivalent. The pair also left Big White as the 2017-18 banked slalom and snowboard-cross World Cup winners.
"I've wanted one of these for about four years so I'm super excited to finally get one," Huckaby said about securing her first World Cup title in snowboard-cross.
It was an all-US podium in the women's banked slalom SB-LL1 competition, with Amy Purdy taking second and Nicole Roundy third.
In the men's equivalent, runner-up and fellow US snowboarder Noah Elliot was just .55 seconds off Schultz's fastest run, while the Netherlands' double-world champion Chris Vos completed the podium.
"We have a very strong coaching staff and as well as a super supportive team, just all together," Huckaby said about the strength of the US team. "If you have a question about anything, whether it's the course, about training, about nutrition, about strength, we all come together and just have each other's backs on everything."
Banked slalom victories on Thursday were especially huge for France's Maxime Montaggioni, Australia's Joany Badenhorst and Japan's Gurimu Narita.
For defending banked slalom world champion Montaggioni, his win gave him the points to overtake the USA's Mike Minor in the overall World Cup standings and secure the season's crystal globe. However, Minor's earlier season performances helped him secure the men's banked slalom-UL season title.
"Last year it was the World Championship title [in Big White], this year is the crystal globe, so it's amazing for me to be here and be as lucky as I am," Montaggioni said. "It's a great feeling because of the Paralympics and I become confident before each race."
Badenhorst's second straight victory in Big White also bumped her to the lead in the women's SB-LL2 standings, and therefore claiming the overall World Cup trophy, as well as the banked slalom title. Dutch rider Renske van Beek clocked the second fastest run on Thursday's competition, and Spain's Astrid Fina Paredes came in third.
Narita was crowned the overall World Cup winner in the men's SB-LL2 thanks to his speedy run from Thursday. The USA's Mike Shea took second place, and that was enough to land him the banked slalom World Cup title. Great Britain's Owen Pick rounded off the podium.
The Big White World Cup was the fourth and final stop on the 2017-18 circuit, and was the last major competition before PyeongChang 2018.
Complete results are available on World Para Snowboard's website.
2017-18 World Cup winners
WOMEN'S SB-LL1
Overall – Brenna Huckaby, USA
Snowboard-cross – Brenna Huckaby, USA
Banked slalom – Brenna Huckaby, USA
WOMEN'S SB-LL2
Overall – Joany Badenhorst, AUS
Snowboard-cross – Lisa Bunschoten, NED
Banked slalom – Joany Badenhorst, AUS
MEN'S SB-UL
Overall – Maxime Montaggioni, FRA
Snowboard-cross – Maxime Montaggioni, FRA
Banked slalom – Mike Minor, USA
MEN'S SB-LL1
Overall – Mike Schultz, USA
Snowboard-cross – Mike Schultz, USA
Banked slalom – Mike Schultz, USA
MEN'S SB-LL2
Overall – Gurimu Narita, JPN
Snowboard-cross – Gurimu Narita, JPN
Banked slalom – Mike Shea, USA