Stephens shifts attitude in bid to podium
The USA's Laurie Stephens, along with coach Kevin Jardine, believe that a more relaxed approach is the key to podiums in 2014-15.
23 Jan 2015
Imagen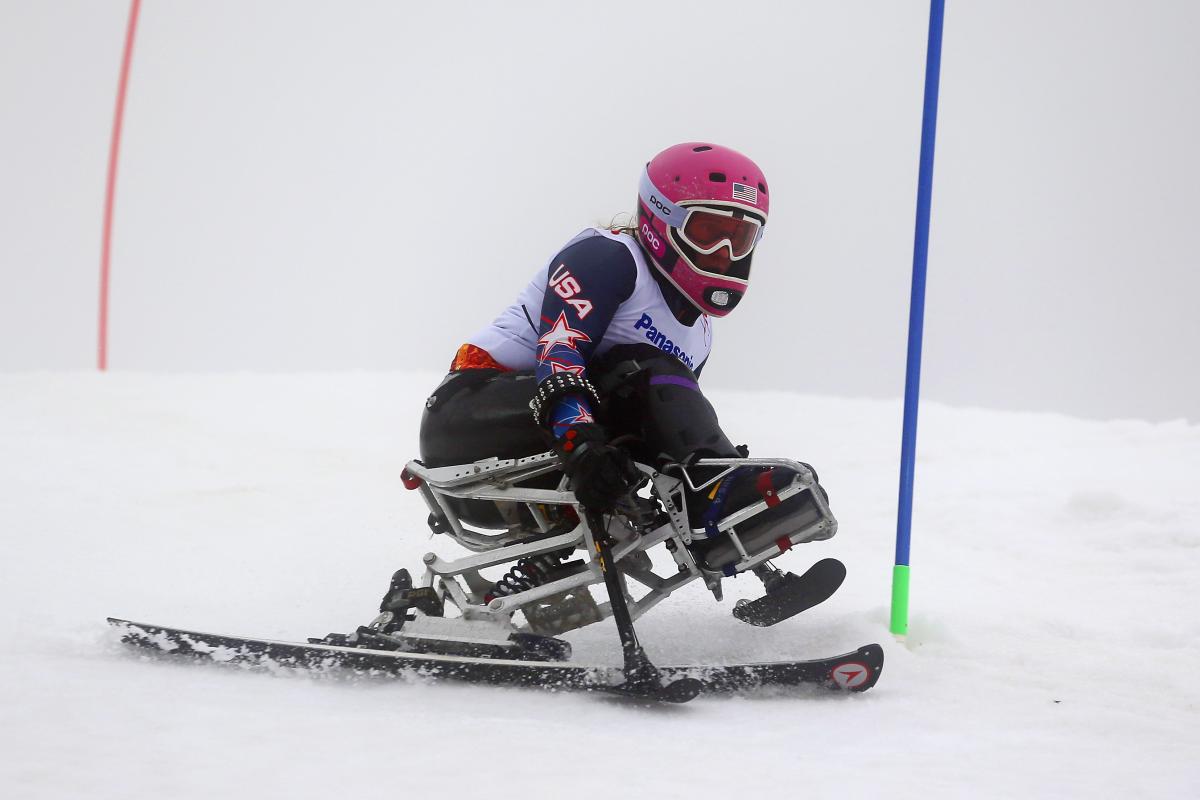 Ⓒgettyimages
By Jake Duhaime
"I'm more at the point where I want to ski as well as I can and I know how well I should be skiing. That's more my focus as opposed to being focused on winning."
As a three-time Paralympian, Laurie Stephens was able to enjoy two bronze medals from Sochi 2014 more than the two golds she won in Torino in 2006.
"I just felt like I had a lot more pressure and expectations on me going into the 2006 Games," Stephens said about her experience. "I don't feel like I had those successes leading into 2014, and thus, not a lot of pressure."
Now 30, Stephens, who post-Torino 2006 won the United States Olympic Committee's (USOC's) ParaSports Woman of the Year, as well as ESPN's ESPY Award for Best Female Athlete with a Disability, is enjoying the next phase of her career. One focused less around chasing results and awards and rather, letting them come to her.
Her coach Kevin Jardine, who has been with Stephens since her sophomore year of college, agrees with that sentiment ahead of the 2015 IPC Alpine Skiing World Championships in Panorama, Canada, from 28 February – 10 March.
"She's expecting to do well, but if she doesn't, it won't make the headlines," Jardine says. "She doesn't like letting other people down, especially those who expect her to do well. Pressure does that to you."
Going into Torino, Stephens had won 16 World Cup giant slalom events in a row. She was expected to win, which made doing so less fun for her. Now she is simply focused on enjoying her time on the hill and letting whatever happens, happen.
"I'm more at the point where I want to ski as well as I can and I know how well I should be skiing. That's more my focus as opposed to being focused on winning."
What has changed since 2006 is para-alpine skiing around Stephens, who notes the biggest difference between now and nine years ago is the competitiveness of everyone around her.
Then, she was in a position similar to Germany's Anna Schaffelhuber, who went five-for-five in Sochi. Domestically, Alana Nichols, who won a pair of gold medals in Vancouver, received much of the media attention and expectations headed into the 2013-14 season.
"People are skiing and going to the Paralympics like it is a full-time job," Stephens said. "The intensity level has gotten higher and so has the attitude towards training. It is good for our sport to be that way."
Even now, her own training regimen is not much different than what it was back in 2006. She is on snow five days a week, including recent trips to Mt. Hood and Chile. There is still an eye on the 2018 Paralympic Games in PyeongChang, so long as she is still enjoying herself. And then there is the pursuit of podiums and World Championships medals, both of which coach and skier think are attainable.
According to Jardine, Schaffelhuber is not guaranteed the top step on the podium at Panorama 2015.
"Anna (Schaffelhuber) has had a few very successful years, but I don't think she's at the point of being unbeatable," Jardine said. "Laurie has had some incredible results, as have the other girls. Without question the conditions and situation in Sochi was good for her, especially having success in those first two races. She knew she could do it on that snow and in those conditions."
He also expects Panorama to favour North American skiers, especially Stephens, who already trains in the Rocky Mountains.
"I think the conditions are much like what we train on in Aspen," Jardine said. "You've got similar snow and could have softer conditions, which favour Laurie. You've got some steeps, some flats, rollers and that's what we train on here."
"She'll head there very confident and ready to race."
Panorama 2015 is expected to gather around 130 of the world's best skiers from 30 countries.