Stoke Mandeville 70: Recreating the Games
Spinal injury patients introduced to archery on anniversary of first Paralympic event
30 Jul 2018
Imagen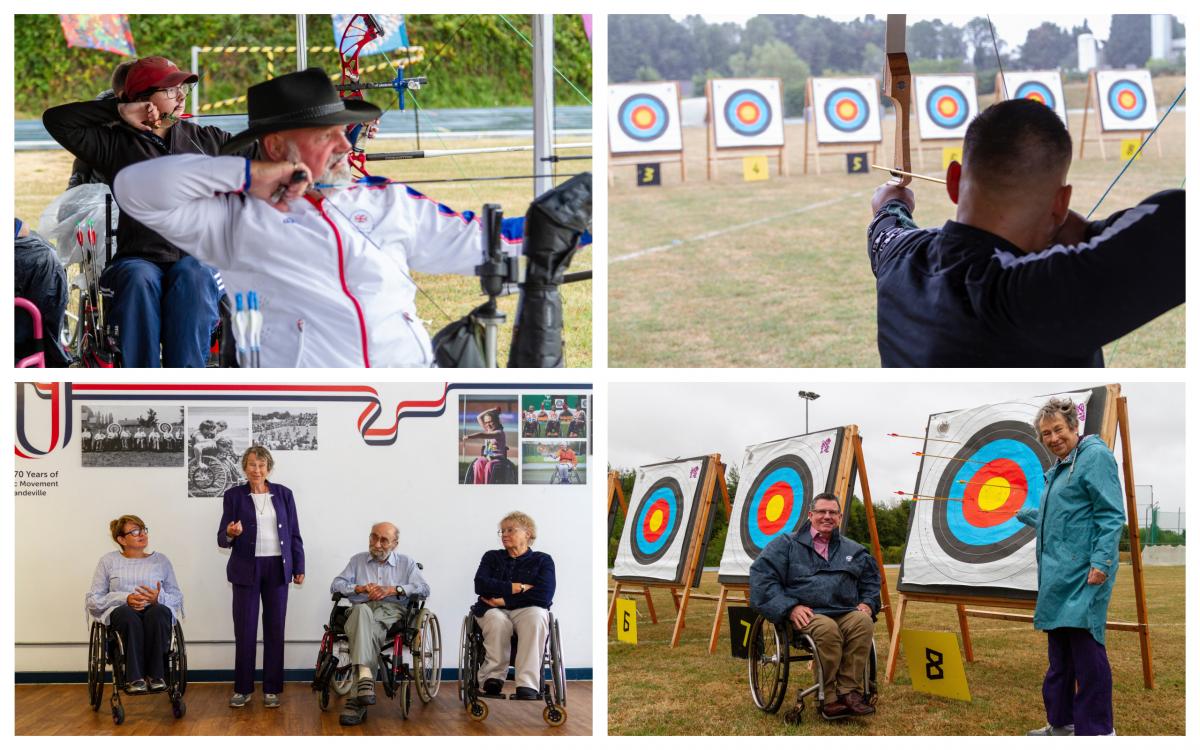 ⒸWheelPower
By IPC
"Seventy years ago it was a few paraplegics from the Spinal Unit doing some archery, and in two years' time there will be the Paralympics in Japan, with 5,000 competitors from all over the world. It's amazing."
Seventy years ago, Sir Ludwig Guttmann organised the first wheelchair sports competition at Stoke Mandeville, the home of Britain's National Spinal Injuries Centre. The Stoke Mandeville Games of 29 July 1948 involved 16 injured servicemen and women, and the competition proved such a huge success that by 1960, when the event became known as the Paralympic Games, 400 athletes from 23 countries took part.
On Sunday 29 July, to celebrate the 70th anniversary of the Paralympic Movement, dignitaries, former and current athletes as well as members of the Guttmann family, gathered back where it all began, at Stoke Mandeville Stadium in Aylesbury (Great Britain).
"Seventy years ago it was a few paraplegics from the Spinal Unit doing some archery, and in two years' time there will be the Paralympics in Japan, with 5,000 competitors from all over the world. It's amazing," said Eva Loeffler, daughter of Sir Ludwig.
"At these Games in 1948, at his opening speech, (Sir Ludwig) said 'I dream of the time when there will be Olympic Games for people with disabilities.' So his dream came true, he knew what was going to happen."
The day, organised by WheelPower (formerly the British Wheelchair Sports Foundation) and the National Spinal Injuries Centre began with an introduction to archery – the very sport that was played at the inaugural Stoke Mandeville Games back in 1948.
'Extra special'
Eight spinal injury patients were given the chance to try their hand at the sport, culminating in a competition in the afternoon.
Glyn Hayes, who was involved in a motorcycle accident one year ago that damaged his spine, was one of those who took part.
He said: "It was huge for me. After doing the Spinal Games (earlier this year) and discovering that archery was at the first event that went on to become the Paralympics, it was extra special to be able to take part.
"The stuff they do in Paralympics is not easy. There is a daily struggle for everybody that takes part, and to know that you can be a part of that Movement and show people that life is possible after an injury, it's really good."
Paralympic archery gold medallist Jessica Stretton and former British Paralympian Fred Stevens were also on hand to provide advice, and for Stretton it was a return to the place where her Para sport career began.
"I got involved here through a WheelPower 'have a go' camp. I came along and tried archery and loved it," said Stretton.
"It was a really big turning point for me. It was something to get me up and motivated, knowing that I could still do something even though I might not be able to walk very far. I can still do something and be productive."
The best memorial
WheelPower Chief Executive Martin McElhatton added: "70 years ago Sir Ludwig Guttmann changed the world for disabled people. He was a pioneer. He believed in the importance of sport for rehabilitation and his spark of inspiration grew and eventually became the Paralympic Movement."
Concluding the day's celebrations, Dennis Guttmann, Sir Ludwig's son, cut the ribbon to officially unveil a photographic mural containing images taken over the 70 years.
"It's like seeing a child having grown up and fulfilled its promise. And seeing all that, it's a wonderful thing," said Guttmann.
"Every year the Paralympic Movement grows bigger and better, and with more and more participants. It's the best memorial to my late father there could be."