Tryon 2018: 10 questions with Nicole Den Dulk
Dutch rider is a strong medal contender in the grade II competition
03 Sep 2018
Imagen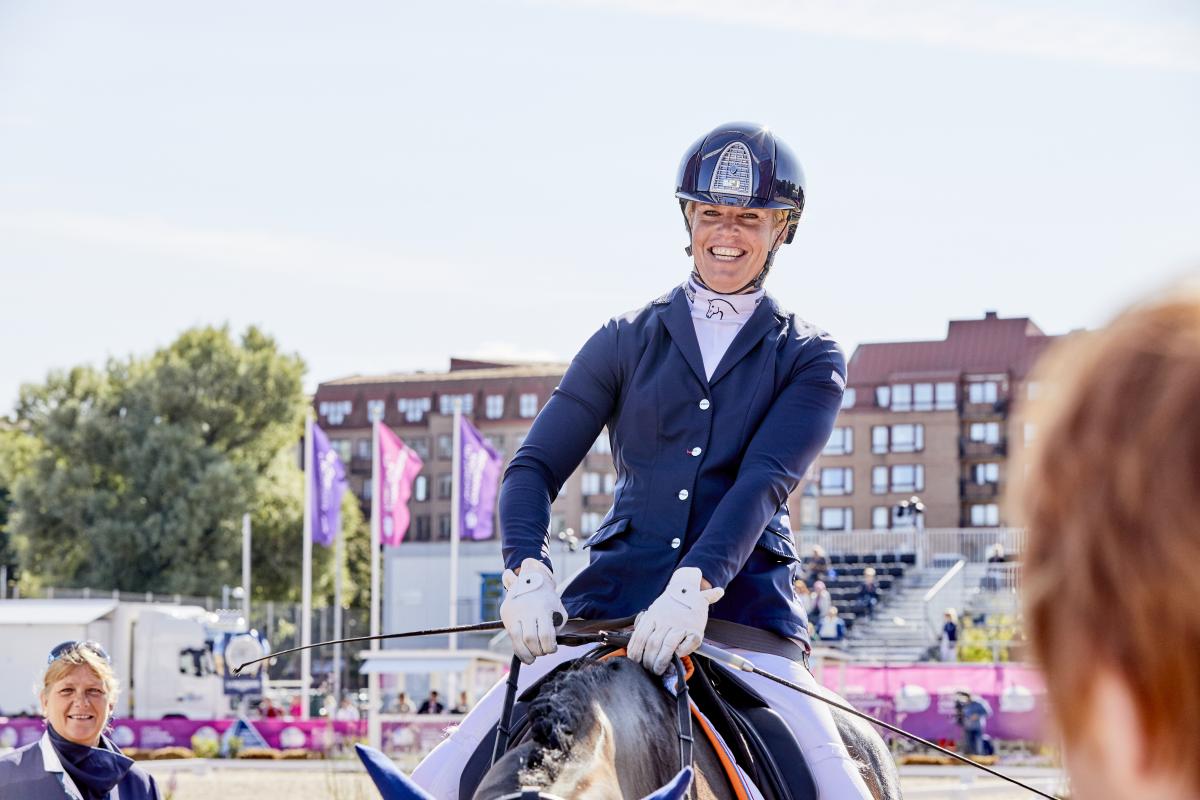 ⒸLiz Gregg
By Rob Howell | For the IPC
"When I look at how my horse, Wally, is going we should be able to get top three but for me it's important to enjoy this experience"
The Netherlands' Nicole Den Dulk is one rider to follow in the grade II competition at September's World Equestrian Games (WEG) in Tryon, USA.
Dulk, who became paraplegic after a riding accident, has a collection of bronze and silver medals at European and world levels. Get to know the Dutch rider ahead of Tryon 2018 which begins 8 September:
Paralympic.org: How did you get into riding?
I started when I was five years old. My friend started riding and, as my parents are really afraid of horses, they let me go with her to the local stable. It was more play but later I really started to get into jumping and dressage.
What do you remember about your first major competition?
My first serious competition was the first one after my accident in 2013. It was a small local Para show. But for me it felt like the World Games. The nerves! The first major competition was the Europeans in 2013 with my first horse Fifty Fifty. We finished fifth after only a few months back on a horse. Amazing.
What do you love most about Para dressage?
The relationship with my horse. I always loved that but now being in a wheelchair it seems that our bond is so much stronger. The horses are very careful with me and seem to understand what I can and cannot do.
What do you find most challenging about the sport?
The pressure and competition. I sometimes find it hard to deal with so I see a mental coach to help me get the ghosts out of my head. The national competition is tough too, and the atmosphere can give me doubts which I need to overcome.
You medalled at WEG 2014 and at subsequent Europeans. What are your hopes for WEG 2018?
My hopes are big but the competition is very tough. When I look at how my horse, Wally, is going we should be able to get top three but for me it's important to enjoy this experience. With my competitors and Team NL, it's special to qualify but then you tend to focus just on the medals and forget to enjoy. That's what I want to do, and then I know my horse will too and give his best.
Do you work or are you a full-time athlete?
I am a full-time rider. I think, considering the level you need to be these days, it's more than just riding. I go to physio three times a week to get my body loosened up and I go to fitness three times a week to get myself strong and healthy so I am able to ride. Being a paraplegic brings all different kind of problems so it's important to prevent anything you can.
What has been your career highlight?
My first WEG in 2014. I had only had my horse for three months and we qualified and then got picked. That was amazing. And then winning two bronze medals was just unbelievable. I was a new name with a new horse and there we were. I still can't describe how happy we were then and still are. Wally is my superstar.
You travel a lot. What have been your favourite places to visit?
I used to travel a lot with my boyfriend (former world number one wheelchair tennis star Robin Ammerlaan) when he played wheelchair tennis for the Netherlands. Our first date was in New York at the US Open so that will always be a great memory. And I love Africa. We have travelled a lot there and Zimbabwe and Tanzania are my favourites. Now with the horses the travel is less but we try to have a nice holiday like our recent four-week road trip to New Zealand last December. It's an amazing country.
If you could have dinner with anyone, who would you like to eat with?
That's a tough one. It's a bit cheesy but I would say Lee Pearson. He is such a nice guy and, at competitions, we don't really have the time to sit down. I would love to follow him at his place for a day to see how he does it all and be on top for so long. We have a great friendship and I sincerely love him.
What five words best describe you?
Perseverance, tough, friendly, keep smiling, and enjoy.