Tryon 2018: Angela Peavy aims for 'A' game
USA athlete ready to ride at home World Equestrian Games
28 Aug 2018
Imagen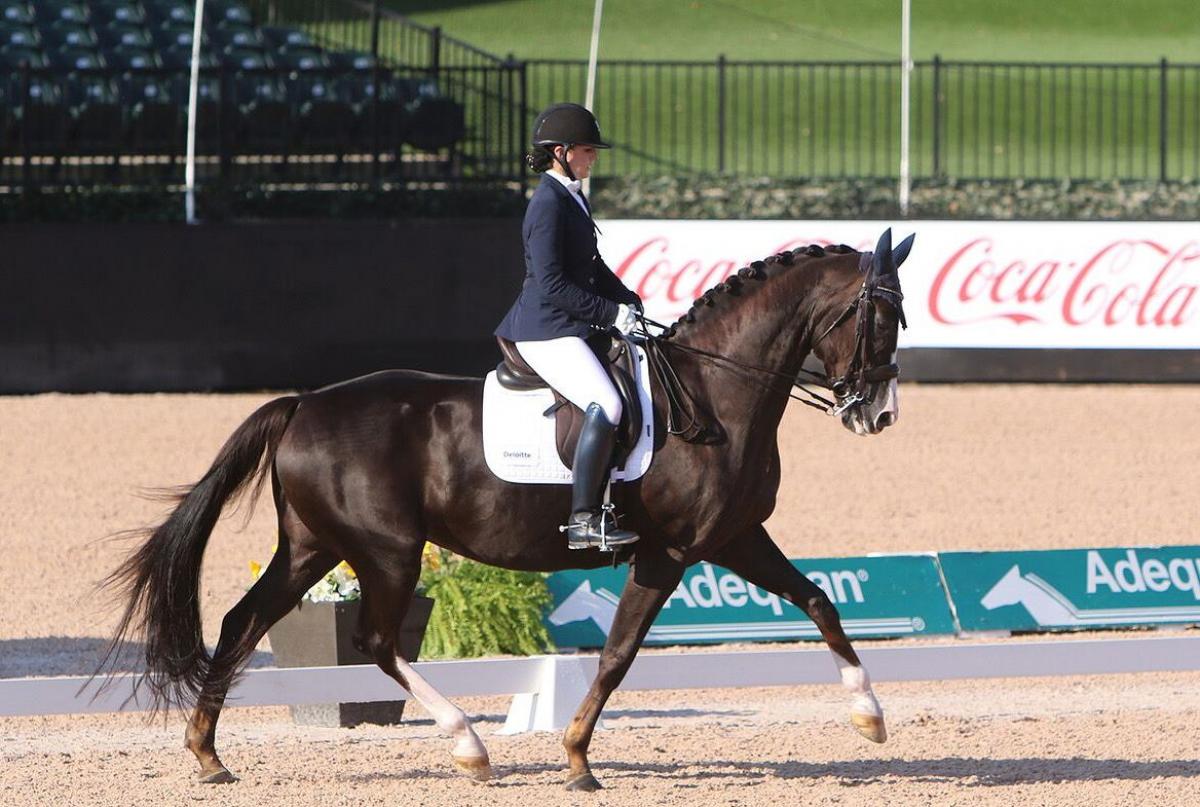 ⒸRBM Photography
By Rob Howell for the IPC
"I want to show the judges what we have worked on, so we have to be on our 'A' game"
For the USA's Angela Peavy, riding at her home 2018 World Equestrian Games (WEG) in Tryon, North Carolina, was a long time coming.
The 22-year-old rode at major competitions that include the Rio 2016 Paralympics and 2014 WEG in Normandy, France.
But after traveling the globe in the European-dominated sport, Peavy, also known as Annie, is looking forward to showcasing her talents on home soil on 11 September.
"Everyone is talking about WEG, and we are all very excited for it," she said. "It was held in the US, in Kentucky, eight years ago, and we're very happy to have it back."
The competition will be stiff in Tryon. But the youngster has shown her potential, recently winning the freestyle and team grade IV events, and second in the individual at the Test Event last April.
In September, Peavy will see how far she can go on her new horse Royal Dark Chocolate, also known as Coco.
"She's very different to my previous horse, Lancelot, but has a lot of talent," she said. "We're still a new partnership so she's a bit hot, but at every show we build more trust in each other even though each competition is so new in our relationship."
'Barn rat' discovers love for riding
Peavy's route into the sport came via riding as therapy for her disabilities. She was paralysed on her left hand side following a pre-natal stroke, and took up riding at the age of four.
"I began riding with my school friend Sage who had horses," she explained. "I soon fell in love with them and I used to brush them. My school had a barn attached and my mom said that if I went to all my classes I could ride."
A self-described barn rat, Peavy enjoyed more riding opportunities at the stables of her senior school, which she was a boarder, and started to learn dressage and compete seriously in 2013 at 17 years old.
"That was the year before the WEG in France and, despite my newness, I made the team," she said.
"I had been riding and working hard – including driving the 200-mile round trip between home in Connecticut and my trainer in Boston, Massachusetts numerous times a week – but I didn't know what to expect at WEG.
"At first it was overwhelming to be on the international stage for the first time but luckily I had a great team around me. My teammate, Rebecca Hart, and I became very close. Sometimes I even call her 'Mom'."
Bringing her 'A' game
Two years after the 2014 WEG, Peavy represented the USA at her first Games in Rio.
"Even though my competitors were the same, Rio was such a different experience what with living in the Village and having so many more spectators turn up to watch," she said.
For Tryon though, Peavy is aiming to give her all, despite the newness of her relationship with Coco.
"I hope Coco and I have a strong bubble around us," she said. "I want to show the judges what we have worked on, so we have to be on our 'A' game."