US goalball teams refreshed, focused on Tokyo
Following their Rio 2016 success, the men and women's national teams took a little time to begin training for the next Paralympics.
17 Feb 2017
Imagen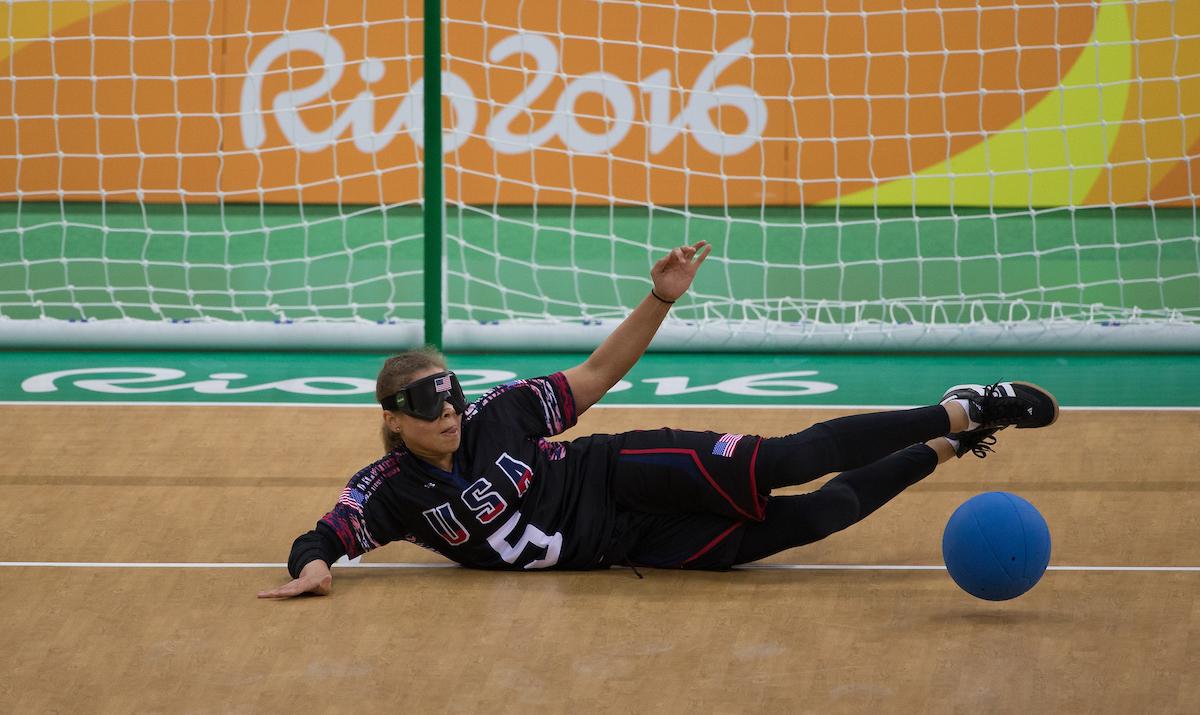 ⒸOlympic Information Services OIS.
By Courtney Patterson | United States Association of Blind Athletes
"The road to Tokyo has already begun for me. My ultimate goal is to be there representing Team USA."
Players on the US men and women's goalball teams took some well-earned time off after winning silver and bronze, respectively, at the Rio 2016 Paralympic Games. But at the beginning of 2017, they were back on the court with their next big goal in mind – Tokyo 2020.
At Rio 2016, the US was the only country to have both teams on the podium. It was also the first time in 28 years that the US men's team made it to the Paralympic finals match. The US women defeated host country Brazil in the bronze medal game, an improvement from four years ago when they fell to China in the quarter-finals at the London 2012 Paralympic Games and finished seventh.
US women's national team
The US women entered a new era after long-time head coach, Ken Armbruster, retired last October. In his 20 years as the national team's head coach, Armbruster accumulated more wins than any other coach in US Association Blind Athletes (USABA) history. Assistant coach Jake Czechowski was promoted to head coach in the weeks following Armbruster's retirement.
"My immediate goal is to maintain the level of excellence and tradition that past and current members of USA women's goalball have worked so hard to sustain for over 30 years," said Czechowski.
Though filling Armbruster's shoes will be difficult, Czechowski is inheriting some Paralympic talent that will set him up for success.
Two-time Paralympian Amanda Dennis is among that talent.
"Gold in Tokyo," Dennis answered immediately when talking about her aspirations. "But this year, I want to get stronger and work on my offense, scoring more goals for the team."
Six athletes, including Dennis, travelled to Fort Wayne, Indiana, USA, for the team's first training camp in January. Among them was emerging athlete Ali Lawson.
"The January training camp was very productive," said Lawson. "It was definitely a great way to kick off the season. It's always awesome to work with some of the best female goalball players out there.
"The road to Tokyo has already begun for me," said Lawson. "My ultimate goal is to be there representing Team USA. I am looking forward to the future of USA Goalball."
US men's national team
The US men are focused on improving individually to ultimately become a better team.
"We revamped our playing style in 2012, and the four years leading up to Rio were spent trying to iron out what we needed to do to be a winning team," said assistant coach Matthew Boyle. "We accomplished the goal of finding a winning style, now the four years leading into Tokyo will be spent perfecting it.
"Winning a silver medal in Rio was a huge success for our team, especially after not qualifying for the London Games. Winning a silver medal puts you in a great position, it gives you the confidence in knowing you are one of the best teams in the world and at the same time, it keeps you hungry knowing there is still more to achieve."
Part of what helped the team succeed in Rio was the newly established Goalball Centre of Excellence at the Plassman Athletic Center at Turnstone in Fort Wayne. In October 2015, six male goalball players and a resident coach relocated there to live and train full-time in preparation for Rio 2016. Their sacrifice paid off when they stepped onto the medal stand in Rio last September, nearly a year later.
"The Goalball Resident Programme is the best thing that has ever happened for the US men's goalball team," said Daryl Walker, Rio 2016 Paralympian and current resident athlete at the centre. "Without the resident programme, I could not be the goalball player I want and need to be. The resident programme has helped me and others discover the potential within us."
The team held their first training camp of 2017 during the first weekend in February. Like the women's team, players included emerging talent and veterans from the Rio 2016 Paralympic team.
"Tyler Merren retired after Rio," said John Potts, US Goalball's High Performance Director. "But both coaches and the remaining five men are ready to take the trip to Tokyo. The returning team will be challenged by several young and talented prospects along with a couple of returning Paralympians who are going to challenge everyone for the chance to make the 2020 Paralympic team.
"Both teams are stronger and more motivated for success than ever," said Potts. "If folks like what they saw in Rio, they'll want to follow us as we work our way to Tokyo over the next four years."