Video value for Anthony Cappello at Worlds
Two-time Canadian Para taekwondo champion shakes up his training as he aims to medal in London
19 Oct 2017
Imagen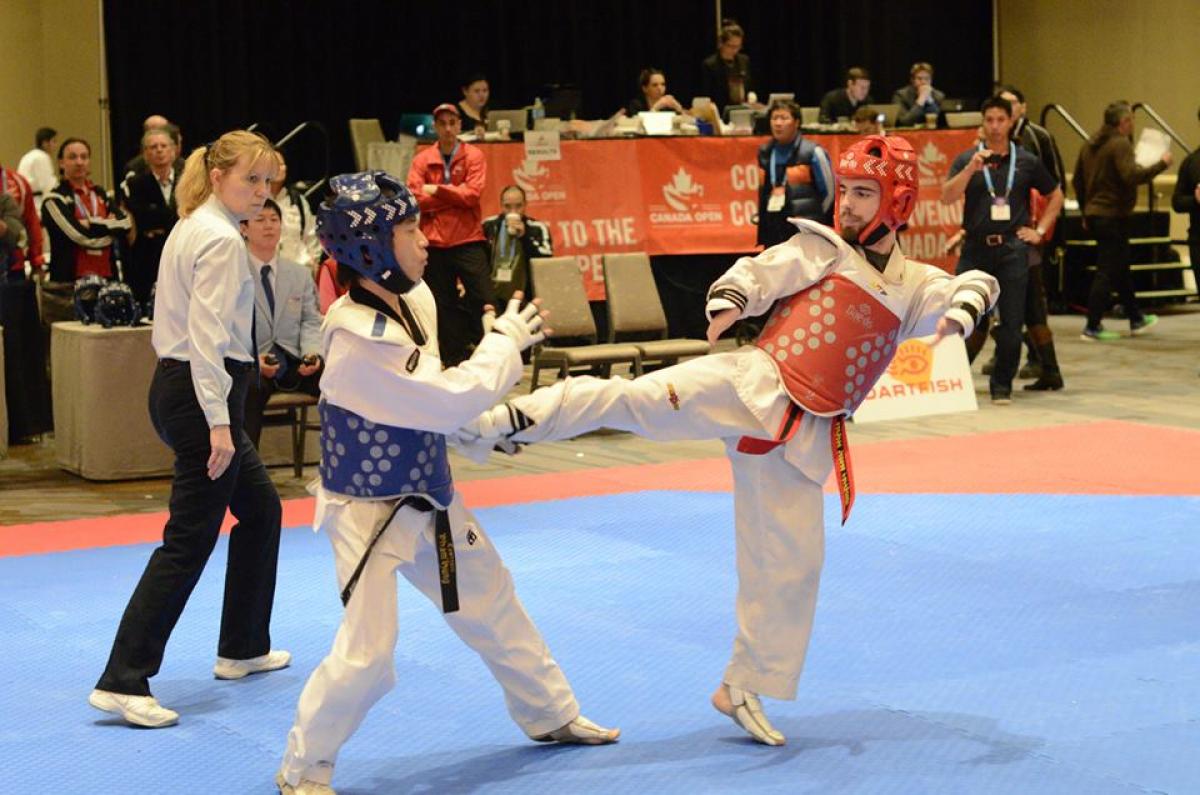 ⒸLee Reaney
By Lee Reaney | For the IPC
"It's put a spotlight on me; it's forced me to communicate more, to express myself more. It's been a test to achieve and to see how far I can go."
Anthony Cappello knows he'll need to capitalise on every opportunity if he is to become Canada's first Para taekwondo world champion since Lisa Standeven, and that's why he's added an innovative training method to his arsenal – video.
In a sign of the sport's growing professionalism since being added to the 2020 Paralympic programme, the two-time Canadian champion believes he needs to do more than just his two to three times a day, six-days-a-week training regimen.
"I've already begun studying videos of myself and my opponents", Cappello said. "Fighter-specific training has been very useful. I've watched opponents from France [Bopha Kong], Guatemala [Gersson Mejia], and Spain [Alejandro Vidal Alvarez] already."
At the Para Taekwondo World Championships, which are taking place today (19 October) in London, Great Britain, the world No.6 has been drawn into the same side of the draw as top seed Kong. Kong has dominated the men's K43 under 61kg division since winning the last world championship in 2015. He has already won five tournaments in 2017.
"[Kong] is a fencing-type player", he says. "He likes to use his front leg, so I learned to sidestep."
He has also assessed Spain's No. 2-ranked Alejandro Vidal Alvarez.
"I've been studying him a lot, as he's fast and explosive like me", says Cappello. "We look for combos and counters to combat that."
But perhaps his main rival in the division is Guatemala's Gersson Mejia. The world No. 3 has bested Cappello in the last two Pan-American Opens, including in sudden death last month.
"That fight was amazing, as I had to fight tactically due to a slight leg injury", he recalls. "I learned how to deal with the pressure, take time to breathe, and choose my spots of when to be explosive."
And what does he see in Mejia?
"The guy is one hell of an athlete and I respect him a lot", says Cappello. "He is good inside. I didn't train a lot of escape, I just want to set-up my back kicks".
He credits his intense and innovative training to his mentor, Master Raymond Mourad, who convinced him to join the sport and took him 'under his wing'.
"Before taekwondo, I thought I knew everything about myself. I thought I had my condition under control, that my mental state was strong", recalls Cappello. "[The sport] has put me under the eye of hundreds – if not thousands – of people. It's put a spotlight on me; it's forced me to communicate more, to express myself more. It's been a test to achieve and to see how far I can go."