Walsh gives heartfelt tribute with first World Cup victory in five years
Parallel event makes official debut at the World Para Alpine Skiing World Cup
21 Feb 2020
Imagen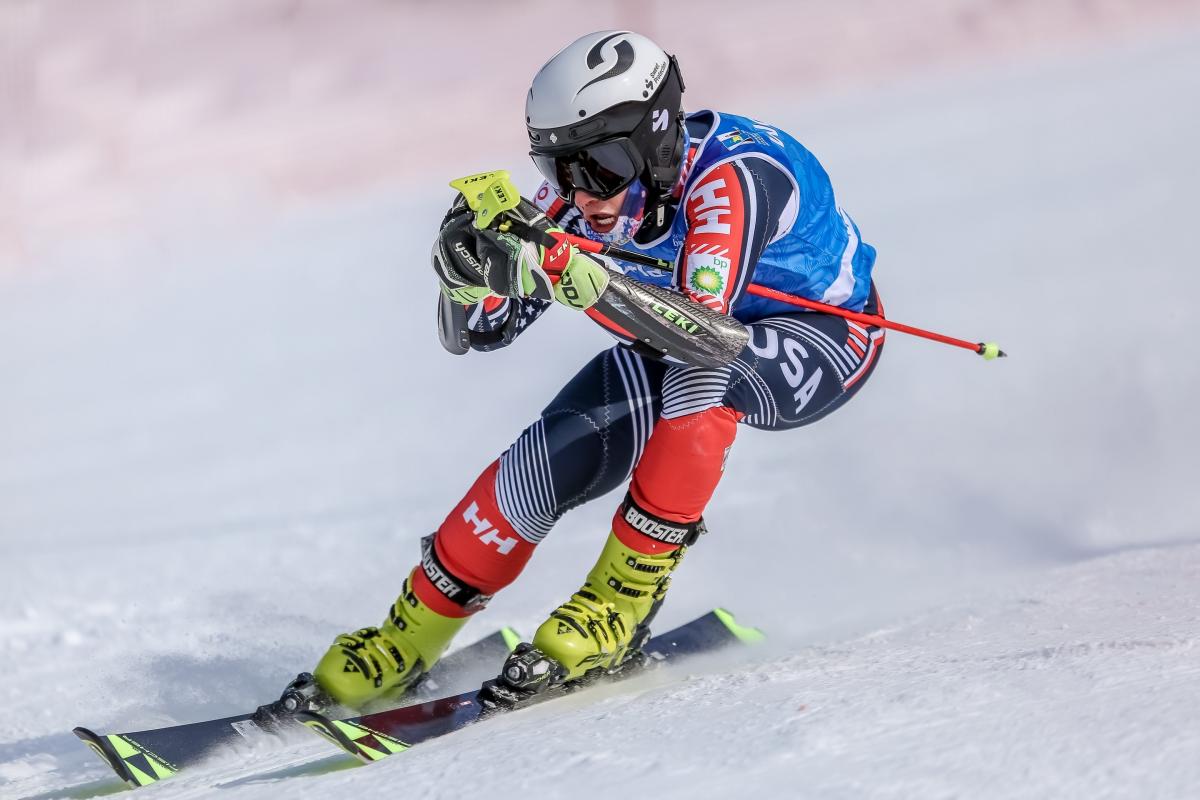 ⒸSakhalin 2020 World Para Alpine Skiing World Cup
By Lena Smirnova | For World Para Alpine Skiing
Thomas Walsh got used to applauding other athletes at awards ceremonies over the past seasons. The USA standing skier would occasionally win a World Cup medal, only to drop down to fourth place the next day. He would win one run, only to fall back in the second.
But in the giant slalom at the World Cup in Juzhno-Sakhalinsk, Russia, instead of being a constant cheerleader for other medallists, Walsh experienced the long-forgotten sensation of walking onto the top step of the podium himself and getting a rousing ovation.
"It's been a long time," Walsh said. "I have to say, that first run held some of the best skiing of my entire life and to have it play through today, finally on top of the podium, it's a lot."
It has been five seasons since the 25-year-old won a World Cup race. Back then, in February 2016, Walsh was still a newcomer to the Para alpine scene. But the years after his glittering debut proved challenging, and another golden finish - elusive.
"It's really frustrating," Walsh said of finishing fourth in multiple races. "I think finishing fourth or even worse is a good lesson in order to prepare you on how to achieve the top step."
All through the races at Sakhalin, Walsh has competed with a taped sign on his helmet - "Be nice, think first, have fun - Jeff". The sign honours his mentor, the recently deceased father of his childhood friend and Olympic champion skier Mikaela Shiffrin.
"He was definitely with me today as I won the GS," Walsh said. "I find myself in dept to people who helped me overcome my cancer treatments and continued to support me while I was living with a disability and Jeff was one of the most influential people to do that for me."
Walsh was among three gold medallists from the United States in the technical events. His teammate Laurie Stephens won gold in the women's sitting giant slalom and slalom, while Andrew Kurka took gold in giant slalom.
It was also the first gold of the season for Thomas Pfyl. The Swiss skier came first in slalom, ahead of Russia's Alexander Alyabyev and Austria's Markus Salcher, who celebrated his first ever World Cup medal in slalom.
"It was a very tough race. The course was very difficult to ski," Pfyl said. "It is the hardest and the longest course because one minute and five seconds for one run is very tough."
From teammates, with love
When Russia's star athlete Aleksei Bugaev exited the home competition with a shoulder injury, the spotlight - and pressure - fell on his teammate, Varvara Voronchikhina.
The youngster stepped up to the challenge and won her first gold of the season by beating eight-time Paralympic champion Marie Bochet in giant slalom.
"Unfortunately, Lesha (Aleksei) is not with us for the moment. This is a big loss for us as a team," Voronchikhina said. "Our men's side has been seriously weakened as compared to what it was. For my part, I am trying to bring out my best to give everything for Lesha."
Voronchikhina sent a message to Bugaev after her victory to say that she won the medal for him. The standing skier was scheduled to get shoulder surgery in Moscow on Friday.
"He is very happy, but he told me that I could have skied even better. That's typical of him," she added with a laugh.
For Bochet, the giant slalom was the last race in Sakhalin since the French team left earlier and skipped the slalom and parallel events. The French star leaves Russia with five gold medals in the speed events and a silver in giant slalom.
"I'm very satisfied about the speed because it's my goal this season to try and have less reflection and less questions," she said. "But I'm a little bit disappointed in the technical. I'm very lost in this discipline."
"I wait with some impatience the spring because I think I'm a little tired this season," added Bochet, who is already planning her post-season holiday in the sun. "I think I need it. I don't stop much since the last Games."
Iuliia Mosova and her guide Denis Perevozchikov added two more golds to Russia's medal tally with their wins in women's vision impaired races.
In the men's vision impaired, Giacomo Bertagnolli and guide Andrea Ravelli brought Italy gold in giant slalom, along with a silver in the parallel event.
Historic race
Sakhalin made history by holding the first official parallel event of the World Para Alpine Skiing World Cup. While its rules are still changing, the contours of the event that may appear on the programme of the 2021 World Championships are becoming more solid.
Voronchikhina took gold in the women's race, while Markus Salcher was victorious on the men's side after beating Bertagnolli in the final.
"For me, it's hard to compete against the VI guys because the guide is right beside you and then you have to focus on your course because you never know how far the athlete is behind the guide," Salcher said. "The final run was quite good and after the finish line, I had a quick look behind me to see where Giacomo is and I did it, so great day for me."
Full results from the races are available on the World Para Alpine Skiing Website, while recordings of the live feed are on the International Paralympic Committee's YouTube channel.