Wonky's 'baptism of fire' in Al Shaqab
Canadian rider Bert Sheffield writes about experience on new horse
20 Mar 2019
Imagen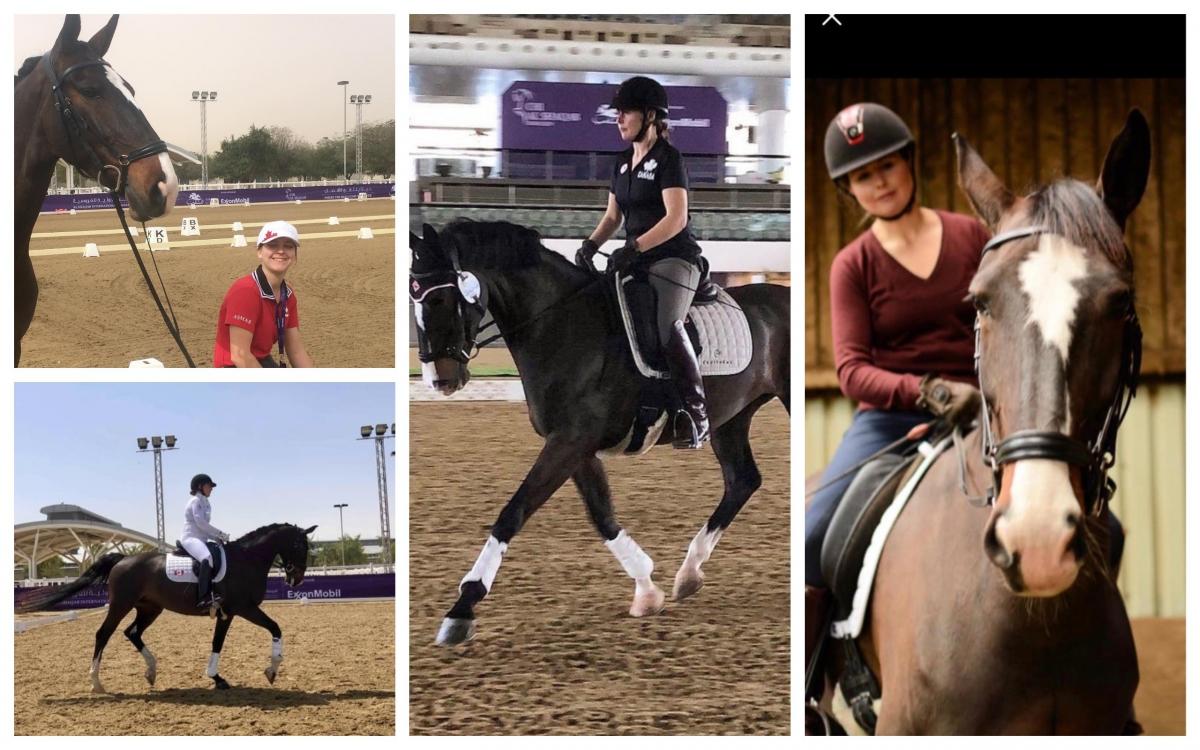 ⒸBert Sheffield
"It was obvious she was very intelligent with the presence and quality to be my international Para partner. Since then, I have grown to adore this big, headstrong, powerhouse of a mare."
In her own words, Bert Sheffield takes us through her first competition with new horse 'Wonky'.
I was over the moon when that email dropped into my inbox, inviting me to the 2019 Al Shaqab Para dressage competition in Doha, Qatar, earlier in March. I had hoped but never really believed that I would go back to one of the sport's biggest competitions of the season.
This time I took my developing horse, Fairuza (her name means turquoise in Persian!), but known by her friends as Wonky. It was a total baptism of fire for her as she had never travelled abroad or flown before and had only been to one other international show, the wonderfully friendly and relaxed Bishop Burton competition in Great Britain.
I found Wonky in 2015 in a herd of semi-feral driving bred horses. She had never been handled but something about her was special.
She watched us approach her family group, sceptical and proud, assessing us as much as we were assessing the horses. It was obvious she was very intelligent with the presence and quality to be my international Para partner. Since then, I have grown to adore this big, headstrong, powerhouse of a mare.
Wonky is now very much "my horse."
First time flying
The trip to Doha was a huge step for our partnership.
First, Wonky was trucked to Liege, Belgium, from my base in Great Britain and then after a rest break she was loaded into the containers for the flight. My groom, Yasmin, then flew from Brussels so that she would be at Al Shaqab with the stable ready when Wonky arrived.
When the horses arrived into the venue, Wonky was the last horse on the last truck to be unloaded. I was so relieved to see her. Then the transport guys told me she was an absolute angel through the whole process. Very proud mother moment!
The day after Wonky arrived, Yasmin took her hacking around the site to explore and stretch her legs. This is such a good way for the horse to get their bearings and relax into the atmosphere. And what an atmosphere it was – the final day of the Longines Global Champions Tour show jumping competition.
Our competition started with the vet inspection on Wednesday. This is always nerve-wracking even though Wonky was feeling fantastic to ride and looked fabulous. She flew through with no problems, and Yasmin managed to contain Wonky's desire to show off on the jog strip.
Centre-stage nerves hit
One of the things totally different at an international opposed to a national show is we get time in the arena before competing so that the horses can become familiar and comfortable in the fancy arena. Wonky settled quickly during this session.
First up was the grade III team test. Things did not quite go according to plan as the arena had been dressed with even more flowers and TV cameras than we had experienced in our warm-up the day before. As I rode her down the tunnel into the air-conditioned stadium we were hit by a wall of noise, a rush of air and the movement in the stands. Wonky suddenly lost her confidence and became a baby horse. I did everything I could to hold her hand and help her find her calm again while we completed our routine. Obviously the tension affected our resulting score. But I was so pleased that Wonky was able to find her courage and keep going. We finished fifth.
Baby steps
The following day was the individual test. My fingers were crossed that Wonky had learned from her experience the day before and would remember how brave she was rather than how scary it had been. I need not have worried. She rose to the occasion, making a couple of babyish mistakes but rising through the ranks to finish third, our first podium of the show!
Saturday was my favourite part of the competition, freestyle to music day. I love this opportunity to express my artistic style and showcase something of the horse's character. As it was only a short time between being invited to Al Shaqab and competing, (I did not plan to start the season until May), I had not sorted out a floorplan and music track for Wonky. We used a modified version of a very strong rock music routine made by Rich Neale. Luckily, it fits Wonky well, and she suits the powerful vibe.
The judges liked it! We won the grade III and also had the only 70+% score in our grade for the whole show.
'I needed this!'
It was incredibly emotional to be on the podium hearing O Canada, with this hugely challenging but wonderful horse standing in her winner's rug beside me.
It has been a long, hard road to get this horse to this point and we still have a huge amount of work to do for Tokyo 2020 Paralympics qualifiers.
I feel inspired by the opportunity to compete here, as I said to my coach "I needed this!" The progress this horse has made during the competition has been utterly awesome. She has been tested against seasoned, international horses; horses that attended last year's World Equestrian Games, and shown she is more than capable of playing with the big boys.
As with all riders at this level, we have wonderful support teams behind us. Our national federations, our home teams and of course our grooms, family and friends all pulled together. I am so very fortunate to have all this behind me.