Imagen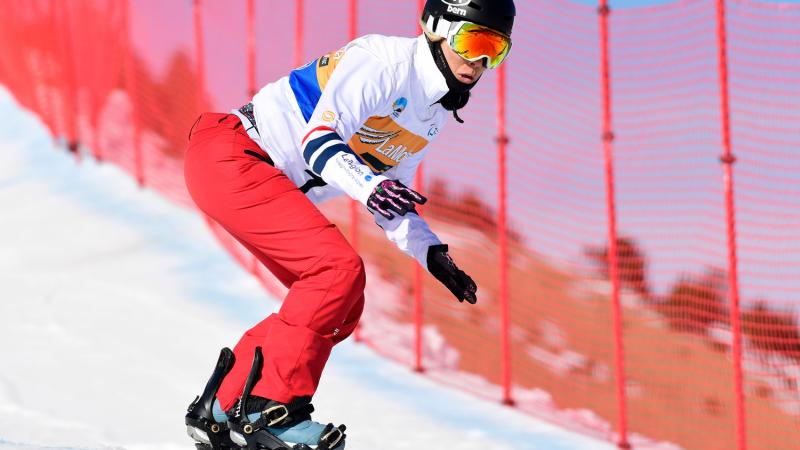 Cecile Hernandez
Snowboard | Alpine Skiing
Amid a new generation of snowboarders rising, Cecile Hernandez is one of the veterans holding her ground and still battling for the top of the women's SB-LL1 podium. She fell short of her first Paralympic gold in the banked slalom at PyeongChang 2018 and won bronze in snowboard-cross.
But the Frenchwoman has looked strong during the 2018-19 season. She won all but two of her races over World Cups so far, including a victory over US rival Brenna Huckaby in snowboard-cross at the Big White World Cup. And if there is anyone who can challenge the reigning world and Paralympic champion, Hernandez is that person. She lost both her world titles to Huckaby at the 2017 Worlds, so revenge might be on her mind at the 2019 edition.
In her Paralympic debut at Sochi 2014, Hernandez finished nearly 10 seconds (9.88) behind Netherlands' Bibian Mentel-Spee, a result everyone expected. What few predicted was that the French snowboarder would win a silver medal and bump USA's Amy Purdy to third place, nor did they expect it to happen just months into her first World Cup season.
The 2014-15 season was one of her career-best, winning every single World Cup race she entered as part of the women's SB-LL1 field. That included wins in banked slalom and the revised format for snowboard-cross, where athletes race head-to-head after an initial qualification round.
Hernandez won the banked slalom again at the 2015 World Championships in La Molina, Spain, where she also finished second in snowboard-cross. In the 2015-16 World Cup season, she stormed to victory in the banked slalom and silver in snowboard-cross, to finish first in the overall rankings ahead of USA's Nicole Roundy and Canada's Michelle Salt.
Hernandez looked primed to capture double gold at the 2017 World Championships following a successful World Cup circuit that saw her category's win the overall title. But Big White, Canada, was where Huckaby burst into the scenes. The two are expected to continue fighting for the top prizes each time they meet.
The Frenchwoman became a Para snowboarder after being diagnosed with multiple sclerosis in 2002. Initially a BMX rider, she looked for a sport that gave a similar sensation as BMX and found that in snowboarding.
Biography
Impairment information
Type of Impairment
Impaired muscle power
Origin of Impairment
Acquired
Further personal information
Family
Daughter Victoire-Eleonore [2007]
Other names
Cecile Hernadez-Cervellon
Occupation
Athlete, Motivational Speaker
Languages
Catalan, French
Sport specific information
When and where did you begin this sport?
She began snowboarding as a girl, and first tried Para snowboard in December 2013.
Why this sport?
"In the mid-1990s I was doing BMX, but the discipline was gradually being abandoned in favour of mountain biking, so I started looking for a sport that would give me the same sensations as BMX. Gliding, speed, trajectories and jumps. As I lived in a mountainous region, snowboarding came to me and I immediately loved it."
Club / Team
Douanes [FRA] / SC Les Angles [FRA]:
Name of coach
Yannis Dole [national], FRA
Training Regime
During the European winter she trains on the slopes in Les Angles, France. She also combines her training with skateboarding in Theza, France.
General interest
Nicknames
Cash (Facebook page, 29 May 2020)
Hobbies
Writing, journalism, BMX. (lindependant.fr, 23 Jun 2018; sportmag.fr, 02 May 2021)
Memorable sporting achievement
Winning a silver medal at the 2014 Paralympic Winter Games in Sochi, and winning gold at the 2015 World Championships in La Molina, Spain. (dicodusport.fr, 01 Oct 2017; Confinement Inside YouTube channel, 08 Apr 2020)
Injuries
In January 2020 she broke two vertebrae after slipping on the snow during a training session. She returned to competition less than two months later. (paralympic.org, 29 May 2020)

She dislocated her hip and knee 11 days before she won the SB-LL1 snowboard cross competition at the 2019 World Cup event in La Molina, Spain. (paralympic.org, 05 Mar 2019)

She suffered a shoulder injury in the early part of 2018. (dicodusport.fr, 01 Mar 2018)

She sustained an injury to her left foot in 2017, which prevented her from training for five months. (Facebook page, 26 May 2017; sportdecouverteblog.wordpress.com, 28 Nov 2017; sans-filtre.fr, 20 Sep 2018)

In 2015 she was troubled by injuries and the effects of her multiple sclerosis. (paralympic.org, 10 Nov 2015)
Superstitions / Rituals / Beliefs
She carries the three medals she won at the 2014 and 2018 Paralympic Winter Games almost everywhere. "I want them to feel 'alive', so I take them with me almost everywhere. They symbolise my everyday fight. It's the culmination of all those dark years with my illness, all those years of training and the embodiment of all I was able to achieve as a woman and as a mother." (sans-filtre.fr, 20 Sep 2018)
Sporting philosophy / motto
"There must be a storm in order to see a rainbow." (sportmag.fr, 02 May 2021)
Awards and honours
In October 2019 she was named a Knight of the National Legion of Honour in France. (lindependant.fr, 10 Oct 2019)

In June 2014 she was named a Knight of the National Order of Merit in France. (paralympic.org, 10 Nov 2015)
Other sports
She competed in BMX at international level prior to her diagnosis. (cecilehernandezcervellon.com, 16 Feb 2014)
Milestones
She became the first snowboarder representing France to win a medal at the Paralympic Winter Games, when she claimed silver in the women's standing snowboard cross event at the 2014 Games in Sochi. (SportsDeskOnline, 21 Oct 2021)
Ambitions
To win gold at the 2022 Paralympic Winter Games in Beijing. (sportmag.fr, 02 May 2021)
Impairment
She began experiencing medical issues in 2000 but doctors were unable to identify the problem. Then, two years later, she awoke one morning with paralysis in her legs and was diagnosed with multiple sclerosis. (sans-filtre.fr, 20 Sep 2018; lequipe.fr, 15 Mar 2016)
Other information
FAST TRACK TO SOCHI
In December 2013 she was introduced to French Para snowboarder Patrice Barratero at an awards ceremony, which inspired her to try the sport for the first time. A few days later she received a phone call from the coach of the French national team, who said he would like to test her. She tried out the sport over the Christmas period, with mixed results, and was then informed in January 2014 that a final test would be at a World Cup event in Colorado, United States of America, that month. She finished fourth, and was told the national federation would try to enter her into the 2014 Paralympic Winter Games in Sochi. Although she was not on the initial list of athletes that would be participating at the Games, the French federation requested special dispensation for her and she was named in the team on 11 February 2014. She went on to win a silver medal in snowboard cross in Sochi, three months after taking up the sport. "I arrived in Sochi without putting pressure on myself. I was coming out of nowhere, I had not trained much. I arrived with the carefree motivation of a beginner. I did not know anything and I was there just to have fun." (sans-filtre.fr, 20 Sep 2018)

OTHER ACTIVITIES
She has worked as a commentator for the French radio station Europe 1, and as a journalist for French newspaper Le Figaro for which she was Para sport chief editor and covered the 2012 Paralympic Games in London. She has also authored books including 'La Guerre des Nerfs' [The War of Nerves], which focuses on her experiences of living with multiple sclerosis. (sans-filtre.fr, 20 Sep 2018; dicodusport.fr, 01 Oct 2017; douane.gouv.fr, 20 Jan 2017; lindependant.fr, 03 Dec 2020; topskinews.com, 04 Mar 2021)
Results
2015 IPCAS Para Snowboard World Championships La Molina (La Molina, Spain)

| Event | Medal | Unit | Date | Rank |
| --- | --- | --- | --- | --- |
| Women's Snowboard Cross SB-LL1 | | Race 1 | 2015-02-24 | 2 |
| Women's Banked Slalom SB-LL1 | | Race 1 | 2015-02-28 | 1 |
2017 IPC Snowboard World Championships Big White, CAN (Big White, Canada)

| Event | Medal | Unit | Date | Rank |
| --- | --- | --- | --- | --- |
| Women's Snowboard Cross SB-LL1 | | Race 1 | 2017-02-04 | 2 |
| Women's Banked Slalom SB-LL1 | | Race 1 | 2017-02-07 | 2 |
Pyha 2019 World Para Snowboard Championships (Pyha, Finland)

| Event | Medal | Unit | Date | Rank |
| --- | --- | --- | --- | --- |
| Women's Banked Slalom SB-LL1 | | Race 1 | 2019-03-27 | 1 |