Bacteria no match for overall champion Pedersen
Following miraculous return after life-threatening illness, Norwegian skier is hungry for more in the new season
11 Jan 2020
Imagen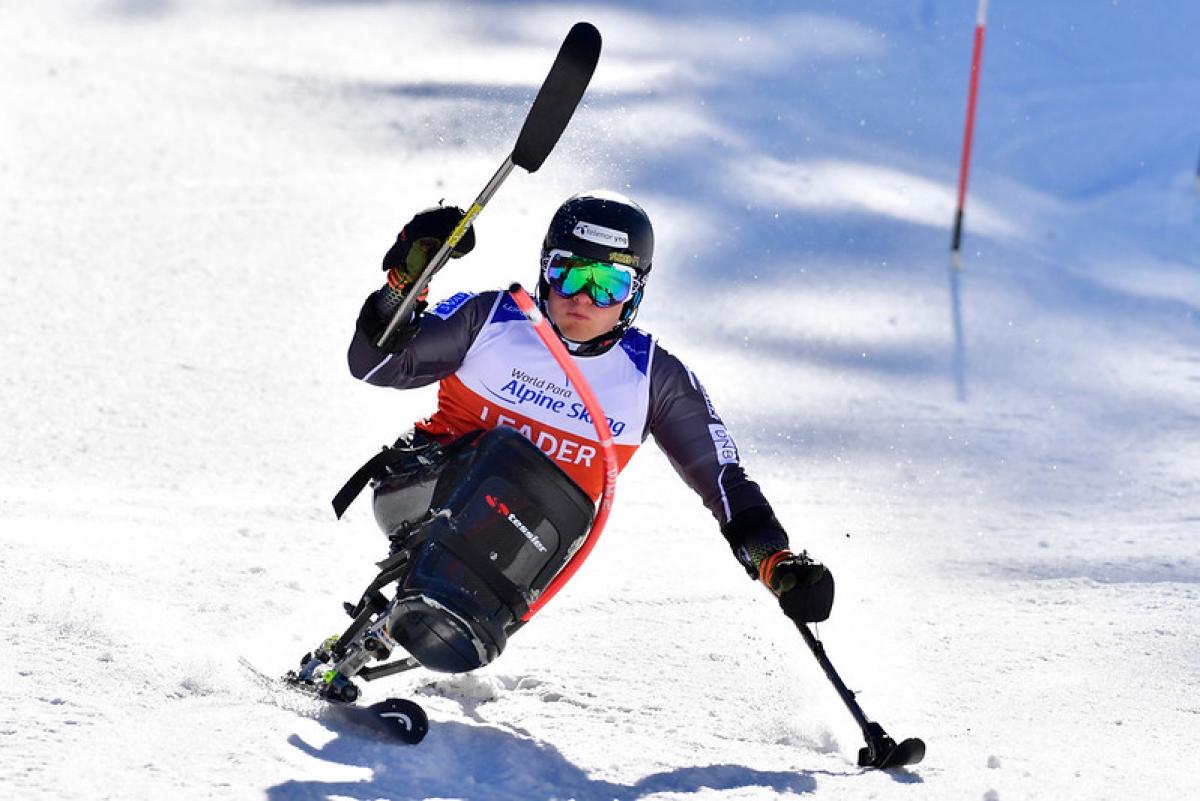 ⒸLuc Percival
By Lena Smirnova | For World Para Alpine Skiing
Sixteen months ago, Paralympic champion Jesper Pedersen was lying listless on a stretcher as he was wheeled to a helicopter that would take him to the emergency ward of a nearby hospital.
The bacterial infection discovered in his heart forced the Norwegian to abandon skiing until three weeks before the 2019 World Para Alpine Skiing Championships. But once he was back on the slopes, the sit skier proved that even a life-threatening illness could not get him down.
Pedersen won silver in slalom and super combined and bronze in giant slalom and super-G at the 2019 Worlds. Then, finished the 2018-19 World Cup season with the overall crystal globe. 
This week, the Norwegian begins his quest for a third globe in the World Cup in Veysonnaz, Switzerland.  
The 20-year-old has become such an unstoppable force on the slopes in recent seasons that he is beating the able-bodied skiers on the Norwegian national team in factored times. 
While he trains with his local club on a daily basis, Pedersen also goes to some camps with the national team members, including multi-Olympic and world champion Aksel Lund Svindal, who retired from the sport in February 2019. 
Svindal has been Pedersen's hero and mentor since the sit skier took up the sport as a child. He and the other national team skiers sent Pedersen constant messages of support during his recovery from the illness and his races this season.
"They've been really nice to me in this time and sent me a lot of messages. It's nice to be a part of the Attacking Vikings, to be a part of the team," Pedersen said. "They're following my races so they know what is happening. They're a really cool gang."
Glad to be back 
Being back on the snow was all Pedersen was hoping for when last season began. 
Fresh off his career's first overall World Cup win in the previous winter, Pedersen was eager to carry his winning streak into the next season, when he was struck down by a serious and unexpected illness in July 2018. 
The athlete went to a doctor after feeling ill for a few days, but the condition proved so serious that he was taken in an ambulance to the local hospital, which then escalated to him being taken to a bigger hospital by helicopter. 
"I had a bacterial infection and it sort of set off an immune thing in my heart that made my heart go crazy," Pedersen said.
"The doctors hadn't had that bad of a case with that kind of bacterial infection. Infection on your heart is not normal. You don't ski fast without the heart, so it's pretty important to listen to the doctors and do what they say."
Pedersen was under constant observation for nine days and spent two more weeks in hospital before he could go home. But even then, he wasn't cleared to resume his preparations for the upcoming season. 
"It was mostly Netflix and chill," the skier said of his daily regimen in the first three months after being hospitalised. 
Pedersen had to continue taking it easy even after that initial period and was ecstatic to get his first solid training session on snow in the middle of December, three weeks before the 2019 Worlds kicked off.
"It's kind of like riding a bicycle because I'm so used to it," Pedersen said of returning to skiing after the long break. "I'm just so glad to be back."
The Norwegian came into the season with the modest goal of winning at least one medal at the 2019 Worlds, but the year started off for him with an unexpected - and welcome - bang. 
Pedersen got back-to-back gold medals in slalom at the first World Cup of the season in Zagreb, Croatia. He followed that up with six medals at the World Cup in Veysonnaz, two more in La Molina, Spain, and two medals at the World Cup finals in Morzine, France. 
With more time to prepare, Pedersen comes to the new season even more motivated to win a third consecutive overall title.
You can follow the World Cup season live here.