Between national and club teams, Beijer and Visser get best of both worlds
Different styles mean different learnings for the star wheelchair basketball players
27 Jun 2020
Imagen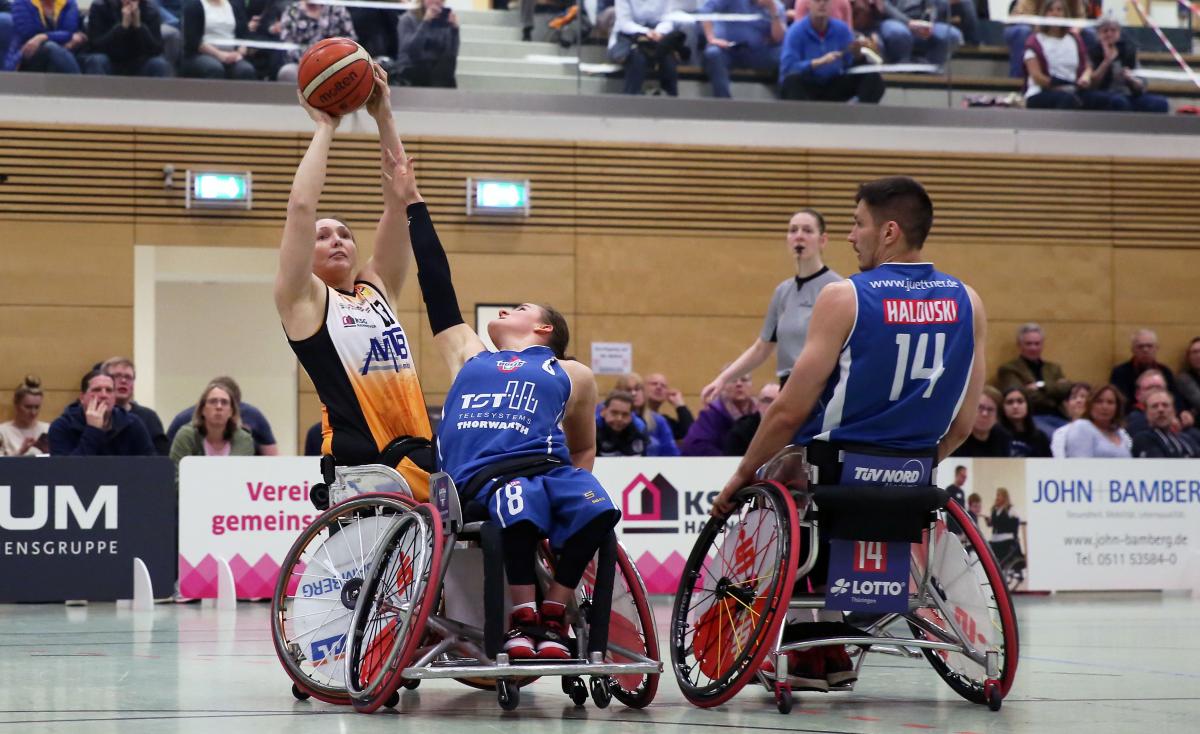 ⒸTeam zurNieden
By Ryan Wilson and the IPC
Mariska Beijer is so strong that her Dutch teammate and long-time friend Jitske Visser calls her a "freaking beast."
But Beijer has to manage her level of beast-mode when playing club and national team wheelchair basketball.
That is because her role changes between the two. 
When with her club team Hannover United in Germany, Beijer is one of the smaller players compared to male teammates, as the club teams are mixed. But on the national team, she is one of the taller, longer players who must battle for rebounds and draws double teams.
"For a girl, I'm big," Beijer said. "But compared to the men, I'm quite small."
Most members of the Netherlands national team are in professional leagues. Since there are no elite women's wheelchair basketball league in the Netherlands or Germany, they join mixed leagues.
Beijer's teammate Visser plays at RSB Thuringia Bulls. 
Visser's disability is different than Beijer's, and so she sits lower in the wheelchair. She has played with the Bulls for three years, where she is mostly an offensive facilitator. With the national team, she is a scoring threat,
With her size, she does have to take into consideration the men and their different physical build when playing club ball. If they charge into her chair, she has to brace for a bigger impact.
"Sometimes it does, yeah," she said, laughing, on if her size impacts her play in the club season. "I'm like, 'Oh, I should eat more just to weigh more.'"
On defense, Visser would adjust her chair position differently to stop her opponents than if she were on the national team.
Both Dutch athletes also have to remember the types of fouls called in club ball is different than when playing internationally. 
In either case, the alteration between the two leagues enhances their skillset. 
Beijer sees the beauty of learning from different teams. At her University in Whitewater, USA, she joined the men's training in addition to her normal training with the women's college team.
She remembers playing men's US national team members Dylan Fishbach, Jake Williams and Jeremy "Opie" Lade in scrimmages. 
"I gave them a tough show, but they kicked my (butt)," Beijer said. "But that's OK, because otherwise you don't learn."
Both Visser and Beijer helped the Netherlands capture the first World Championships title in 2018, making them the gold medal favourites at Tokyo 2020. It is a chance for the Netherlands to also record their first Paralympic gold, but that will have to wait until 2021, with the Games' postponement due to COVID-19 outbreak.
"The only problem is, she (Beijer) comes back and plays with the women, she has another role," Dutch coach Gertjan Van der Linden said.
Whether on the club or national teams – Beijer said, "The most important thing for me is to win the game."