Friendship pushes boccia player Michel and assistant McClure to higher ground
Michel and his ramp assistant McClure certain their friendship will last a lifetime
30 Jul 2022
Imagen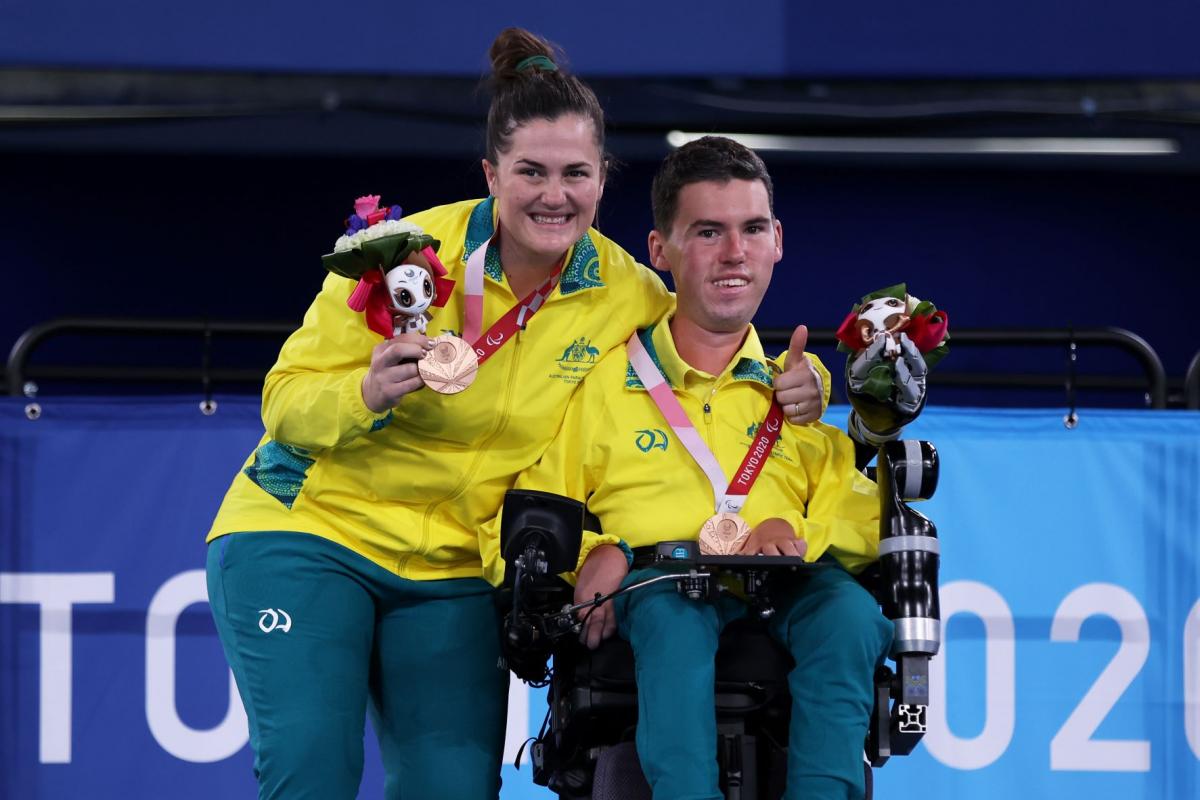 ⒸKiyoshi Ota/Getty Images
By Ayano Shimizu | For the IPC
Finding the perfect partnership can make all the difference in sports. For Australian boccia player Daniel Michel, he felt things "click" when he met Ashlee McClure nine years ago. Since then the partnership between the athlete and his ramp assistant has taken them to great heights.
Michel and McClure, both based in Sydney, spend more than five hours together on an average day. Their journey has seen them compete at two Paralympic Games, and in May 2022, they crossed off one more item on their "To Do" list, which was to become the world No. 1 pairing in the men's individual BC3 class.
"We just have a lot in common," said 26-year-old Michel, who won bronze with McClure at last year's Tokyo 2020 Paralympic Games. 
"We can bond over things we find interesting off the court. And on the court, we are both competitive and we enjoy winning. We are on the same page at all times, and we are striving for the same objectives."
Fun, strong and essential
When asked to give three adjectives to describe their relationship, Michel and McClure said that it was "fun," "strong" and "essential" both on and off the court.
In the BC3 category of boccia, a precision sport often compared to the game of bowls, athletes can use ramps and other devices to deliver a leather ball onto the court.
They can compete with an assistant, who positions the ramp and balls according to the player's instructions. This makes a strong connection between the pair one of the key factors of success.
"Even though in boccia Ashlee is not allowed to look at the court when we are playing, she has an idea of what is going on just because of the amount of time we spend training together. If I'm doing a certain thing, Ashlee kind of knows what is happening on the court and what she needs to do next," Michel said.
"A lot of stuff can go unsaid between us," he added. "There is sort of a telepathy aspect to it."
While they spend most of their time on the court or traveling to competitions and training facilities, Michel and McClure share a passion for other sports as well, including American football, rugby and cricket.
One of their favourite events is when the U.S. National Football League hosts the Super Bowl. They watch the playoff championship game together every year.
"We just love sports. Literally, both of us could just watch any sport all day. That's our favourite thing to do," said 33-year-old McClure.
"When Dan went overseas for four weeks (in June) I did not know what to do – so bored," she added with a laugh.
Connected through boccia
Michel, who was born with a condition called spinal muscular atrophy type 2, was introduced to boccia when he was seeking a sport he could take part in with his physical impairment.
He met McClure in 2013 when Michel's mother was asking around for an assistant. While McClure was unfamiliar with boccia at the time, the sport enthusiast said she has always wanted to work with Paralympic athletes, recalling how everything simply fell into place for her. 
"Dan showed me what the sport was, and I just fell in love. It's a very strategic game and there's lots of behind-the-scenes work that comes into play before we actually sit on court," she said. "I find that really interesting and I find it really fun to play."
The duo competed in their first major international tournament just months after they met and their bond has only strengthened over the years, albeit their occasional fights like any other friends.
In 2016, Michel made his Paralympic debut at Rio de Janeiro, becoming the first Australian to compete in boccia since the Sydney Paralympic Games in 2000.
At the Tokyo 2020 Games, Michel and McClure won a bronze medal together, and they aim to improve this result at the Paris Paralympics in two years' time. 
Michel also wants to help younger boccia players by sharing his knowledge and experience, ultimately aiming to help Australia develop as a boccia powerhouse. 
Friends for life
Almost a decade since their first meeting, Michel and McClure's friendship has evolved from something based on boccia to a strong personal bond. And the pair is confident that what Michel calls a "brotherhood sort of relationship" will last a lifetime.
"Obviously, it's been nine years, so our relationship now is definitely different from what it was nine years ago, or what it was five years ago," the athlete said. 
"Whether or not we stop playing boccia tomorrow, it won't change our relationship and the kind of friendship we have. It has moved a lot from the sporting court into friends for life."